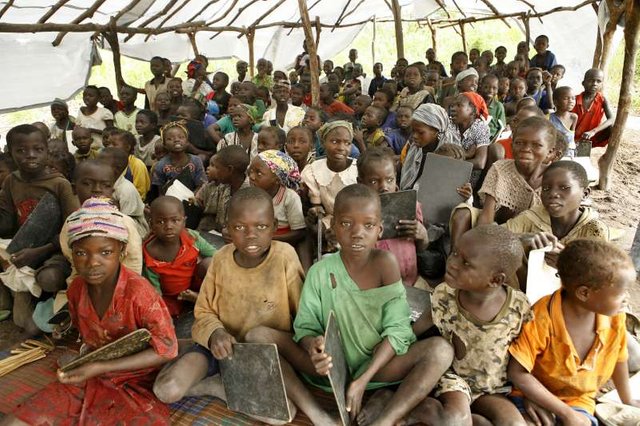 source
Funding of education in Nigeria is grossly inadequate, from the federal level down to the states and local government. Most states and local governments are owing salaries of teachers up to 13 months. The same states are said to be running free Universal Basic Education (UBE).
The government of Nigeria believes more in spending huge sum of money on travelling and other things negleting education. This reflects in the budget where education received much lower than 26% as recommended by the United Nations with the **2018 budget having 7% allocation for education ** Ref 1.
The Universal Basic Education, as run by many states, is mandated to provide free education to students from Primary 1 to primary 9 within the ages of 6 -15 years. However, there are serious challenges with the UBE program in many states of the Federation Ref 2
Children are made to go to school compulsorily and left uncarted for with no books, lockers or chairs. The classes are over loaded with students above 100 in a class. Worse still, some students copy notes on the floor from the board while others without notebooks watch. The overpopulated class can lead to health hazards or disasters. Majority of the children's parents cannot afford to pay their fees. Neither can they buy books, textbooks nor even school uniforms. A mere look at the children shows you what poverty is because its written all over them. A touch from us will change lives.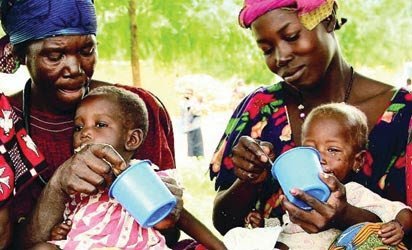 Source
Poverty in Nigeria is endemic and has eaten deep into the lives of Nigerians. It is reported that over 112million (67. 1%) of the country's total population of 167 million live below poverty line as the world global poor hits one billion mark Ref 3.
As a Nigerian, living in Nigeria I think the figure given above is wrong because those that can afford two or more meals a day are not up to 20% of the total population from my findings and observations. That's my definition of poverty.
If people find feeding difficult, then how can they afford to pay for education?
What the blockchain can do.
Funding projects in Nigeria is very difficult and nearly impossible to achieve. Getting across to donor agencies is quite difficult and most agencies don't believe your project is real or will be accomplished. I believe with steemit we can do this by using steem backed dollars (SBDs) to achieve this feat, reaching out to the less priviledged in our society. I am looking forward to see our little ones steeming as members of this platform from our generous assistance of keeping them in school by providing educational materials. This will go a long way to build the confidence of the masses in cryptocurrency even in this trying time when the price of cryptocurrency is dwindling.
When people are struggling to stay alive. Despite the free education as said by the government, the students still pay fees per term and buy lockers, chairs, notebooks and textbooks for themselves. It is only free as stated by the government but in real terms it is not actually free.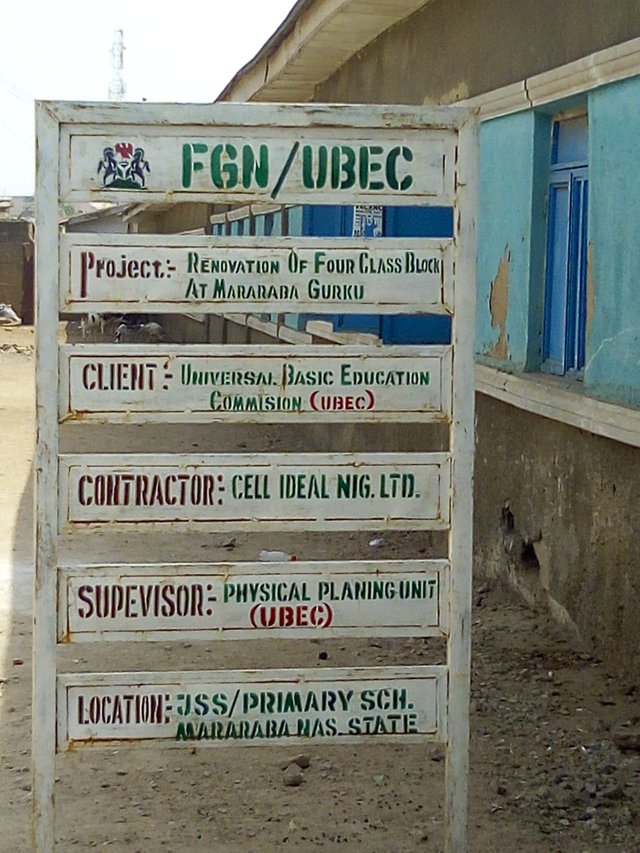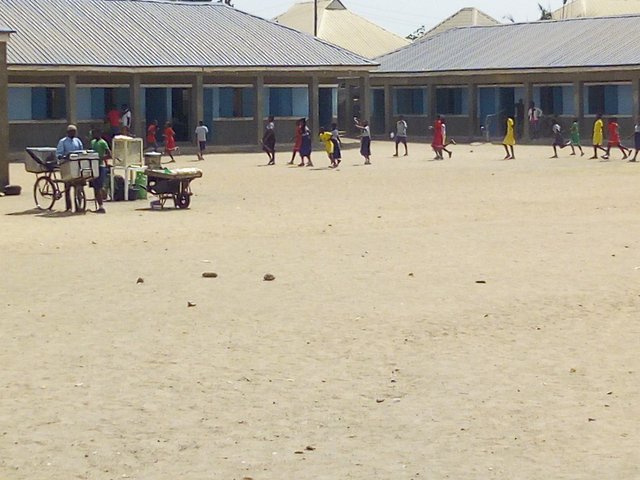 I paid a visit to some schools around and discovered how bad the students are faring. Visting the Governmnent Secondary School, Mararaba, Nasarawa State, the UBE section was appauling. Students were jampacked in a class with over 100 (instead of 30 students maximum) students per class and majority not having uniforms. Some had no lockers, over half of the class had no excersice books for copying notes from the board and most of them were seating on the floor to write. Look at the school bags some students are carrying from the picture below you'll understand that they are carying only empty school bags.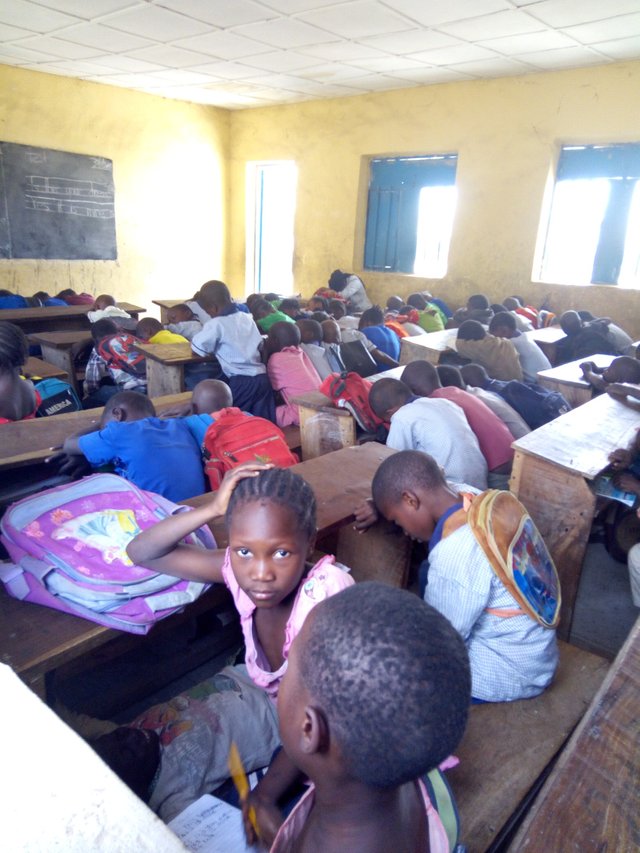 Over populated classroom with over 100 pupils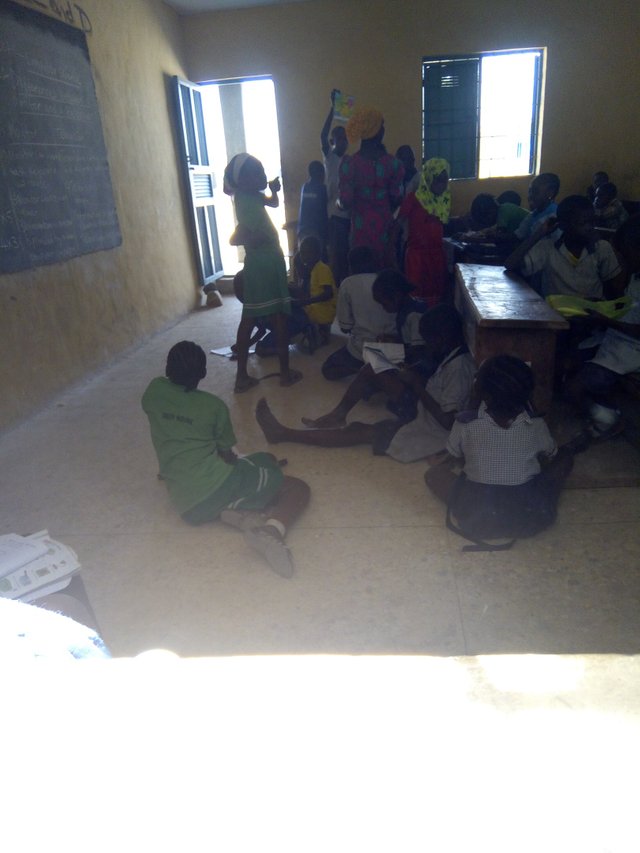 Students copying notes from the floor
Our action plan
Provide branded excercise books for the students carying steemit logo design, website, my handle names and those of sponsors. From my findings the school has a population of about 2500 students. I would want to see the possibility of giving each student at least 2 note books. This means that I'll need to produce 5000 note books to achieve this. We will try to produce at least 1000 copies.
Provide at least 5 lockers and chairs per class briging it to total to 50 lockers and 50 chairs
Make a banner with information about steemit on it to create awareness about the platform.
Have a meetup with academic and non-academic staff in the school, including the senior secondary section. The target is to introduce over 50 persons to the steemit platform. Action speaks louder than voice, you know. Handing out educational materials to the students will make the staff curious and want to join.
Provide light refreshment to the teachers (about 30 to 60 staff), who will attend the meetup.
Production of handbills to be distributed to people to advertise the steemit platform.
Hiring of projector for the meetup presentation.
The cost of the project
Branded steemit execerise book: production cost of one excercise book is N100. One thousand exercise books will cost N100,000 (100SBD).

Lockers and Chairs: The production of a locker and chair will cost N7000. For 50 lockers and chairs, that will total 7000 *50 = N350, 000 (350SBD).

LIGHT refreshment: . Soft drinks: 3 crates * 3000 = 9000 (9SBD).

Snacks: 60 pieces of doughnut at 100 each. 60 * 100 = N6000 (6SBD).

Banner: A large sized banner will cost about N8000(8SBD) to produce.

Handbills production: 500 copies will be produced to reach out to those within and outside the school for N8000 (8SBD).

Hirring of projector cost is N7000(7SBD).

Grand total: 100 + 350 + 9 + 6 + 8 + 8 + 7 (SBD'S) = 488SBD
The total cost for this project will be 488SBD.
Note: Every money realized will be used solely for this project and nothing else. A transparent breakdown of how money realised was spent with pictorial evidence and receipts (if necessary) will be presented to us in another post for the completion of the project. The actualization of this project depends solely on your upvotes and resteem of this post
Sponsors
@redfishpillar @maryfavour) (@maryfavour) contributed 7SBD to assist in achieving this project. You can also be a sponsor by upvoting and resteeming this post.
We would appreciate your kind and generous contribution(s) towards the successful actualization of this project.
Project partners
@eugenecr7, @maryfavour, @trendyevents, @justiceoses
Please ensure you vote for your steemit witness before leaving this post. Click Here

Please upvote, comment, resteem and follow @eugenecr7 and @maryfavour.
Thanks for vising our blog.