It's been 8 months now since i joined steemit , and it's been hard to keep track of all the great projects I've heard via the steem blockchain.
Honestly In 2018, we are witnessing the creation of hundreds of new projects built on the steem blockchain,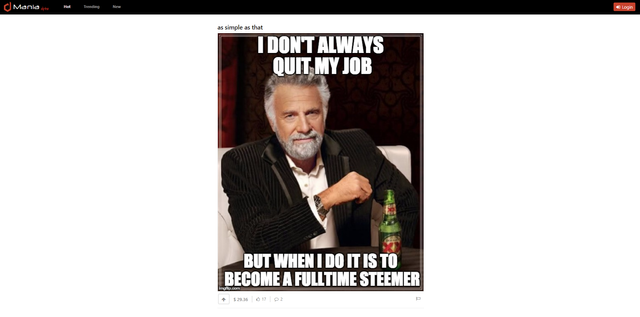 And these projects have specific goals not only for founders but also with the entire community .
Why people build on top of the steem blockchain?
Well, Anyone can build on top of the Steem blockchain. The data is publicly accessible.
Now these projects are being built to help provide an infrastructure that will allow the steemit to scale to meet increasing demand, a factor that is crucial for spreading steem to wider audiences and finally reaching critical mass.
There are so many projects on the STEEM blockchain right now, and with more and more being added everyday,
and I'm sure these are going to attract a huge amount of new users in the coming years.
Here are my top 6 projects and why i love them so much.
1 . Busy
A different Fronted to display the content of the Steem blockchain (like steemit.com). (They are working on a new version it's in Beta). I love this project because They don't take a percentage of earnings instead they reward you for posting from their website.
2 . Steempayco
Steempayco is a web application that is designed to simplify the business transaction between a seller and a buyer.
it is a mobile "Steem Backed Dollar" wallet app that we steemians can use to spend SBD.
Well, I love this project because it targets underdeveloped and developing countries seeking to bring about a realization of steem dollars and adopt the use of it as alternative in the business dealings. besides that, With Steempayco you can do both online/offline commerce. Though at the moment the feature is available for offline transactions.
3 . Utopian.io
Utopian is a platform which aims to give a hand to a open-source developers on the blockcahin by funding their projects. By the way it is the same as steemitthough it cannot be used as a social platform for normal posting. The reward that you're going to get will be only by the contribution to Open Source Project..
4 . Air clinic
https://myairclinic.com/
This project is aimed at providing health care service to the community. ;Like Patients express their needs to acquire better services, but also doctors make sure to provide quality services to their patients. and this is done with no intermediary such as the government or any other middle entity.
5 . Steemsnake
Classic snake game, you play snake and earn steem. Honestly It's pretty fun. I always play it from my Nokia but on Steem blockchain.
6 . Dtube
Dtube is a website that stores movies based on STEEM and IPFS. Its major aim is to provide a similar experience to Youtube at the same being the safe and resistant to censorship alternative.
Thanks for reading
@jordanlove
Peace