Why should you keep a journal.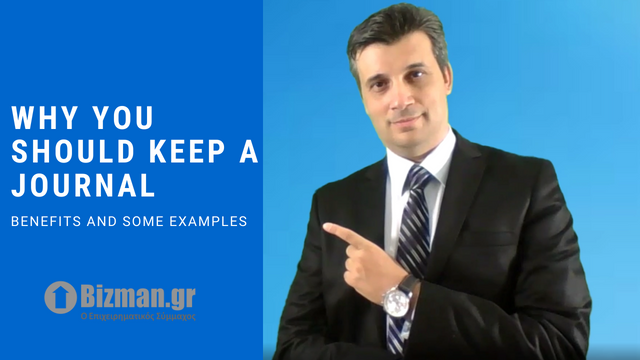 I have been keeping a journal since I was 15 years old. More than 25 years! So I now have a shelve in my house of old diaries. And these past 5 years I write more and more so the shelve is getting bigger! Now, why should you keep a journal? Let's see some reasons that I know are working!
Well, my first advice is…write whatever you feel like writing! Having said that, I must tell which things are working great for me.
Thoughts. Having a perspective of a situation is really important and when you pause and write down your thoughts on a situation you gain clarity and have the opportunity for some strategic thinking.
Moments. I now collect moments where I write what my kids did and how it made me feel great for them! I hope sometime later when they grow up it will be great for them to read them!
Goals. I write my goals about 4-5 a week now just to keep my energy up and my focus lazer like. And it has worked amazingly!
Notes on meetings. In any business situation, I write down the important information and then transfer that information in my CRM.
Ideas. I always keep my journal close by because I hate the feeling of missing out on a great idea just because I did not write it down.
and more…
If I did not keep a journal I would miss out sooooo much. I would not have the ability to look back 15 or 10 or 5 0r even 1 year and see my thought process, my personal philosophy and the way I reacted in a situation. That helps me change my self for the better and makes me stronger every year! I would also forget a lot of my successes! And that is really important because most of the time when we look at our past we focus on the mistakes and the failures!
What kind of journal?
I would be lying if I told you that a plain notebook works for me. It did when I was a young man but now I want a journal that is high end. For two reasons. 1) I want it to look great when I take it out in a business meeting. 2) I want it to invite me to write in it. I will give you some examples of great diaries to take a look!
https://amzn.to/2Kfak4I
https://amzn.to/3ah91gl
https://amzn.to/3bhy8Rj
So, this is why you should start journaling daily, even if it is a single line…