Review ProBit Exchange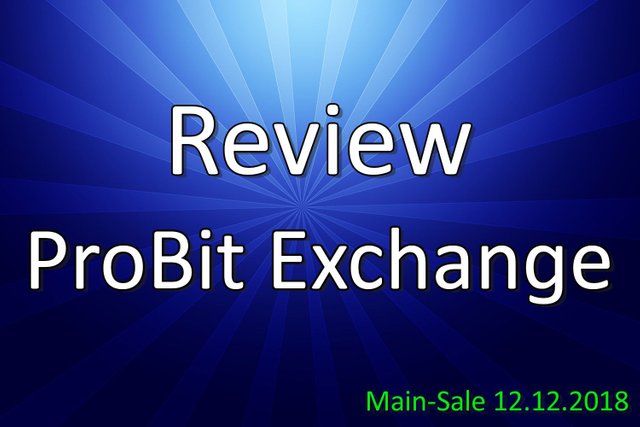 Hello, dear friends! Glad to see you on my blog) In past articles I told you about the ProBit exchange, acquainted with the security solutions that are implemented on it. talked about the token, the marketing program. And also analyzed the details of the lottery and referral program.
This article will be devoted to a review of the exchange ProBit.
To log on to the exchange, it is necessary to login on the platform. Then click on "Exchange". One of the features of the exchange is a fully customizable interface for yourself. Let's see what we can configure here.
There are settings of the main window - there are 6 different options. Any of them you can apply and use the one that is most suitable. As well as the sidebar, you can place on the left or right. If you want to return to the previous version of the interface, just press the Reset button.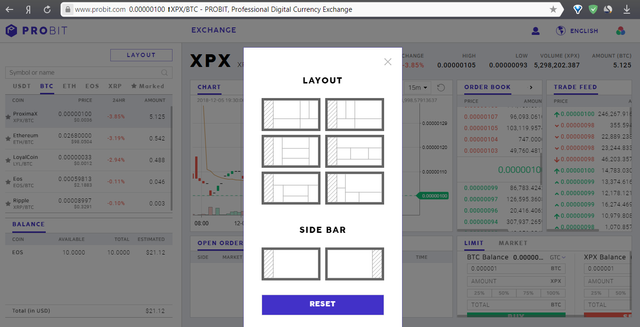 Well, let's move on then. Let's see what else we can adjust here. The next option - we can change the color of the interface. See, there are 3 options: white, black and dark blue. And also we can choose the color setting of the indicators. Green-red or red-blue. This is a very interesting solution.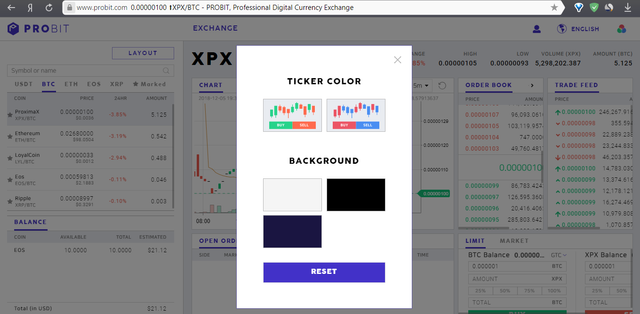 All other solutions on the exchange are arranged quite clearly and it is very convenient. If you are used to a different interface, let's say you used to trade on some of the exchanges. Then you can at any time customize the interface for yourself. And also change the color scheme.
On the exchange you can now sell any token to USDT, BTC, ETH, EOS or XRP. Not even on all the top exchanges is implemented. And ProBit implemented this solution from day one. At the moment the exchange following tokens are traded: this ProximaX and LoyalCoin. And the other day the team announced the listing of another token - SelfKey Coin. Trades of this token will be available from December 14. A special award will be held until December 27. In total,$ 50,000 in key tokens will be raffled. Detailed terms of this action they have in telegram, Facebook and Twitter. As well as a link to this news I will leave in the description below this article.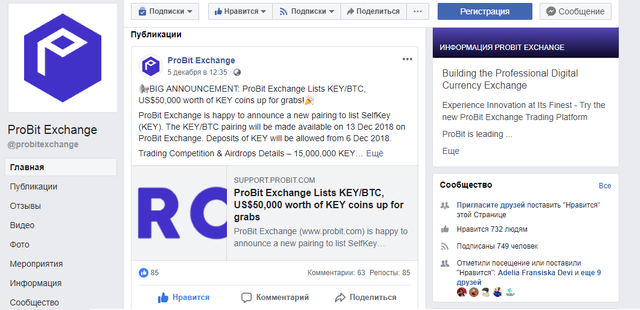 Now let me tell you about the security settings that can be connected on the platform. Of course, you can connect 2FA, and U2F hardware key can also be connected. All information about your history of entering the exchange is displayed in your personal account. If you came from another IP-address, then this information will certainly be present here. And the system is watching you. If you are not active for a certain period of time - will be logged out of your account.


I want to remind you of something. ProBit exchange stands out for the fact that there is a high degree of security on the platform and a fully customizable user interface. All your crypto assets stored on cold wallets. And as you've already seen, you can connect 2FA and U2F hardware key. And also on the exchange are placed only standing projects. The team does not charge any fee for listing new tokens on the exchange. If you are reading this article and you are the owner of a cryptocurrency company. And your company really
good - contact the ProBit team with a request to list your token. They are very loyal and really interested in listing new projects.
You did not have time to take part in Pre-Sale? The ProBit team will provide another opportunity to buy PROB tokens. A one-day Main-Sale will be held on 12 December 2018. To buy tokens-you need to register on the exchange.
This article comes to an end. Leave comments, be sure to answer you!
https://support.probit.com/hc/en-us/articles/360020581631-ProBit-Exchange-Lists-KEY-BTC-US-50-000-worth-of-KEY-coins-up-for-grabs
registration for ProBit: https://www.probit.com/r/13408745
official site: https://www.probit.com
whitepaper: https://static.probit.com/landing/whitepaper/whitepaper_probit_en-us_v1.0.3.pdf
Facebook: https://www.facebook.com/probitexchange
Twitter: https://twitter.com/ProBit_Exchange
Medium: https://medium.com/@ProBit_Exchange
telegram: https://t.me/ProbitEnglish
author of review: https://bitcointalk.org/index.php?action=profile;u=1855386