acTVism Munich is holding a Live event today discussing Global Issues with five speakers including Edward Snowden.
Homepage: http://www.actvism.org/en/events/event-freedom-and-democracy-snowden/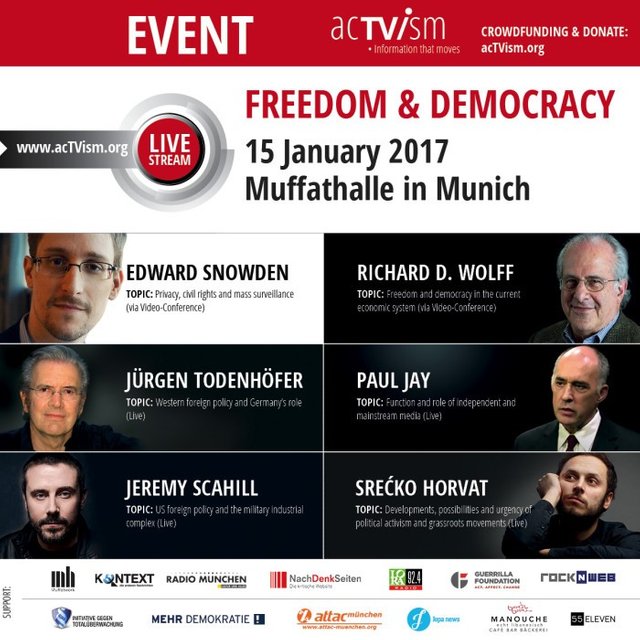 At the end of the Second World War a new era of globalization of capital and production began that continues on today and is enforced through manifold free trade agreements. Another turning point was 9/11. Since then, an increased military presence and an expanding security apparatus is leading to more surveillance and violence in the name of national security.
In addition, the disparity between rich and poor is growing ever larger and global society is experiencing the increasing regression of stability and civil rights. The current wars in the Middle East, the possible ignition of a new Cold War, terrorism and surveillance, financial crises, poverty as well as the flight of refugees or environmental catastrophe are all unfortunate and disastrous signs of our time.
Are these events interconnected? Can we see a pattern? Are they taken out of context or completely ignored? We will speak with international experts about supposed structures and connections to find out if and how we can make a change for the better of all. LIVE IN MUNICH. On the 15th of JANUARY, 2017.
THIS EVENT WILL BE BROADCASTED VIA INTERNET LIVE STREAM FOR FREE. THE LINK WILL BE AVAILABLE ON OUR WEBSITE, YOUTUBE CHANNEL AND FACEBOOK PAGE ON THE EVENT DAY.
Our Experts:
Edward Snowden
Jeremy Scahill
Jürgen Todenhöfer
Paul Jay
Richard Wolff
Srećko Horvat
Our Topics:
Privacy, civil rights and mass surveillance
Western foreign policy and Germany's role
US foreign policy and the military-industrial complex
Freedom and democracy in the current economic system
Function and role of independent and mainstream media
Development, possibilities and urgency of political activism and grassroots movements
Program Schedule:
Program:
05:00 PM Entry
06:00 PM Opening Speech
06:20 PM Interview with Srećko Horvat on the significance and role of political activism and grassroots movements
06:50 PM Interview with Paul Jay on the role of independent and mainstream media
07:20 PM Interview with Richard D. Wolff on the freedom and democracy in the political economy
07:45 PM Break
08:10 PM Interview with Jeremy Scahill on US foreign policy and the military industrial complex
08:35 PM Interview with Jürgen Todenhöfer on Western foreign policy and Germany's role
09:05 PM Interview via Internet-Live-Stream with Edward Snowden on privacy, civil liberties and the surveillance state
09:45 PM Crowdfunding launch of acTVism Munich
10:00 PM End
Radio: http://www.radiomuenchen.net/radiomuenchen-themen/2013-04-04-17-34-58/1279-wie-retten-wir-freiheit-demokratie-mega-event-mit-snowden-todenhoefer-scahill-mehr.html
---
Snowden is up next, it will be interesting to see if he brings up any of the current controversies around the US election, wikileaks, or the hidden data in the blockchain.