In an effort to condense a longer story full of bad choices and where it left me, let me shorten it to say I am currently employed at a Work Training Release Center, the staff working for a company contracted to the Department of Corrections for a little more than minimum wage.
Allow Me To Paint A Picture For You
Verbatim tonight I heard our shift lead tell another employee tonight:
~"If a resident is behind you in the hall, step aside. Get your back against the wall and let them pass. Make sure your carrying something, like a pen. In case you need it as weapon."~
I did say Work Training Release Center right? This is end of term stuff, less than minimum security.... Do I really need to overtly worry, and if so... can I please have something other than a pen to do it with?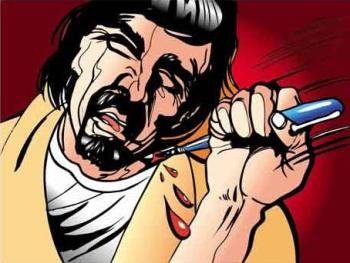 By nature, I am a "Why take any chances?" kind of guy, so I did diligently warn the various residents (yes, inmates) that they may have woke up thinking a pen in the neck is something that wasn't terribly likely to happen, but the odds may be not be as good as they think.
Seriously?
No..... Really..... Seriously?
It's just crazy. Keeping them in lockdown (done during headcount) far longer than necessary so they don't bug us with stupid requests for stupider stuff. Like soap for the restroom, or forms for their highly valued social outings with family & friends. Much better to have an extra half hour to talk about "how they need to learn" in addition to a group discussion about how "my power is not being respected".
Why?
Look, I completely understand that they have lost some rights due to their actions. I am not a fan of the legal system, but these people are in it, and for the moment I am part of their process to completing it. The end part at that, they have met the requirements to be eligible for Work Release, they are with us for a few months while they get ready for life after. I just can't deal with a mentality among the staff that basic human decency is something they lost along with their unfettered freedom.