Why Is It Difficult For Employers To Find The Right Resource?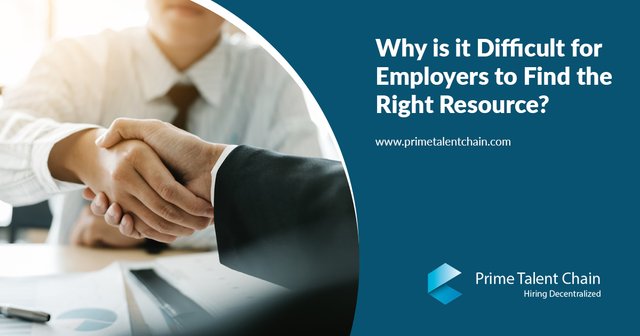 The current recruitment industry is estimated at 600 Billion dollars worldwide in 2018, sounds beneficial? Yes, it is. However, there are certain loopholes in this industry that makes hiring a candidate a difficult task for an employer. 
These are some of the  challenges employers face during a recruitment process:
Having access to quality portfolios and attracting good profiles
Too many resumes to skim through
Vetting 
Elimination of passive job seekers
Intermediaries like consultancies who stain the quality and take a lot of time
Expensive and time taking recruitment process
Hurdles in contacting the candidates perpetually
How to overcome the above and have an easy and seamless recruitment process?
From resolving queries about the job role to rolling out offer letters, the human intervention is mandatory for communication in the existing system. With automation, communication can be accelerated which results in a faster process, overall.

Background checking of job seekers cannot be circumvented, however, doing it manually is a daunting task. Connecting with intermediaries for information and paying them is totally unnecessary.

Apart from the above, any vacillation would impact the company and candidates as they both are dependent on each other and on the communication, they receive and give.

Prime Talent Chain for recruitment and staffing is the all-inclusive mobile platform that can abate all the challenges. They offer skill communities which consist of verified portfolios that are completely appropriate for job roles. Accessing skill communities equals accessing quality and certified portfolios which saves time and makes the process efficient.

PTC has four important tools,
PrimeSource to source resumes, 
PrimeScreen Tool to perform vetting
PrimeRecruit notifies the job seekers
PrimeParser segregates job seekers to form skill communities.
All the tools are backed by advanced technologies like Blockchain, Artificial Intelligence, Machine Learning and Big Data. Using the mentioned technologies equips a platform that is robust and secure which ultimately enables easy hiring for employers. 
Follow Us:
Telegram : https://t.me/joinchat/Ij6yrkU2EnWDDQ1GgL83YA
Twitter: https://twitter.com/primetalentcoin
FaceBook: https://www.facebook.com/PTCprimetalentchain/
Instagram: https://www.instagram.com/primetalentchain/
Linkedin: https://www.linkedin.com/company/prime-talent-coin/