Using Smart Contracts For Referral Programs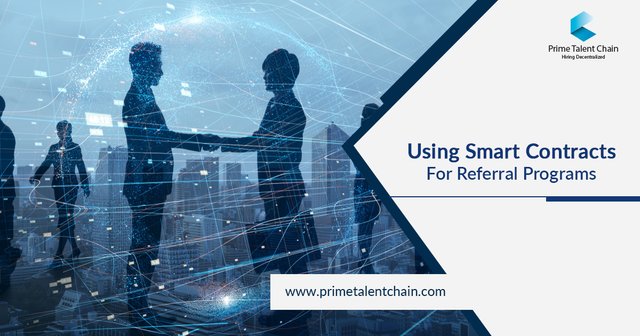 Referrals and rewards aren't new. In the digital world, it is one of the fruitful strategies used to widen the customer base. When a user refers someone and in turn, if he/she uses the app, the user will get a reward. When the rewards are good the user gets motivated to refer more people to use the app. 

Similarly, Prime Talent Chain also offers a referral program for candidates and investors. Completely automated, the process requires no manual intervention and lessens the chances for errors. 

Candidate Referral Program 

PTC platform works on Blockchain technology. The referral and Coin programs will also be based on Blockchain. PTC will implement Smart Contracts to create a Coin system on the Blockchain. The qualities of this smart contract (control, transparency and traceability) would allow for much more automation. A smart contract would provide the employer and the job seeker with the ability to manage contracts in an open, fast and indisputable way. The contract (policy) is uploaded to the Blockchain and validated by the network.

Once a hire is made, hiring fees are uploaded to the Blockchain and applied to the smart contract. The smart contract will send a notification about the hire to PTC, the referee, and the company who is making the hire. The PTC smart contract system will provide the necessary technology to push the data into the Blockchain. Then, company and candidate will be able to validate and enforce the offer made, and either automatically reject or accept it. If the candidate accepts the job then payment is automatically triggered to PTC and the referee who had recommended the candidate. 

Investor Referral Program 

PTC will offer the investors to earn an additional bonus by referring fellow investors, friends and followers. A referral link will be given to the investor which he/she can share and thereby spreading the word to the crypto-market about the project. The investor will receive the coin into the account. The commission of 5% is given to the referrer for the coins bought through the link. The entire process is automated, thereby reducing any human errors.

If you have any queries or ideas please feel free to contact our team on Telegram 
 Follow Us:
Telegram : https://t.me/joinchat/Ij6yrkU2EnWDDQ1GgL83YA
Twitter: https://twitter.com/primetalentcoin
FaceBook: https://www.facebook.com/PTCprimetalentchain/
Instagram: https://www.instagram.com/primetalentchain/
Linkedin: https://www.linkedin.com/company/prime-talent-coin/