Enhance Your Skills By Being a Part of Prime Talent Chain's Skill Communities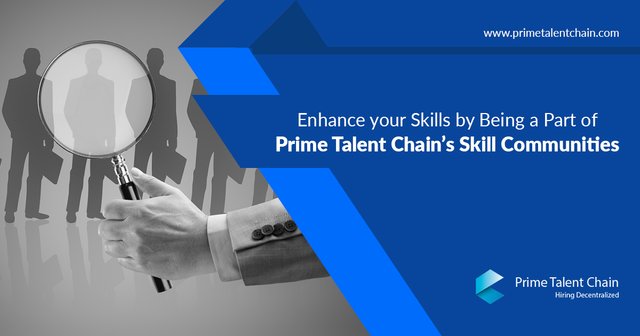 a part of a robust community enhances our personal and professional skills. 
We all wish to or at least try socializing so that we can keep ourselves updated and share knowledge. Have you tried to be a part of a community for the same reasons? If not, then this new year, you take a resolution and we at Prime Talent Chain (PTC) will help you accomplish it. 
So, how PTC helps you be a part of something great?
Prime Talent Chain develops skill communities on Blockchain which makes recruitment easier and faster. Our PrimeParser tool segregates the resumes of job seekers to form skill communities. Skill Community is a collection of resumes that have same or similar skills. The recruiters can access the skill communities that consists of verified and qualified professionals.
Apart from making recruitment an economical and convenient process for hirers, there are perks for the job seekers as well. 
These are the perks that will make you better, 
Be easily recognised and get hired.
PTC engages and develops skill communities through informative, interactive channels, and learning programs.
Skill communities get daily notifications on the availability of permanent, temporary, and part-time jobs in their location. They also get newsletters and industry updates.
Community members can interact amongst themselves through PTC chatter-box.
Exchange updates and information on community pages. For eg: All Java engineers will get updates from Java world.
Learning programs through direct training, webinars, podcasts, and technology forums.
PTC will be the Google of the recruitment industry. Its popularity and ease of use will create unique brand equity for itself. PTC skill communities will be developed across industries and across sectors around the globe thus getting you in contact with influential people. 
Skill Community is capable of managing social interactions on a large scale. Be a part of this amazing project by investing in us. Keep an eye out for our crowdfunding dates that will be released soon. Join our team at Telegram
 Follow Us:
Telegram : https://t.me/joinchat/Ij6yrkU2EnWDDQ1GgL83YA
Twitter: https://twitter.com/primetalentcoin
FaceBook: https://www.facebook.com/PTCprimetalentchain/
Instagram: https://www.instagram.com/primetalentchain/
Linkedin: https://www.linkedin.com/company/prime-talent-coin/