Don't Let Your Pride Become a Negative Aspect of your Life - Jazz Concert Tonight with My Mom - Box Car 7 Jazz Band in Monrovia Ca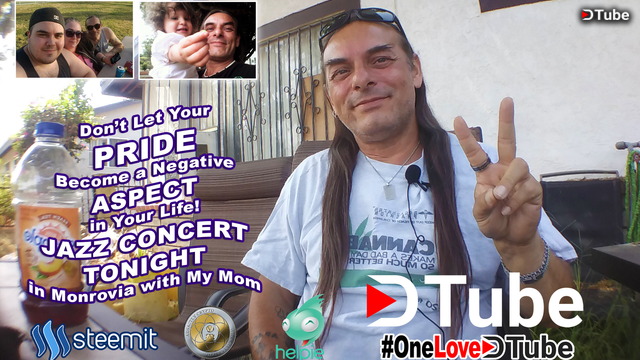 ---
Don't Let Your Pride Become a Negative Aspect of your Life - Jazz Concert Tonight with My Mom - Box Car 7 Jazz Band in Monrovia Ca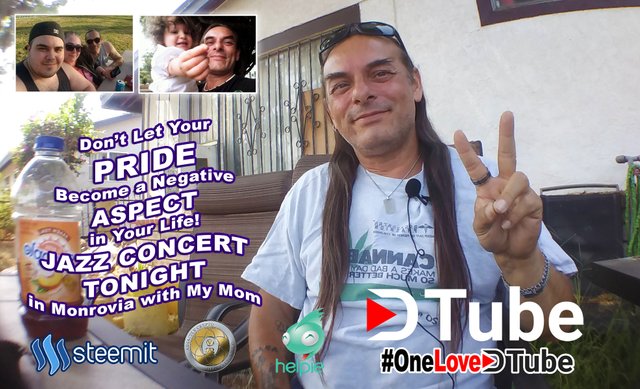 Hello Steemians and Dtubers,
So today's video is all about the wonderful feeling of "Pride". Now Pride can be a really good thing or it can be really bad for you. It all depends on how you present your pride in your life. It is good to be proud of Who You Are, your culture, and definitely your belief system. But Pride becomes a negative when you try and force these aspects of life on other people. When you're too proud to admit that you've done something wrong or when you're so proud you believe that you are better than other people. These would be the negative aspects of pride.
I always encourage Pride in everyone because it is good to be proud of Who You Are and of course your culture and your belief system. there was nothing wrong with this at all like I said and in this video, I will tell you about an experience from my past where Pride could have been seen good or bad but in the end, it ended up costing me a very good career in my life. So whether I was right or wrong in the decisions that I made where my pride became a factor in this decision it goes to show that sometimes Pride can cost you more than you would expect it to.
I give a few examples of this video of how pride is good and how pride is bad and I hope that all of you enjoy this video. I also hope that you will learn from my mistakes and that it will help you have a better day and always move forward in life. These are always my intentions for all of my videos.
Peace and Godspeed everybody. May all of your Ventures and Journeys end in happiness and success. Remember to love yourself because you deserve it because you are a miracle of life. And always prosper in peace, happiness, and love first.
I always give a big thank you to all the amazing people in my life like my beautiful fiance Vanja, are wonderful two children David and Angeles, and all of my family from around the world in Norway, Thailand, Mexico, and here in the USA. Thank you for all the amazing love and support that I received from you everyday you. You always inspire me to be a better person and I love all of you so much.
Thank you to all of you #steemians, #dtubers, @dtube, @onelovedtube, @helpie, @curie, @msp-waves, @vladivostok, @steemians, @steepshot, @steemhunt, @stewsak and @adsactly for all of the amazing comments, love, and support that I get from all of you every day as well.
Much love to all of you and with all my blessings, @jeronimorubio
---
▶️ DTube
▶️ IPFS