@steemprice Update - Ethereum (ETH) & BitShares (BTS) Added + Use & Metrics Changes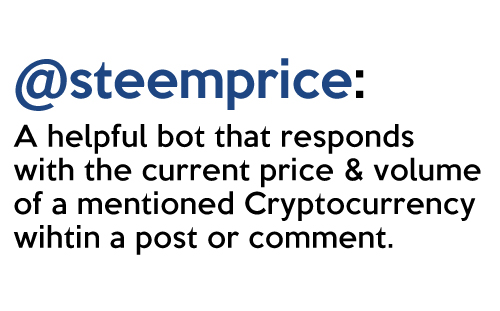 Version 1.1 of the @steemprice Bot is here and although I am only adding live prices for two new Cryptocurrencies the base code has been modified to handle many more currencies in the future. The small bugs experienced I the first version should be a thing of the past. One major problem still exists and that is the backlog capacity of the bot, with it limited to a response every 20 seconds, it could run into problems... if it becomes more popular (we will see).
With the addition of more currencies I have decided to require STEEM or steem for the current STEEM price (no more simple mention) However this will cause the Bot to run into less issues down the road.
All responses first require a mention of the @steemprice Bot followed by the Tag (use Tag 1 or Tag 2 - found in chart below)
@steemprice Tag
| Crypto | Tag 1 | Tag 2* |
| --- | --- | --- |
| STEEM | STEEM | steem |
| BitCoin | BTC | bitcoin |
| Ethereum | ETH | ethereum |
| BitShares | BTS | bitshares |
*Case Sensitive
Example
@steemprice bitshares
As Seen Within The Comments Section Below
If you're wondering why I went with BitShares next, The next 50/50 Cryptocurrency Prediction Contest will be BTS 😉
Volume
Now when calling upon any of the available currencies @steemprice Bot will respond with the 24 Hour Volume + $USD Volume.
---
Vote for @blueorgy as Witness
Go to the witness voting page on SteemIt.com
Scroll to the bottom of the page and locate the vote box (seen below)
Input my name (blueorgy) and hit vote.

Rejoice in self achievement!