Presearch Achieves 125,000 User Milestone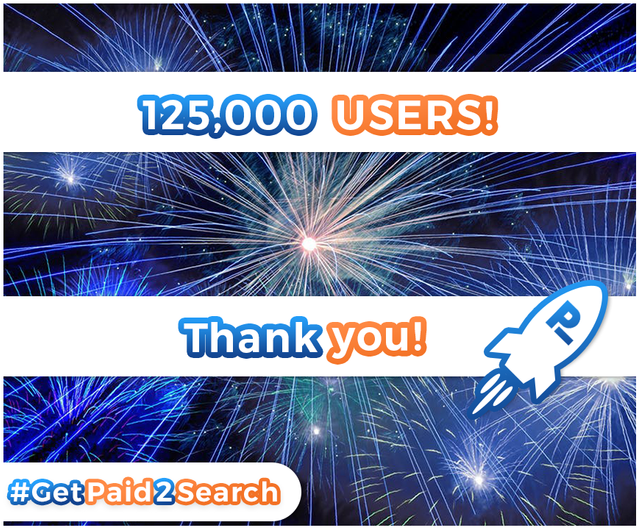 Presearch proudly announces: the people's search engine has reached an incredible 125,000 users milestone, after open beta launched only last month.
The journey so far and the road ahead
After a successful token crowd sale raising $16 million last year, the Presearch team and founder Colin Pape set out to make the vision of an open, community driven and decentralized search engine a reality. Presearch is a long-term project that seeks to create a search engine ecosystem that offers a real alternative to monopolized, centralized and censorship susceptible means of accessing information online. Because of the scope of this endeavor, Presearch decided on a two-phase model. On November 9th, 2017 phase one of the Presearch project was initiated. The first closed beta version of the search tool allowed the developer team to gather all the information and experience they needed to perfect and scale the search tool, so that it would be ready for open access, without any impediments in functionality and improved user experience.
Currently, the search tool allows for the smooth and simple use of dozens of different search engines and numerous other search networks, using their APIs to provide the best, most user-friendly results. But eventually there will be a shift to the second phase, which means Presearch will become a full-blown, decentralized search engine, including its own web crawlers, customization and preference options etc. The dedicated team of developers is working tirelessly behind the scenes to perfect the future stand-alone search engine with all its exciting new and optimized functionalities.
Presearch open beta, a successful referral program & reaching 125,000 users
The open beta version of Presearch was finally launched in April. In addition to the platform's native incentivization program of earning PRE tokens for searching, at the beginning of May, a double-sided referral program was introduced, which rewarded both search users and community builders alike. The success of the referral program enabled Presearch to rapidly increase the beta user numbers to over 50,000, expanding the user base significantly and collecting further instant product feedback. But with greater popularity also comes greater attention of the undesired kind: fraudsters and spammers.
This gave the developers the chance to really test and hone their various defense strategies, and the results are more than satisfying. The complex fraud prevention system and AI technology that Presearch has made use of, have proved to be highly efficient in detecting users who try to game the system and have prevented them from illicit activities, such as abusing the incentivization program mechanisms. Despite all of this, since April 2018, fifty percent of beta testers have become genuine daily users, earning up to 8 PRE/day searching the web. Thereby generating a daily average of more than twenty page views per person. These numbers indicate incredible organic growth, providing the necessary grounds for the stable and valuable search ecosystem of the future that Presearch strives to become.
Motivated by the community engagement and the overall positive feedback we received, we set ourselves a new goal: to reach 100,000 until the end of the month. We are very pleased and proud to report that, not only were we able to reach our goal, but we also managed to exceed it by 25,000 users and were able to stay ahead of schedule. Although at this point it is worth mentioning that we, in this case, means every single person in the Presearch community who has helped us get to where we are at present.

As should be evident by now - Presearch wasn't "just another crowd sale". What we started last year, is only the beginning of a long, ambitious and revolutionary journey, yet we were able to achieve all our main goals this far. With the combined efforts of a hard-working team and a dedicated community, we were able to deliver a working beta product and establish a substantial user base in an incredibly short period of time.
We therefore want to thank all of our users, token holders and community members for their continuous support. Looking back, we feel proud of what we have achieved with the help of this great, world-wide community and we are more than excited for what's yet to come. We can't stress this enough - this community is the foundation of the Presearch project - we could not have done this without every single one of you. This milestone is as much your success as it is ours.
THANK YOU.
We hope to have provided a brief summary and some insight into Presearch's achievements so far and the current state of things. The second quarter of 2018 isn't even over yet, which means there is much more to come. There is still a lot of work to do behind the scenes, but we can say this much: we have many more great announcements, exciting news and updates in store for you, so stay tuned!
To stay updated and take part in the conversation - join our social media channels:
Telegram
https://t.me/presearch
Twitter
https://twitter.com/TeamPresearch
Community Forum
https://forum.presearch.community/
Bitcointalk
https://bitcointalk.org/index.php?topic=2534762.0
Reddit
https://www.reddit.com/r/PresearchCommunity/
Medium
https://medium.com/@teampresearch
Steemit
https://steemit.com/@teampresearch
Sign up to try the open beta version:
https://www.presearch.org/signup
For more detailed information about the project read the White Paper:
https://www.presearch.io/uploads/WhitePaper.pdf
If you want to hear Presearch team lead Colin Pape talk about decentralized search, you can watch this interview with John Furrier (the Cube) here: