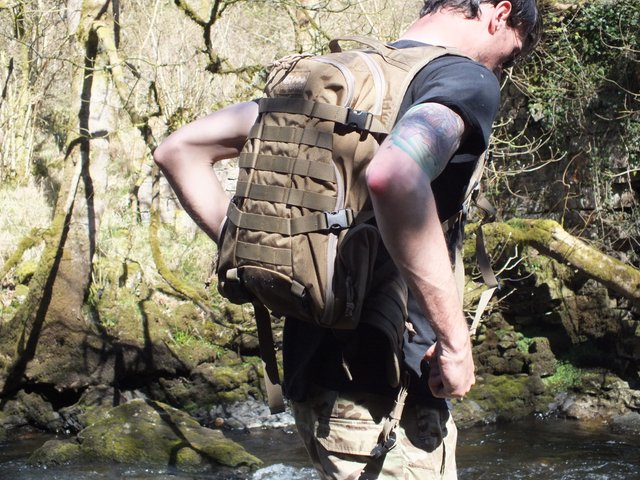 I often get asked when out camping with friends 'Whats the best knife for £50?', I usually notice however, that what they really need is a basic setup. I don't mind loaning kit to friends but, when they want to spend £50 on a knife yet have nothing to sleep in or are carrying their camping kit in plastic bags, maybe they need to spend that £50 somewhere-else. So with 10 minutes on Amazon I found a decent setup for £50(well it was close to £60 if I'm honest but I was never asked for the best knife for £60) and all including delivery, so no extra fees.
So lets get started on our camping kit for 50 quid.
Risefit 30L backpack £14.07
Tidy little backpack big enough to store all of the gear with room for food and water (or whatever beverage you desire, don't take gin). I'm not kidding when i say I have friends who bring carrier bags filled with useless crap thinking it is necessary. My motto is 'Don't bring it if you don't want to carry it.' and I stand by that. I wont help somebody carry their 4 post bed and laz-e-boy out into the sticks. I pack light and the only thing that I carry outside of my backpack is a folding chair and whatever booze I'm bringing. Just stick to the minimal gear and you wont be sorry when you have very little to take home with you after a night on the sauce.
G4Free Hammock £8.99
Basic hammock that's big enough for 2 people so there will be plenty to wrap over yourself to keep the bugs off you at night. It doesn't come with a rain cover but' you can always get one later on and most people wont be camping in the rain anyway. There are cheaper options such as netting hammocks but trust me they are horrible to sleep in and while I don't get bothered by bugs I know most people do so the extra to wrap around yourself may just make your night out in the wild a restful one.
Yellowstone sleeping bag £11.17
On offer at the moment, so maybe you will have to get a different one but, there were plenty around the same price so no excuse for not having anything to sleep in. Good enough for a first sleeping bag and could last you several years of use if you keep it clean. Combine this with the G$Free hammock and you have a decent sleeping arrangement that's easy to carry.
Mora Basic Knife £8.92
I mentioned knives for £50 and how other items were more important but those are as upgrades. If you have no knife and are looking to make your first kit on a budget then look no further. We are big fans of Mora quality and design. You can only get a better knife for less than £30 if it's a Mora so, if you need a knife in your starter kit this is definitely it.
Linkax LED Torch £6.99
No camping kit is complete without a little torch for gathering wood, keeping watch or going for a walk. There were slightly cheaper ones but this had lots of good reviews and a very affordable price. Waterproof and adjustable brightness and spot/floodlight settings, it even comes with some batteries.
Aluminium Cooking Set £7.50
A very cheap cooking set with everything you need to go out for a weekend. No cup but you can always use a pot for a brew and for only £7.50 including delivery. BARGAIN!
San-Wood Fire Starter £0.77
Standard magnesium flint steel to get your fire going and for only 77p including delivery. I have to be honest I was surprised to find a fire starter for less than a pound and even more surprised to find out it had free delivery. There is no excuse now to not have the tools you need to get a fire going. For less than £10 you get a Mora knife and a fire starter. Good times. Obviously not everybody needs a firestarter like this, most of you can make do with a lighter and some TP but come on 77p, I needed to mention it.
Just a few alternative ideas for you guys that dont want a hammock but it will cost a few more of your precious pounds. Mountain warehouse tent for £25. Also don't forget a good mattress. I recommend self inflating as they are more portable and I find them more comfortable Trail self inflating sleeping mat for £16. This would put you at around £90 bu if floor camping is where you are at then you don't have much choice as any cheaper than this and you are going to be wet in the rain and uncomfortable anywhere except a mattress grove. I don't know where mattresses are grown but I assume its called a grove.
This came in at £58.41 on Amazon. So a little over budget but I think we can agree not by a huge amount. Obviously people may likely have a spare backpack laying around or wont need cooking kit because they might just skewer a steak and cook it caveman style but for £58 it's a good setup for anybody who has never gone camping before and is just looking to spend a night or two out with some friends and thinks it will be too expensive. Clearly it is not and it's the great thing about camping. You dont need lots of money to get started. My first night out (not including in my back garden when I was 5 ) were as a teenager using a tarp from my dads garage and a sleeping bag from when I was 5. I was out with 3 friends getting drunk and eating pizzas cooked on a stone next to our campfire and it was fantastic [except when we mixed a bottle of gin with our only non alchoholic beverage(cherryade) and had nothing to drink in the morning]. It cost me nothing at the time and spurred a love of camping that never died. I highly urge you to get out there and get your friends out as well.