📸 So this week's theme of the @portraitcontest was just screaming at me to participate. I couldn't help it. 📸
And since everything I do seems to have a backstory to it, so does this photograph. Wanna hear more about how this shot came together? Well, you might already guess, but here we go! It's showtime, storytime!
---
Alright, so in October 2017 I was set up to photograph a festival in Tampere, Finland. 🇫🇮
It was a showcase festival, many up and coming artists as well as established acts that released new music and business insiders were present, it was all about networking and hopping around all the hottest venues of the town to catch your favorite acts on time.
I travelled all the way from Austria, via Prague Airport to Helsinki and then to Tampere by train, which is like ca. 300 km away from Finland's capital. Let me tell you, the travel was tedious and I was more than happy when arriving at my hotel, but that's what ya girl Stacy does for her business! Jesus, I'm obnoxious, I should tune myself down already...
The line-up of the festival's 2017 edition was extraordinary and on the first day, we already saw a bunch of highlights that would engrave themselves into our minds with their powerful performances – One of them being this band and mind you, this video/song were released long months after they played at this festival. Anyway, take a listen if you want:
Here's a LINK, I don't want it to turn into a video just yet...
So, this Finnish duo plays "Subarctic Pop Music" and consists of the members of a well-known Alternative Rock band. They released their debut album in January 2019, so it was still a long way coming back when I got the chance to photograph them.
I was coming to this show with a certain sense of anxiety (which wasn't as big as it is nowadays, my disorder worsened since that) as I absolutely didn't know what to expect from their show. Sure, I grew to love the singles they released, I knew their previous band and saw them live every time I got the opportunity to do so. But this one was different.
So damn different.
I was anxious, but I had a clear vision of the shot I wanted to compose when being out there in the wild and to be honest, I didn't know that I had the one until I came to my hotel room at 3 AM to check the photographs out and start the first editing process.
I guess it captures their spirit pretty well – I wonder what I'd come up with in the present time as they're touring as a duo. Maybe I'll get the chance sooner or later? Who knows?
Tired of me talking yet? Of course you are. Here's the heavily compressed photograph: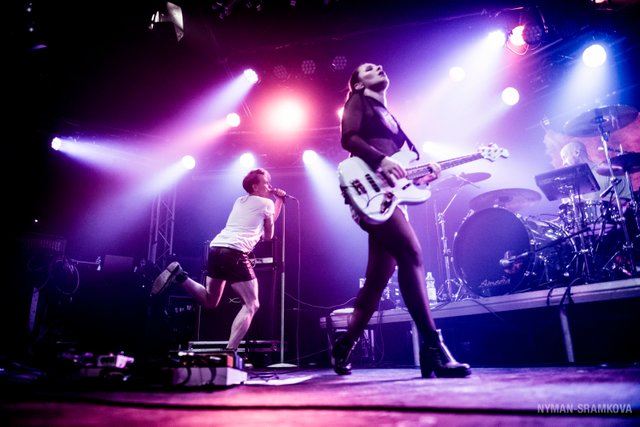 ---
So with all of this being said... Feel free to upvote, comment, leave feedback and everything that comes to your mind! Did I spark your interest in checking out some cool Finnish tunes? Very, very cool if I did! I'll see you in the next post!
🎶📸🎶📸🎶📸🎶📸🎶
Take care and good vibes!
– Stacy, The Cool Cat aka Her-Name-Is-Not-Stacy