I'm a person used to having everything her way, and when something doesn't work out too well for me, it feels like chaos.
I like keeping everything under control, but hey, I'm also well aware that the Universe doesn't work MY way... Luckily enough, sometimes I work its way.
When I'm taking a still-life picture, I am the one who calls all the shots, but when it is a portrait it's a whole different story. You gotta do the job and have a good time while you're at it, making sure the subject is having a good time as well during the session.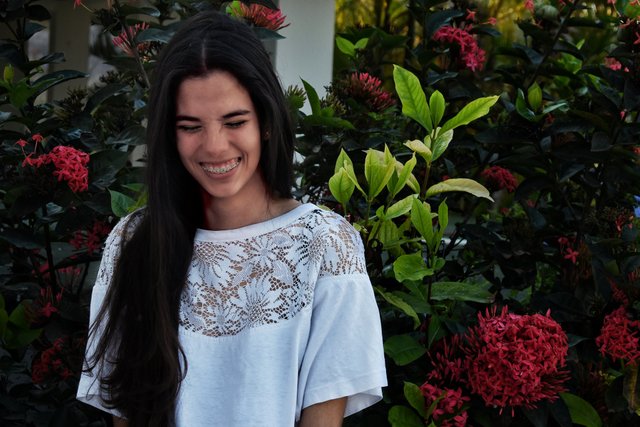 When I took this photo, I was completely out of my comfort zone, it was outdoors, it was hot, it was public. Thankfully I was with my best friends, and I really like joking around.
To me, portraits are about capturing a persons essence without leaving aside elements like the aesthetic they're looking for and the basic norms of photography.
Between shots I was talking as if nothing was happening, pretending I ACTUALLY knew what I was doing, and I guess I must have done or said something funny enough to have my subject laughing for some seconds, so I saw the chance and took it.
I am very fond of candid photographs, and this one is surely one of my favorites. I didn't have to do much editing and I think it's pretty good for a rookie like me when it comes to portraits.
---
This right here is my entry for the Portrait Contest week #114, by @jasonrussell who is also this week's judge. I really appreciate @portraitcontest because it's making me try and give a better shot at this genre of photography :)
---
Photographed by @mariacaffrey, using Nikon D3400 and AF Nikkor 18-55mm, with F7.1, ISO 400, 1/500s, processed with Snapseed
Image above belongs to me, all rights reserved.