My Cryptocurrency Portfolio
Cryptocurrency Portfolio

Before I start I'd like everyone to know that I am not a financial adviser and have no credentials . I am simply a person who wants to make money.
For those who have been following me you might know that I lost around 384 USD investing in Bitpetite which now has disappeared into the abyss with many people's money with it. I didn't want to make an update because of the slight chance that it would come back online and I didn't really want to hurt their reputation if they really were legitimate. Now it has been around 2 weeks and I have to accept that I won't be getting my money from them.
After I deposited what I could of my savings into bitcoin I began thinking about either just holding onto my bitcoins or putting them into some other platforms. I weighed the risk vs reward and I have come to conclude that it would be well worth trusting some platforms with my money since it could have payout in the hundreds of thousands by 2019 versus holding bitcoins and maybe only doubling my money with them by 2019.
I can't say that because bitpetite is gone that therefore all other platforms will disappear as well.
Bitconnect

Bitconnect is a platform where you can lend money and receive around 0.90% (either less or more than this on some days) off your capital daily for a set amount of days depending on how much you decide to lend out.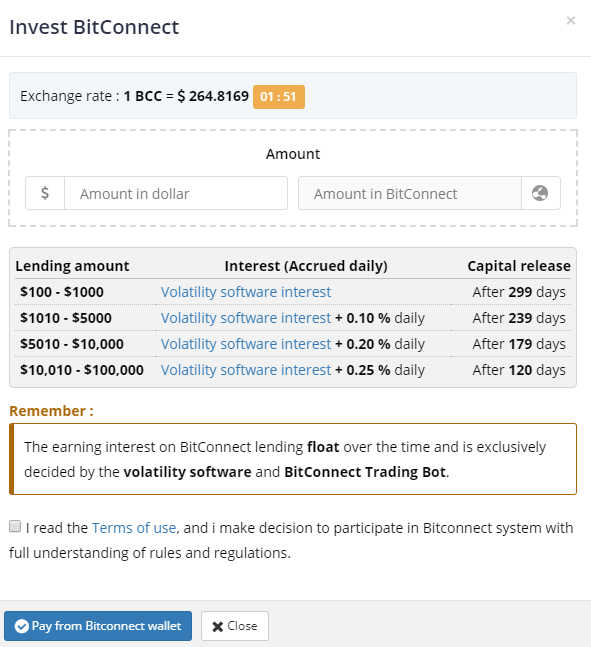 The incentive to lend out and invest more into this platform is the shorter capital release time and bonus interest rates. For your convenience they have a simple interest calculator that will estimate how much you will have by the end of the lending period. Keep in mind, this calculates based on if you didn't keep reinvesting into the platform with your daily payouts so it would actually be significantly better with compound interest.
Why I chose this platform

https://coinmarketcap.com/all/views/all/
There are over a thousand different cryptocurrencies as of writing with more coming out of the woodwork seemingly every week. Its market cap may not have been very impressive when there were only a few cryptocurrencies in existence but being rank 21 around a year from release is.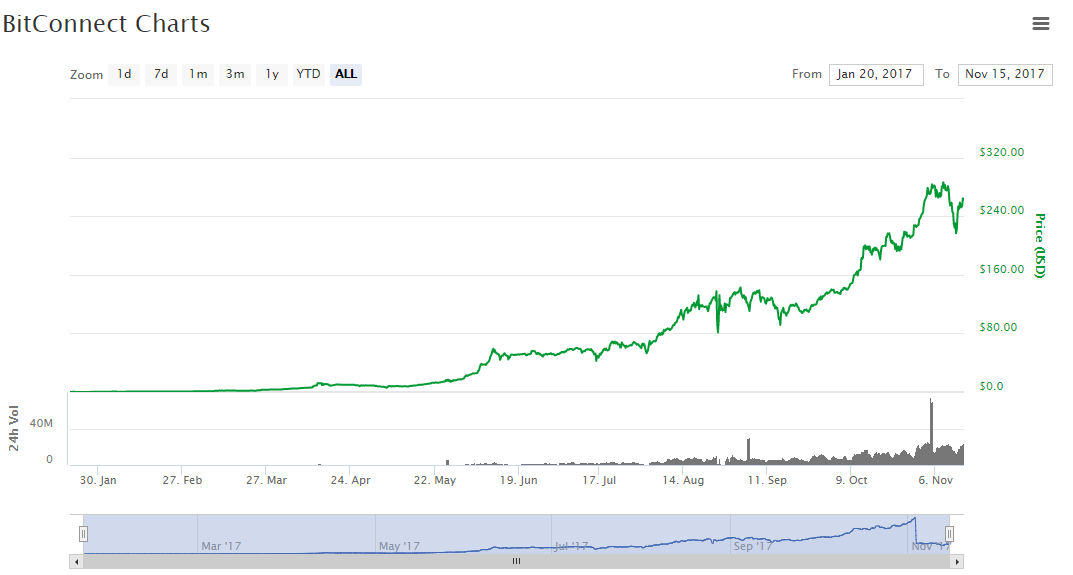 https://coinmarketcap.com/currencies/bitconnect/
A bitconnect coin was around 14 cents USD in January of 2017 but now it is hovering around 263 USD in November. It's proof that people do value the currency. I'm not saying that it's going to up 1800 times but it has been on an increasing price trend this year.
USI Tech

USI Tech is a technology company that specialises in automated trading software.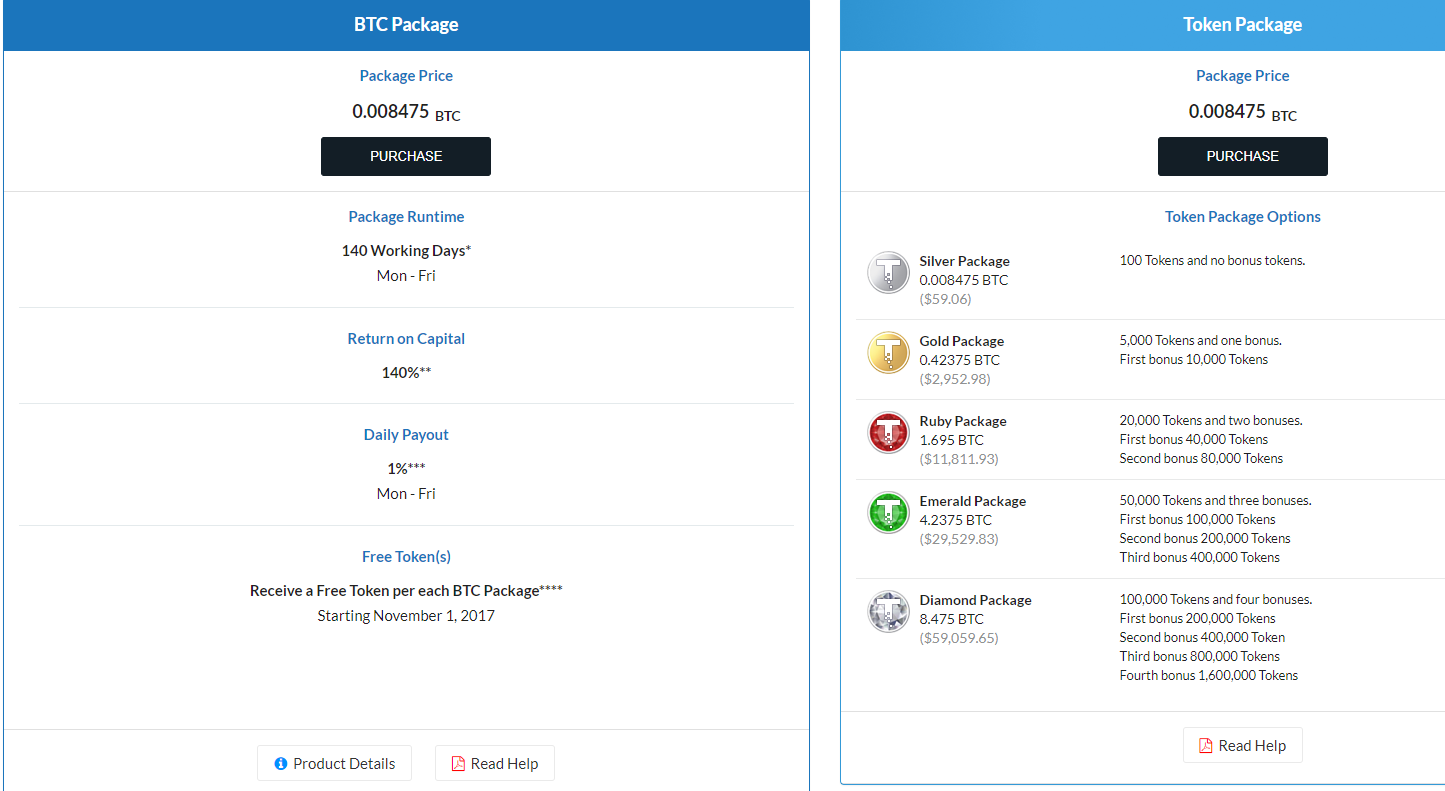 At the moment you can buy a package in BTC that is worth around $50 USD and they will give you 140% of it back in around 140 working days. Unlike bitconnect, the daily payout is in BTC not USD so you may actually make much more than 140% with the price increases of BTC and you can of course reinvest with the daily payout provided you have the minimum required to purchase a package.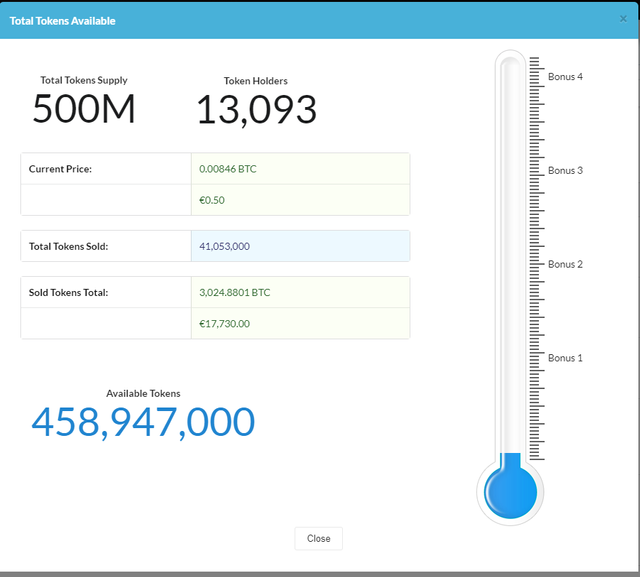 They're currently having an ICO. You can find details on the prices here.
http://www.usitech.io/usi-tech-token/usi-tech-tokens/
Why I chose this platform
I bought a ruby package because I believe in their legitimacy with their owners being out in the open. There are events where everyone involved could be met in person. I have concerns about the potential price of the tokens due to such huge volume being offered but since they're being open with what they're doing I believe I can make a profit.
Ucash

I'm not really what this platform offers that differentiates itself from bitconnect. Its layout seems similiar to bitconnect with trading, lending, mining and staking. I just believe that I can sell the Ucash tokens for a big profit a year or two after the ICO. The ICO is opening in 7 hours so get in quick while it's 0.8 USD per token.
My Referral Links:
Bitconnect: https://bitconnect.co/?ref=dfsdfsdf
USI Tech: https://evilways.usitech-int.com
Ucash : https://ucoincash.co/ref/badworld