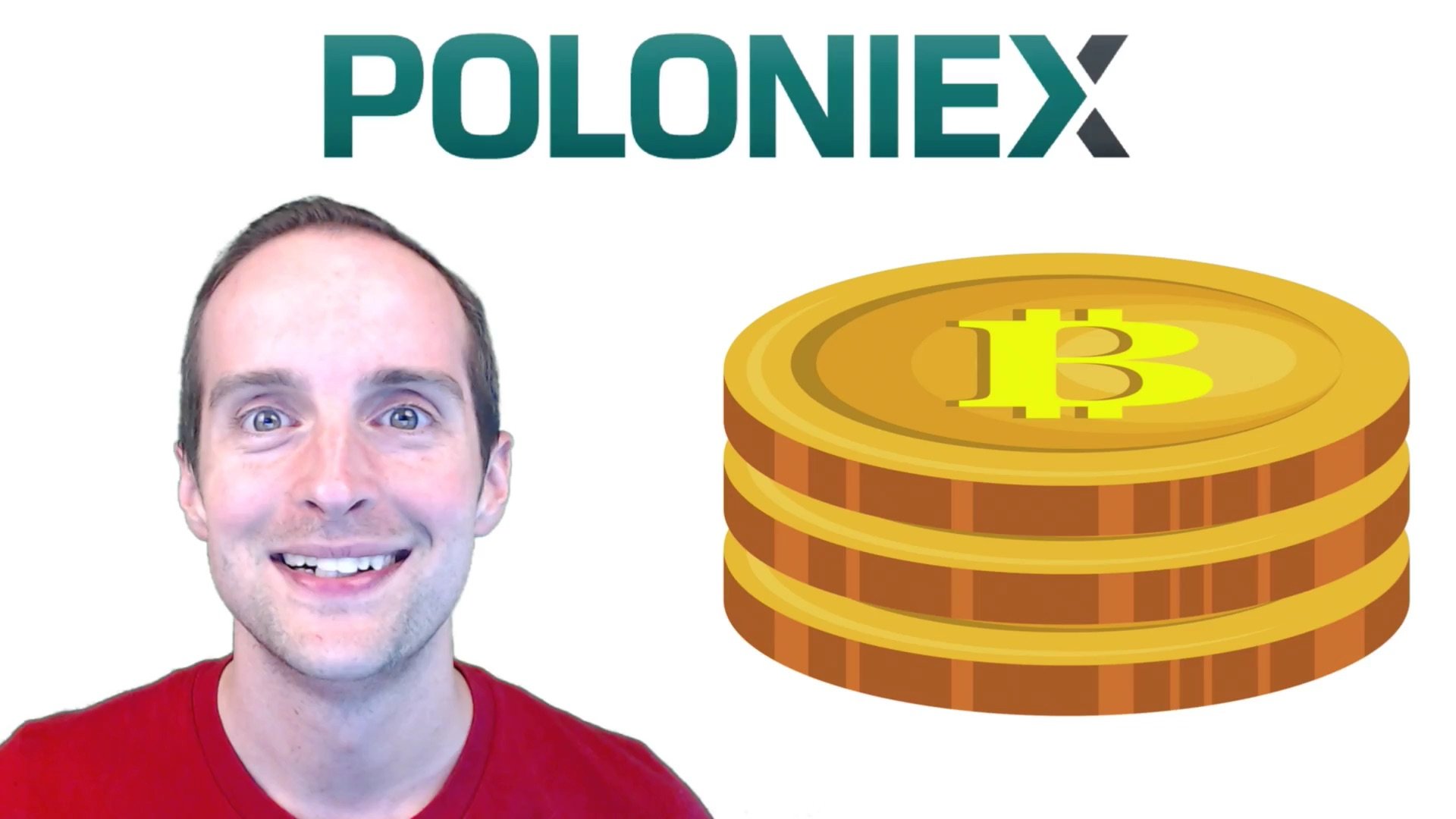 Will we keep using the cryptocurrency exchange Poloniex when we do not know how much money Poloniex has? Would we make more deposits if we could see the actual wallet balances for all the cryptocurrencies Poloniex makes available for trading?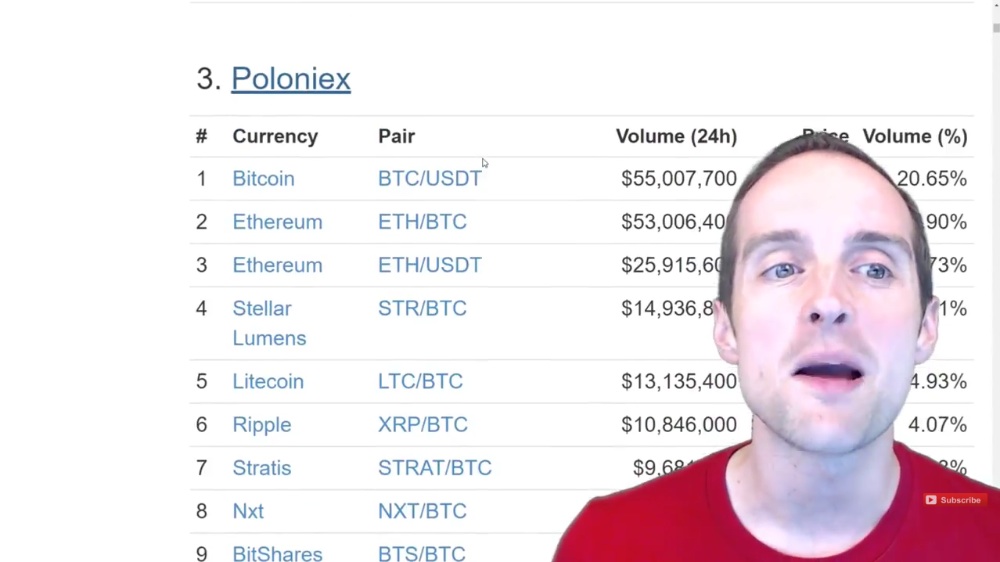 Poloniex is currently one of the top altcoin exchanges by volume and appears to have the largest number of deposits in altcoins among any exchange. As potential or actual customers, do we not have the right to know how much money they actually have it all their digital currency wallets compared to how much they are liable for on withdrawals? With no official data, the best we can do is estimate. The estimates here based on what we can see are shocking in terms of how many USD worth of digital currency Poloniex probably has.
How much money does Poloniex actually have?

We start with looking at the volume, and then we compare that with what we can see on the cryptocurrencies which are easily transparent. On Poloniex in the last 24 hours there has been a total number of trades equaling 272 million dollars.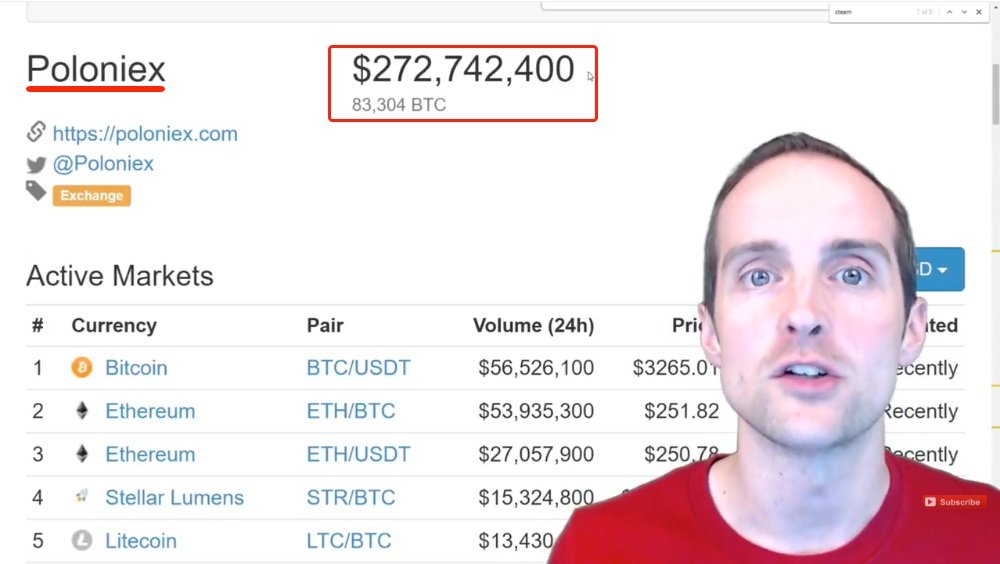 That means Poloniex actually is holding all of that in one form or another. Now, some of these are repeatedly traded, but as I'm going to show you this volume is a good estimator on how much Poloniex has because this is the amount of cryptocurrency in value of US dollars that has changed hands. In order for it to change hands, Poloniex has to have both sides of it.
Now yes, people can trade multiple times so we're going to account for that in the total value. In other words, 272 million has been traded. On the one side for example, a trade requires it to be on both sides. If I want to trade a Bitcoin for an Etherium, then Poloniex has to have the Bitcoin and the Ethereum in theory.
Now in practice whether they actually have it or not may be a little more interesting. Fortunately, we can actually see how much Poloniex has for one cryptocurrency in particular, which I think is the most undervalued and by far the best buy today. It is why I'm holding about $60,000 of it right now, which is my entire retirement portfolio, and my checking and savings account.
Poloniex has an account on Steem. This is one of the top currencies that's traded top 20 out of hundreds.
Poloniex has 24 million Steem.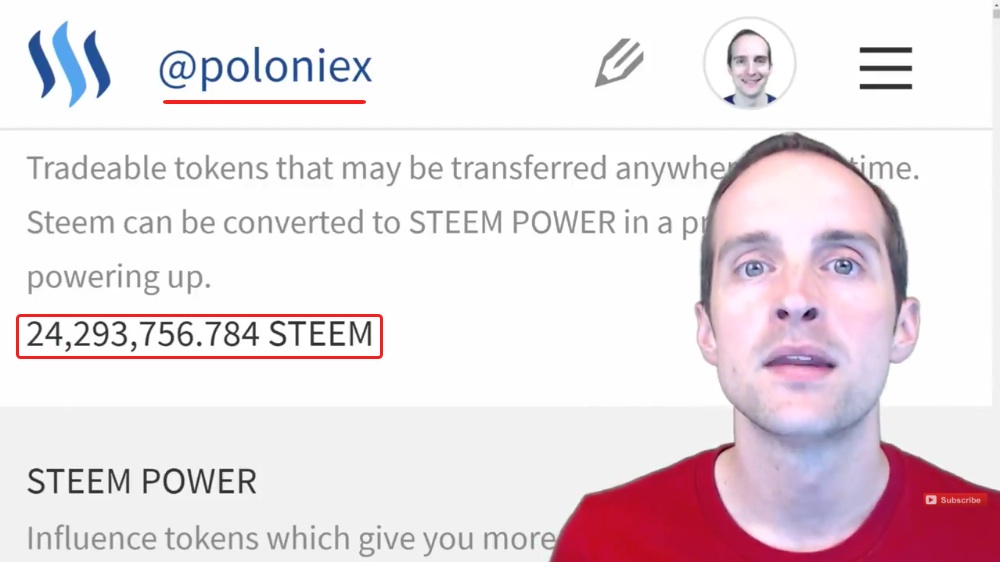 They are sitting right now on $32 million of Steem alone if you look at their account value and count the Steem Backed Dollars.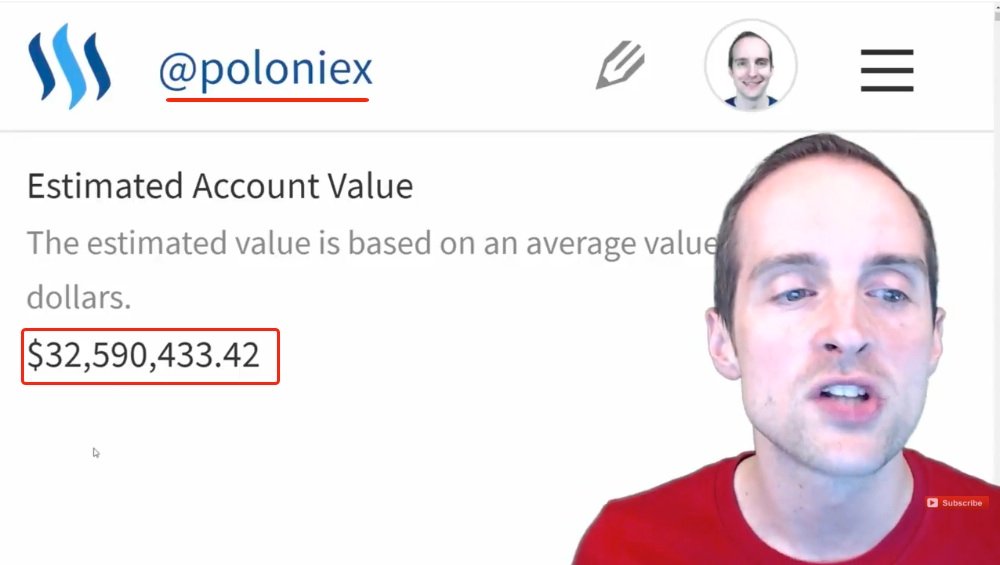 Now, it's not obvious, you can look at the exact wallet Poloniex has, but they can also have multiple wallets. Long story short, let's look at the total volume on Poloniex. Let's just find the Steem volume. Even though they have $24 million of Steem, the actual amount of Steem transacted was only $728,000 in the last 24 hours.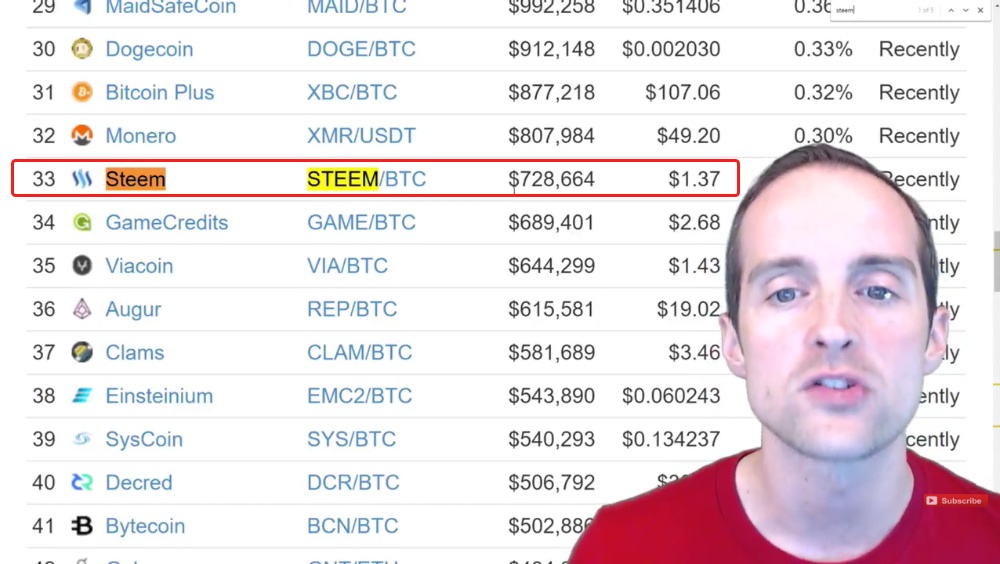 Let's look at it from this point of view. I'm going to do different calculations to help us get an exact value using a couple of different methods.
First method

I'm going to add every single Steem market that is available on Poloniex. I'm adding the total up right now and we have the total number: 900,000 in Steem transactions. This is the volume in the last 24 hours on all the Steem markets.
Now we're going to divide that by the total amount of value in the Poloniex account. Therefore, the total amount of transactions, total amount of trading divided by the account value.
Now this is very easy to see that there's $32 million of Steem on Poloniex. Steem is right now not even in the top five currencies. It's actually 33 and they have $32 million of the 33rd traded currency.
Now, how much must they have in total?
We're going to calculate.
We'll then divide 900,000 by 32,590,433.42, which gives us approximately 3% of the volume to holding ratio.
Now, I've calculated beforehand using a different method and the number 3% is coming out significantly here.
What I've done, 32 million is how much we know they have in Steem. It's all sitting in one Steem account.
"Man if you got a hold of that you could have some fun!"
We've got the total amount here relative to Steem.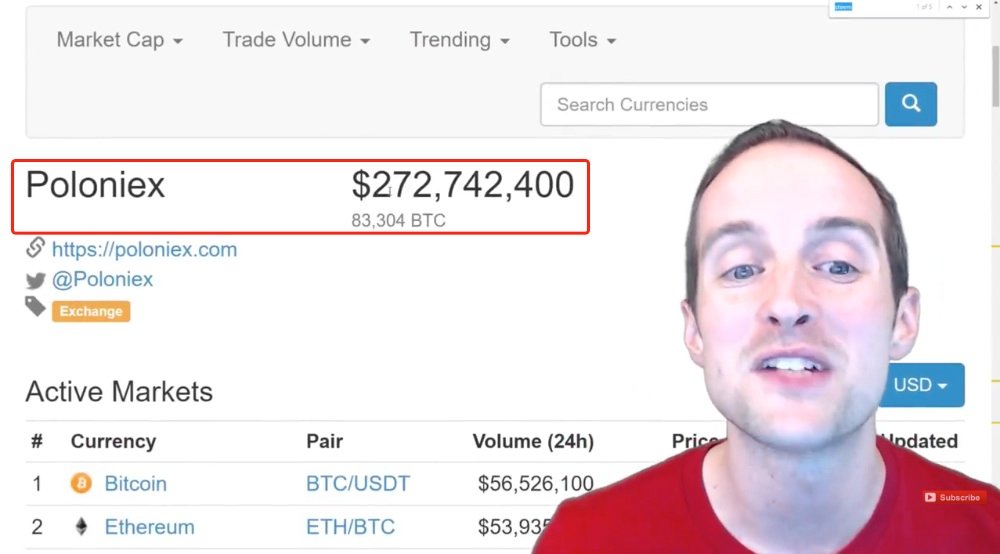 Now what we can do we've got this percentage: 2.7%.
This is the approximate percentage, but for Steem it's exact. This is the exact amount of Steem and Steem Dollars that Poloniex is actually holding compared to the total amount that was transacted.
We're going to divide 272,742,400 by 0.027, which gives us 10,101,570,370.
That's the number I was looking for $10 billion.
If the ratio of Steem is similar, Poloniex has about $10 billion.
Second method

Now you could do this a different way.
You could say the ratio of Steem is perhaps low. What I'm going to do is show you another way you could estimate it. You can estimate it also perhaps by these sell orders.
You can look at the Sell Orders and see right now that there's about 2.5 million Steem up.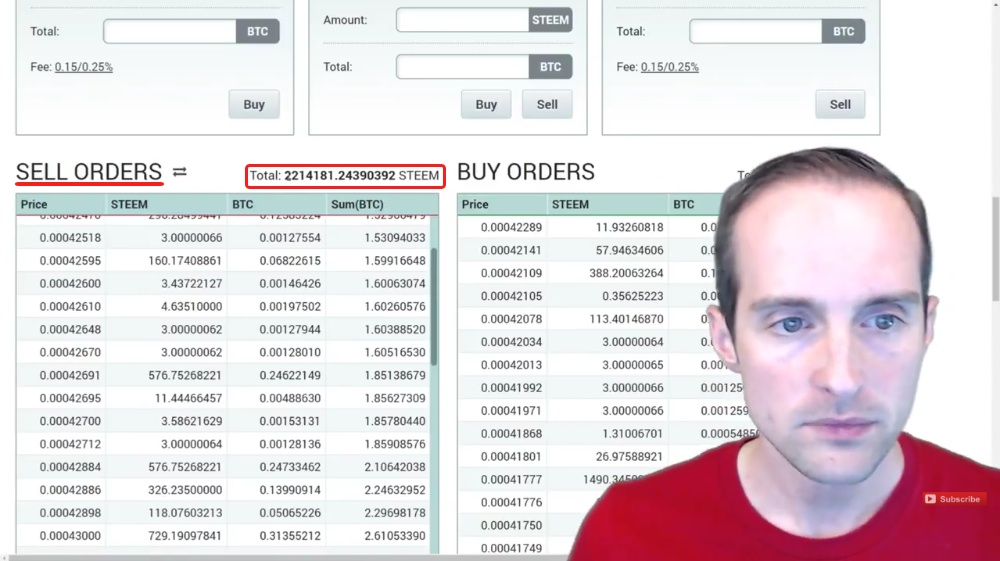 Meanwhile, there's actually 10 times that much that's just being held on there.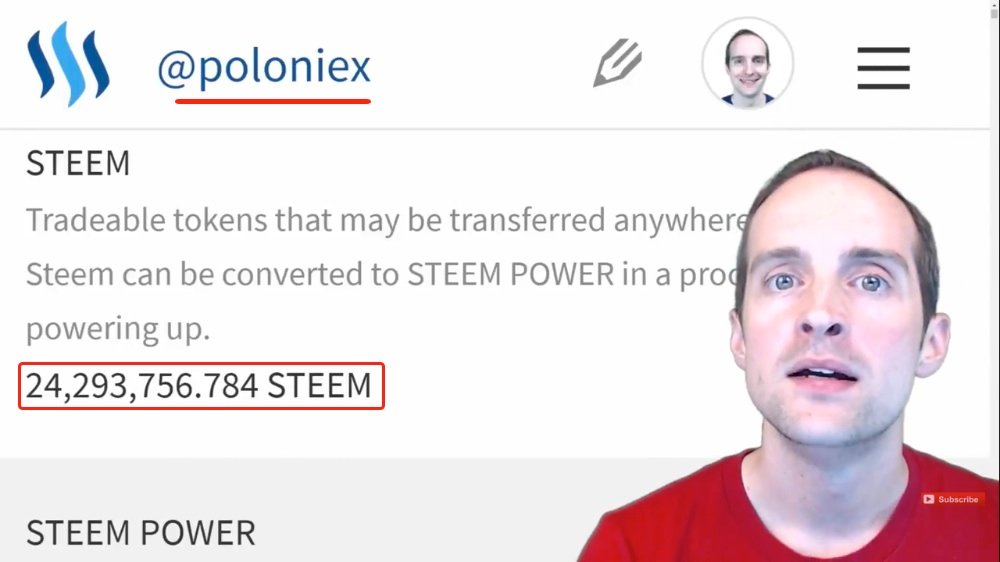 In other words, if the Sell Orders are representative of the total balance, there's 10 times as much that people are holding and they're not even trying to sell.
What we could do in order to get some perspective is just to look at the Bitcoin and Ethereum market.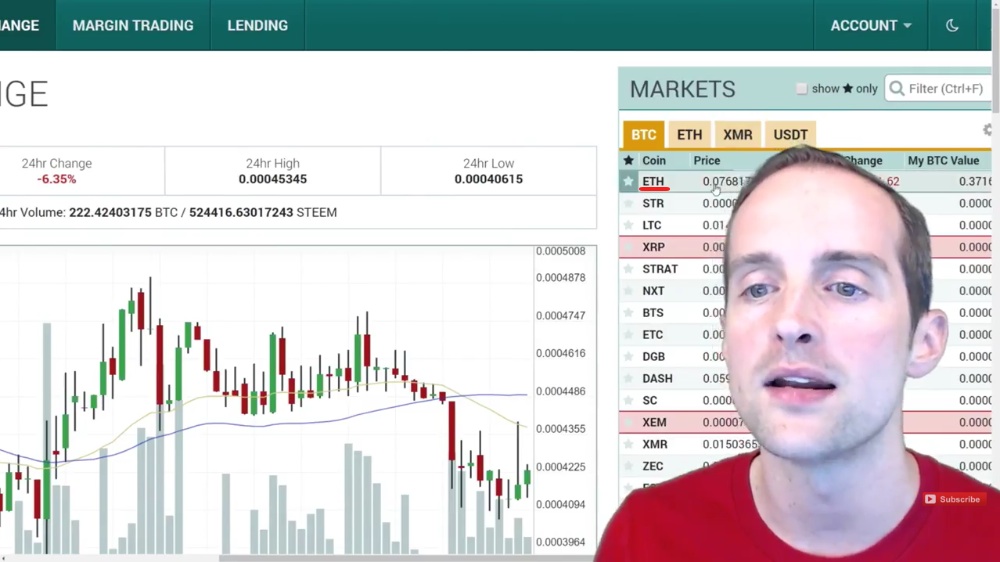 Let's look at the Ethereum/Bitcoin market. We can get a little estimate from here. What I just showed you on Steem, there was about 10 times as much as active on the sellers. Again, not exactly perfect, but we can get estimates that are pretty close this way.
Right now, there are current Sell Orders for 100 thousand Ethereum.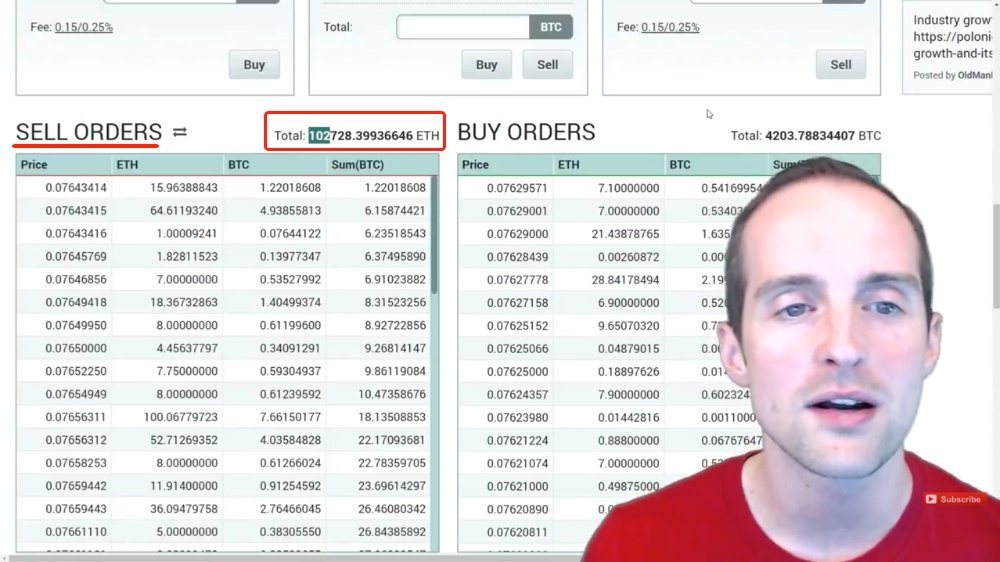 We could say with confidence, it's probably at least, at a bare minimum, a million Ethereum right now on Poloniex, absolute bare minimum.
I'm saying there's at least, using the Steem numbers and if you want to go conservative, 3 billion on Poloniex based on the actual numbers we've got here, though it's about 10 billion that's sitting on Poloniex.
If you do the same thing with Ethereum, and you say that there's 10 times the Ethereum, there are other Ethereum markets, but we're just going to keep this simple enough.
There's 1 million Ethereum times current Ethereum price, which is $250 today, and it equals to 256,750,00.
That means just in Ethereum alone, there's likely to be at least $256 million in Ethereum, but that doesn't accurately capture all these other Ethereum markets. That's just calculated through the Bitcoin/Ethereum market.
Very easily, if you consider the value of everything else, it gets up there. Just on this, there's a whole bunch of Bitcoin buy orders as well. There's very easily at least a quarter of a billion in Ethereum alone. You'd have to think that there's at least a billion or so in Bitcoin, and then there are so many coins on Poloniex.
You've got to think, if you look over and see that in one of the smaller currencies relative to the big ones, there are 32 million dollars of Steem just sitting on Poloniex. You'd have to think something like Ethereum at a bare minimum, there'd be 10 or maybe 20 times that much Ethereum, and maybe a 100 times that much Bitcoin.
Therefore, I suggest there is anywhere between at a bare minimum a billion dollars on Poloniex, I would say the closest estimate would be around 10 billion dollars of cryptocurrencies on Poloniex, with a high end maybe being depending on the price when you see this, 20 plus billion dollars on Poloniex.
What does this mean?

When we've got this much money all put in one place like this, in my opinion this signals a risky situation. There are two simple tips you can use that you can follow out of this. Knowing how much money is on Poloniex.
"I don't know if I know, Jerry, based on the numbers you gave."
There's anywhere between 1 billion at the low-end and 20 billion at the high-end, probably about 10 billion dollars on Poloniex.
Knowing this, that makes one of the number one hacking targets in the world, a very good hacking target. All you have to do is find one way and clean out a little bit.
At the same time, it also makes a very big target for things to go wrong. When I put my deposit, I so far have not had any issue with Poloniex other than delays. So far, my account has functioned smoothly. I will sell the rest of my Ethereum into Steem and make a withdrawal.
There are two basic strategies knowing this.
The one basic strategy is to at least put some of your money, withdraw some of it, and put it on another exchange. My favorite exchange right now is Bittrex because it works fast. The withdrawals are light speed.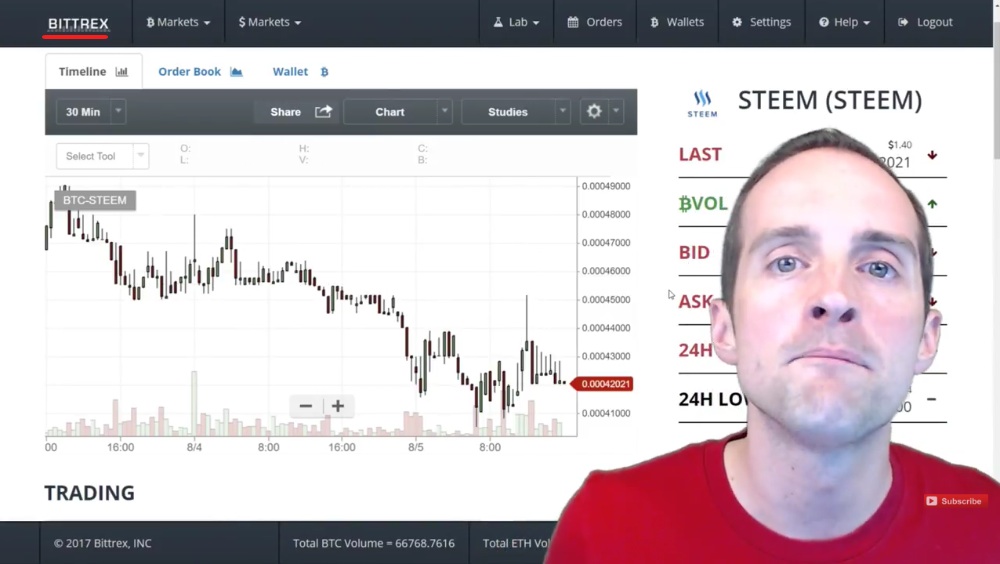 I can put Ethereum on Bittrex and have it in my Steem account. I can run it through Bittrex from Ethereum to Steem and have it all done in 20 or 30 minutes. Complete change and withdrawal, Bittrex is incredibly fast. I suggest if you've got a bunch on Poloniex, split it up, especially if you've never made a withdrawal.
Try making withdrawals to see if it works. At a bare minimum place your bets, put at least half on Bittrex or somewhere else. Take out as much as you can and get it in other places. A 10 billion dollar target is likely to get taken down at some point. Especially because it's already overwhelmed. Poloniex is already barely able to handle all the things they've got.
I've seen story after story of users losing their money, accounts frozen, accounts hacked, no customer support. I love Poloniex, but I'm saying this because they probably need a lower transaction volume so that they can have more room to breathe.
Therefore, I suggest, and this is what I'm doing, I've taken my money, I have had as much as 5 or 10 Bitcoin at once on Poloniex, I've taken almost all of it off and I will be withdrawing the very last of it today.
All in my Steem wallet

If you have a whole bunch, it's easy to hold it in Bittrex as another exchange, but where I'm actually putting mine is in my Steem wallet. The majority of all of my money, I'm holding for all my cryptocurrencies, is in my Steem wallet. You can see for yourself that I'm holding almost all the cryptocurrency I have in my Steem wallet.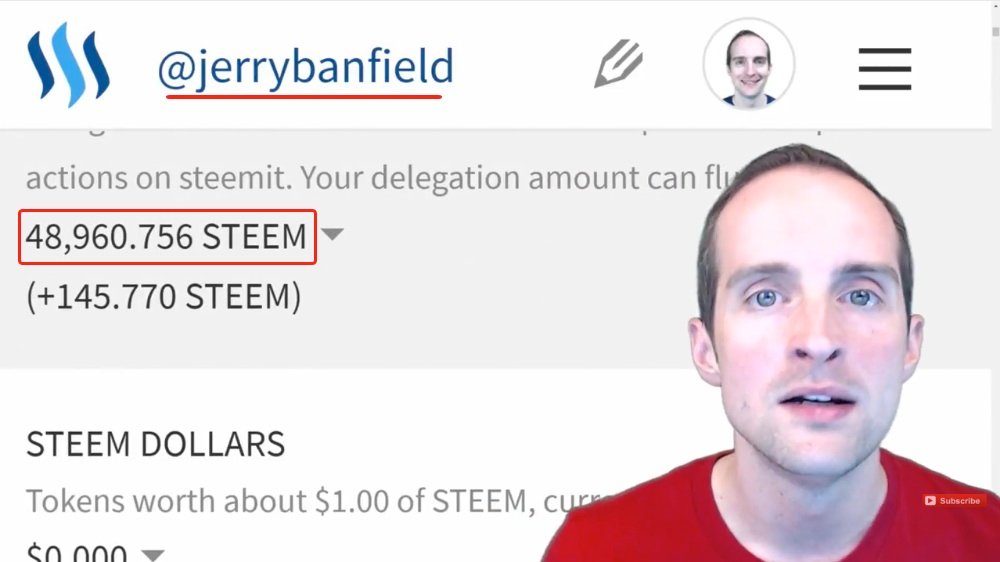 Why?
Because I actually earn interest just leaving this in here and I can power it down and withdraw it steadily.
It takes a week to get out 1/13th of it, so it's kind of vested in here, but it earns interests constantly.
Look, if I refresh the page, watch this. It was 756 and now it is 757. I just earned Steem while doing this post, about a tenth of a cent.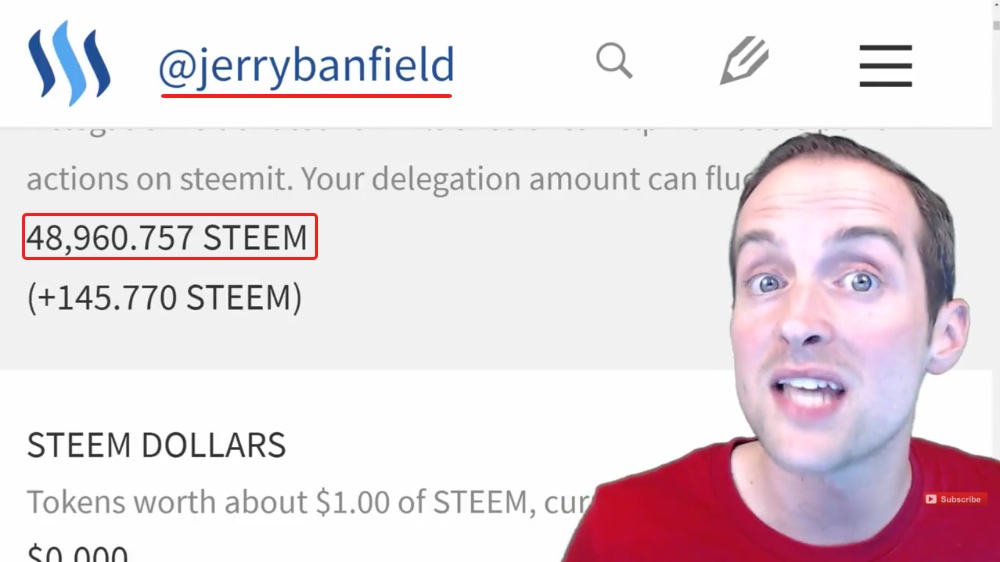 I hold my Steem here now. I used to have it in a lot of different places.
I recommend holding your cryptocurrency in a wallet that's made for it. Steem has the best wallet set-up I've seen because it's also an account you can actually vote. There are so many things you can do with it.
However, there are lots of other wallets out there that have features, and for some of them, the more you have activate more powerful features. Like on some of the currencies if you have a certain amount, you can set up a feature that will pay you out. I think it's a Super Node in new economy movement. Some currencies will give you the same thing as Steem.
Just holding it on an exchange is pretty much the riskiest scenario, and there's no shame in that. I held my money on Poloniex for months in 2016. Now, I've pulled it out so that if something happens to Poloniex, I'm not completely wiped out.
This allows me to just have it in my immediate control. The problem is, if I've got something on Poloniex and I want to withdraw it, then I have to go through Poloniex's withdrawal process, and that can take several hours or several days.
Some users I've seen have even got all their money tied up and stuck. As much as I just read someone's $70,000 ended up in their account, I would imagine there's a lot higher amounts. The problem is, when things like this happen, people are often too ashamed to even talk about it.
Imagine losing $100,000 because your withdrawal didn't go through properly. Would you want to tell anyone about that or would you keep that a secret?
You know what?
I'm not just going to tell anyone because I'll look real stupid. There's probably a ton of times that this has happened.
Then if anything happens on the exchange itself, then you're looking at losing all of it. So what I recommend is have it at least on multiple exchanges in a minimum, and preferably hold it in wallets that actually you have access to.
Now, Poloniex has their Steem in a wallet. Poloniex is just holding this cryptocurrency in their own wallet. Here's another thing with Steem in particular, and any currency where it's necessary to hold it liquid, Poloniex can't keep their Steem in a way that it couldn't and many of the other cryptocurrencies fall in this category. Their ability to withdraw it and transact it also means that it's readily available to be taken out of their wallet.
On Steem the permissions are set up in such a way that if the exact same technology that's needed to go send Steem when I make a withdrawal, all you need to do is essentially get the same key and you could clean out all the Steem at once, and there are lots of other wallets that have this same property for many of the altcoins, and then any big wallet could easily be cleaned out at once.
In fact, if this already happened would Poloniex have said anything about it?
If they already did lose an entire altcoin wallet or if they lost a significant part of a Bitcoin or Ethereum wallet, would they say anything?
If they said anything everyone would pull their money out immediately. Therefore from their business point of view the safest thing to do if they did actually lose, if they had a little catastrophe, but not big enough to wipe it out. The safest thing to do would be to not say anything. I have no idea about what has or has not happened, these are logical things, therefore I'm pulling all of my money off Poloniex today and I am putting it in my Steem wallet.
If I want to buy more I will be using Bittrex until such time that I see a lot of stories about "Poloniex restored my withdrawal. Poloniex is working faster now. Poloniex is solvent" and Poloniex actually shares this information that I had to estimate.
I would trust Poloniex a 100% if they showed exactly how much they had in all their wallets and said, "Look here's how much Bitcoin we have. Here's how much Ethereum we have." You can see thankfully how much Steem they have because it's sitting there, what about all these other wallets?
If you found this helpful would you please upvote this if it's on Steem or leave a like if it's on YouTube, because that's how I know that this was worth my time, to make you something that I hope was useful for you, that I hope has the chance to save you a lot of money in the event of something bad happening, like a crash or panic.
I hope this has given you notice, you might if you've got money on Poloniex, pull it out while they're honoring withdrawals.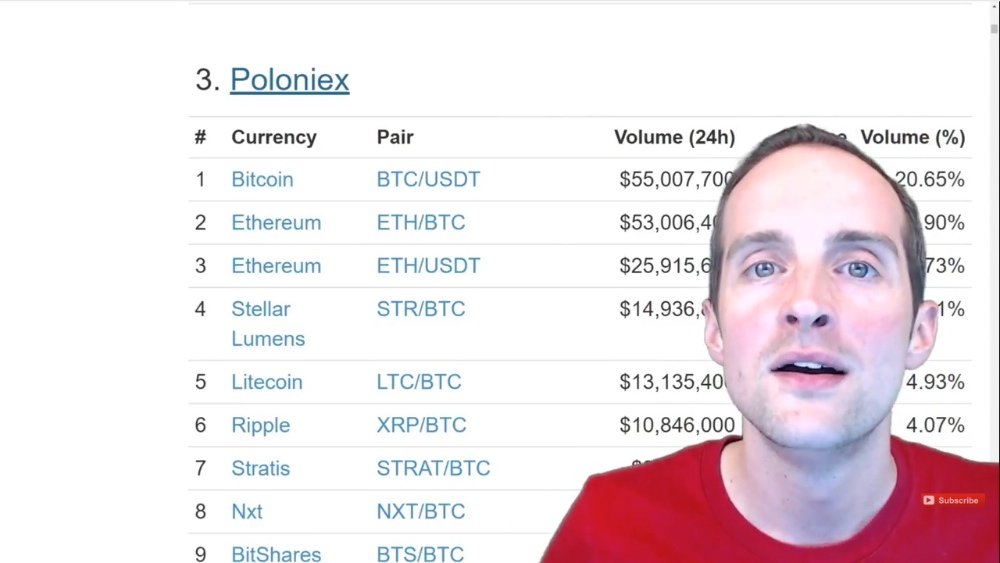 This is just a perfect situation for the most epic disaster we've ever seen in the cryptocurrency world. Having 10 billion dollars all in a relatively small amount of wallets, that hackers all over the world are probably trying to get into right now.
One of them will or maybe already has succeeded. At some point there will be some huge disaster, that's almost certain. Not just on Poloniex, but perhaps on a different exchange as well.
I love you, you're awesome.
I hope you have a wonderful day today.
Thank you for making it to the end of this post.
Final words

Thank you very much for reading this post which was originally filmed as the video below!
Would you join me today, by leaving a like on this video or upvote this post on Steemit?
The feedback on the video was so positive that I spent about $100 to get this post created for you here out of the video, and then edited it prior to publishing! I appreciate you being here and I hope you have a wonderful day today.
If you found this post helpful on Steemit, would you please upvote it and follow me because you will then be able to see more posts like this in your home feed?
Love,
Jerry Banfield with edits by @gmichelbkk