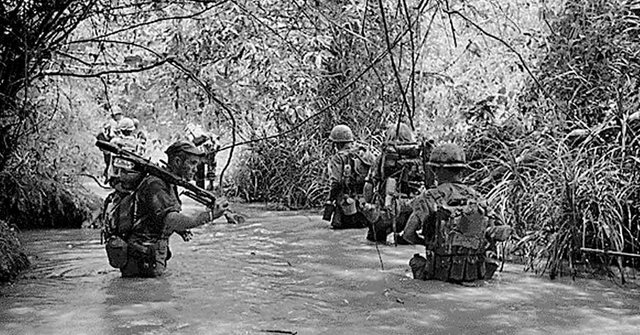 Troops Company H, Bat. 2nd, Res. The 4th marine crossed the river in Dong Ha, July 1966 in Operation Hastings. Photo: wikivisually.com.
On July 15, in 1966, air bombardment and United States Marines (US) cannon fire to places near Vietnam's demilitarized line (DMZ) opened Operation Hastings. The operation was launched to repel the Vietnam National Army (TNV) and recapture territories south of the TNV-controlled demarcation line.
Operation to Retake
Hastings operations are triggered by the increasing movement of TNV to the south past the demarcation line. "In June, patrols from the Bravo Scouting Group almost in every mission found enemies in many large groups," wrote Michael Lee Lanning and Ray Stubbe in Inside Force Recon: Recon Marines in Vietnam. However, the intelligence report initially received no attention from the higher command.
The eyes of the US Marine field commander were wide-eyed as the Vietnamese National Army (Vietnamese) Army captured two TNV personnel on July 6 and another TNV member surrendered the next three days. Both informed that TNV ​​324 Division troops and other divisions were moving south to free Quang Tri Province.
3rd Division Commander Mayen Wood B. Kyle, who received permission from the US Marine commander in Vietnam Lieutenant General Lewis Walt, immediately collected Brigadier Lowell English (Assistant Commander of the 3rd Marine Division), Col. Sherman (4th Division Marine Commander), and other officials on 11 July. The meeting decided to hold Hastings Operation, starting on July 15 at 08.00 am, in response to TNV aggression.
As the operations officer, General Kyle reactivated the Task Force Delta (TFD) and assigned Colonies. Sherman as its core. In addition to appointing Sherman as his chief of staff, Kyle appointed English as the TFD commander.
"General English devised its action plan ... to defeat the enemy with a surprise on the key track and behind their own line and to beat and destroy them before regaining balance and momentum," said Jimmy C. Cameron, commander of the 2nd G 2nd G Company The 4th Division of the 3rd US Marines in the Vietnam War, in his memoir The Water Boy: The Life and Trials of Jimmy C. Cameron.
The Numberiest Operation
Approximately 20 minutes past from 07 on the 15th, A-4 Skyhawk fighter jets from MAG-12 and F-4B Phantom from MAG-11 Marines bombarded Landing Zone Crow (LZC) and Landing Zone Dove (LZD) in Thon Khe Tri. The airborne bombardment became the prelude to Operation Hastings. Five minutes later, the fifth battalion of the 3rd Marine Marines under Major Samuel Morrow spewed their bullets.
The bombardment was immediately followed by the air of 20 CH-46 Sea Knight helicopters carrying the 4th Division's 4th Division troops. "On July 15, we escorted several flights (helicopters CH - red.) 46 for the deployment of large numbers of troops in the western valley of Dong Ha and northeast of Rockpile (Thon Khe Tri)," Captain Bud Willis of Marine Observation Squadron 2 in a memoir titled Marble Mountain: A Vietnam Memoir.
Landing at LZ Crow at 07.45, K and L Company troops immediately formed LZ Crow's protection position. Soon they were already involved in gunfire. Company K, which moves 1.8 kilometers south of LZ, was even attacked as it crossed the Ngan River. After losing three of his personnel and five other wounded personnel, Company K retreated to a hill 180 meters from the river and spent the night there. Meanwhile, at 7:30 pm Late Colon Vale's battalion was besieged by TNV. Luckily, the artillery and air bombardment came 30 minutes later so the TNV troops retreated.
The battle was fiercer on the second day and the following days. "I was injured in Vietnam on July 16, 1966 while participating in Operation Hastings," Jimmy recalls in his memoirs. At that time, Jimmy with 11 soldiers ambushed TNV troops approximately at 10:30 am or two hours after they killed two soldiers in a TNV armed contact. In addition to two of his men killed and seven others injured, Jimmy must desperately survive. One of his soldiers, John Carey, was killed when he tried to save. More tragic things happened to Private Norman Dawson. He was killed in Jimmy's arms when the two tried to retreat.
"We both suffered gunshot wounds. As a result, my right lung leaked after two shots from behind, two of the first five gunshot wounds I suffered that day, "Jimmy continued. "I last remembered pretending to be dead on a pile of dead bodies."
The heaviest fighting took place in the Song Ngan Valley, six miles northwest of Cam Lo and about one to three miles south of the DMZ. This is where Sergeant McGinty, the commander of one platoon in Company K led by Captain Robert Modrzejewski, felt the fiercest battles experienced by Company Jimmy Cameron.
As a designated company of the rear guard, K Company has its own duty to guard the safety of the Marine technicians in charge of destroying the fallen US helicopters and other weapons in order not to fall into enemy hands. On July 18, two days after the marines were driven back from the place, Company K was overrun.
"All hell starts when NVA chases us. The fighting was very intense. The enemy is attacking in human waves, "recalls Richard D. Preston in his memoir, The Nam: A Marine's Memoir of Vietnam.
The McGinty troops desperately suppressed the first wave of TNV invasion. The lightly wounded soldiers forced him to fight. Under the rain of bullets and mortars, McGinty was forced to provide assistance to another squad of 20 wounded soldiers and his commander was killed. Although he himself suffered injuries, McGinty managed to kill five TNV soldiers using his pistol.
McGinty finally asked for air support bombardment when cornered on the 10th day of the battle. TNV troops retreated. That night, the helicopter came to evacuate McGinty and his troop of nine able-bodied soldiers.
"If it were not for the Kilo Company's frenzy under the leadership of Captain Modrzejewski and Sergeant McGinty, who was the last person to be evacuated, the NVA might have gained control of their position," Preston said.
The fierce battles occurred because US forces wrongly suspected that they would face the Vietcong, the majority of the militia. In fact, Preston said, "During Operation Hastings we were not against the Vietcong but against highly trained troops from a fully armed NVA regiment." As a result, the battle was drawn. Despite consuming hundreds of his soldiers, Operation Hastings officially discontinued on 3 August successfully repulsed TNV. Source