Alliance of Generals and Entrepreneurs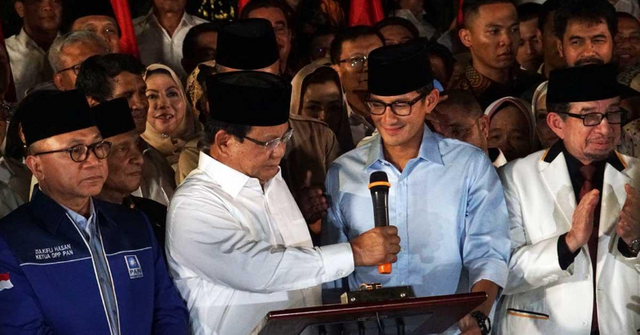 Prabowo and Sandiaga Uno's declaration for the upcoming 2019 Presidential Election. Photo: kumparan.com.
Prabowo Subianto and Sandiaga Uno officially entered the 2019 Presidential Election Exchange. Both come from different backgrounds. Prabowo, founder of the Gerindra Party, a former high ranking army officer in the rank of Lieutenant General. He had served as Commandant of Kopassus and Commander of Kostrad. Meanwhile, Sandiaga Uno pioneered his career from the path of entrepreneurship and was famous as one of the richest entrepreneurs in Indonesia.
Sandi reportedly disbursed large funds as a dowry accompanying Prabowo to become vice president. Such relationships are common. Generals and entrepreneurs often allied. Previously, the former TNI Commander, General Gatot Nurmantyo, was also said to have had close ties with veteran businessman Tommy Winata.
In the past, cooperation between generals and businessmen was also common. There is a kind of dependence between them. Mutual need and mutual benefit. The motives also vary. Starting from just personal relationships that have been pioneered for a long time, pocket business, to political lobbies. Still active or retired, in the eyes of entrepreneurs, generals still have the selling power. The important thing is there is a "general" appendage.
Close Friend
General Abdul Haris Nasution had a close friend from the businessman named Ujeng Suwargana. The relationship between the two was built since they both started a military career in the Siliwangi Division. Entering the Republican era, Nasution and Ujeng crossed the road. Ujeng, whose real name is Oey Eng Soe, changed his profession to become a printing businessman in Bandung. Nasution himself remained in the army service.
Both met again when Nasution had become the number one army officer. Entering 1960, a wave of nationalization struck Dutch companies operating in Indonesia. Nasution, who served as the chief of AD staff, was instrumental in mobilizing the army in the nationalization action. The general did not forget the old friend. Ujeng also made a profit because he had the opportunity to acquire shares of several Dutch publishing companies in Bandung. Ujeng's name also skyrocketed as a publishing boss.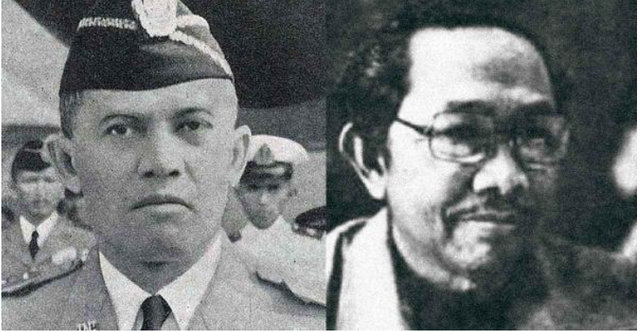 General Nasution and Ujeng Suwargana. Source
Nasution often also used the services of Ujeng for the mission which he called "TNI Diplomacy". In the operation to liberate West Irian, for example. Naseng, who has a foreign network, was sent by Nasution to lobby influential figures in the Netherlands. The goal was to lead opinions which led to criticism of the Dutch government's policy on West Irian. Ujeng's involvement in this kind of covert operation made him an ambassador of the army abroad. It is not surprising that Ujeng by some people got a special stamp: big-name intelligence agents.
"Until he died," Nasution said in his memoir of Fulfilling the Call of Duty Volume 5: Memories of the Old Order, "the government has never been able to give a sign of appreciation to him for these services which are entirely at his own expense." Nasution expressed his complaints in front the body of Ujeng Suwargana who died on May 7, 1979.
General Trader
Soeharto, who later became the second Indonesian president, was also quite familiar with businessmen. If Nasution's relationship was based on friendship, Soeharto was purely economic. Contact with cukong began when Suharto served as Commander of the Diponegoro Division. In Semarang, Soeharto and his officers ran factories, bartered, and smuggled.
Soeharto managed his own profits for his command without the permission or knowledge of the central government. This illegal activity was widely heard until the TNI Headquarters in Jakarta. "Finally, Suharto's business activities began to reap allegations of corruption," wrote historian Robert Elson in Suharto: A Political Biography.
In 1959, Suharto was removed from his position as commander. Still lucky Soeharto was spared a court martial. As a punishment, he was "sent to school" to Seskoad in Bandung. Among high-ranking officers at the time, Suharto's name was sticky with a bad title: merchant general.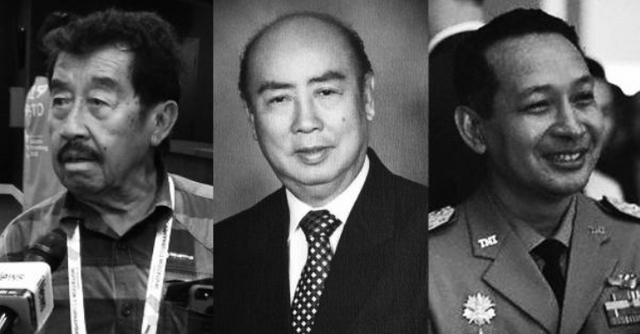 Bob Hasan, Liem Sioe Liong, and General Soeharto. Source
In the Soeharto case were two businessmen: Liem Sioe Liong alias Sudono Salim and Bob Hasan. "They supplied what the Diponegoro Commander needed for his army, from rice, uniforms, to medicines," wrote George Junus Aditjondro in Presidential Corruption. Furthermore, among them there was a special agreement on sharing of benefits which was equally beneficial.
The partnership with Liem and Bob Hasan even continued during Soeharto's presidency. Both are Suharto's mainstay figures to provide advice and input, including money. In return, Liem Sioe Liong had the privilege of monopolizing the grinding of flour and cloves. Gradually, Liem's ​​business expanded into various industries, ranging from food, automotive, media, to banking. "President Soeharto's close friend, banker Liem Sioe Liong, was the cukong of the cukongs," wrote the American historian specializing in Stearling Seagrave Asian studies in the lunge of the Taipan.
While Bob Hasan was the only minister of Chinese descent appointed by Soeharto when he was at the end of his leadership. "Bob Hasan is also the crony of golf, business partners and friends since Suharto served as Military Governor in Central Java," said Jusuf Wanandi in Unveiling the New Order Veil: Indonesian Political Memoirs 1965-1998.
General Selling Value
Soeharto was skilled at establishing connections with the tycoons. But he was also worried if he found out that his subordinates were joined together by entrepreneurs. That person was General Benny Moerdani, Suharto's right-hand man who served as ABRI Commander.
Former senior journalist and political-military expert Salim Said noted, Soeharto expressed his frustration with General Soemitro's old colleague about the business activities of the people around Benny. The president named Setiawan Djody and Robby Sumampow aka Robby Kethek. When Soemitro confirmed Suharto's complaint, Benny defended himself. According to Benny, he could not prevent businessmen from doing business. "They are not officials," said Benny.
General Benny Moerdani and Robby Sumampouw aka Robby Kethek. Source
Although not an official, Suharto and his inner circle knew Robby Kethek was doing business through facilities from Benny, especially in East Timor. Robby and Benny are really chum. Both have known for a long time and both come from Solo.
"It was Benny who asked Robby to do business in East Timor so that the economic life in the newly acquired region could be moved. It is said that the reason Benny involved Robby doing business in East Timor, "Salim Said wrote in witnessing 30 years of Suharto's authoritarian government.
Benny is just a handful of generals who are used as a tool to boost business interests of entrepreneurs. In the New Order era, there were quite a number of generals working together in tycoon-owned corporations. Most of them are retired generals. Soft positions are given such as the president commissioner, president director, or limited to shareholders.
According to Tiara magazine No. 48, March 15-28, 1992 in an article entitled "The Retired Generals' Occupation" the retired generals were drawn to various companies because of their superiority which could not be matched by civilians. The advantages referred to are, for example, the decisiveness of taking decisions, the ability to access, to the wealth of relations both among bureaucrats and the military. The qualification is clearly needed by the company and appreciated with high prices.
"Thus, even though they no longer wear military uniforms complete with epaulets, they still feel they have never lost their pride," Tiara wrote. "Because every day - even though there is no necessity - they can still be employed, have a decent salary and facilities, which makes it look full with a tie that always strangles on its neck."