A Shot of Intellect - Social Contract -
The term social contract refers to the idea in political philosophy that helps explain the beginning and legitimacy of political systems.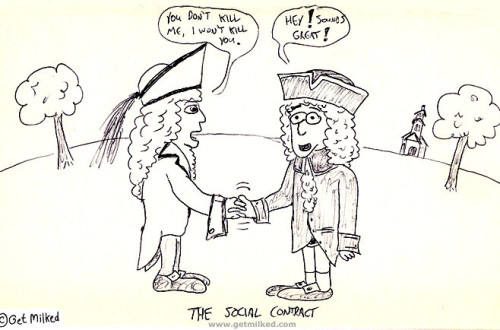 Source:
This idea is derived from the belief that at some hypothetical point ages ago, there was no governmental laws and no goverment. Humans then made a pact  to protect their physical safety and allow situations for prosperity. In order for stability and security of laws, the organizing humans let go of some of their freedoms in exchange for a goverence body.
Thomas Hobbes is credited as the first theorist of modern social contract. Hobbes authored Leviathan, where he attempted to describe life before a governmental system that he coined as "state of nature." He described life being "solitary, nasty, poor, brutish and short." He concluded that a social contract was the only rational option for people. By doing this, people gave up authority to a ruler. Hobbes argued that conditions were so unfavorable before, that no matter how corrupted or tyrannical the ruler or rulers were, they were still preferable: Therefore, people have no given right to revolt. Furthermore, Hobbes argued that the governmental body should have no checks and balances and be given unconditional and absolute power.
John Locke, an English philosopher, believed that the social contract should be responsible for more than to just protect the public's physical safety: that it should be responsible for respecting individual rights to liberty, property, and life. If these rights were violated by the governing body, then citizens had a given right to nullify the social contract and rebel if necessary.
Jean-Jacques Rousseau was also a profound theorist in social contract. In fact, his political ideas were so influential that it can be partially credited for the French Revolution.
German Philosopher Immanuel Kent believed that the advancements and highest accomplishments of mankind weren't possible without social contract. He argued that this drives human nature to leave the state of nature and form a social contract.
Sources and Further readings:
Stanford University
University of Tennessee
Wikipedia