A Case for Civil Discourse
A Case for Civil Discourse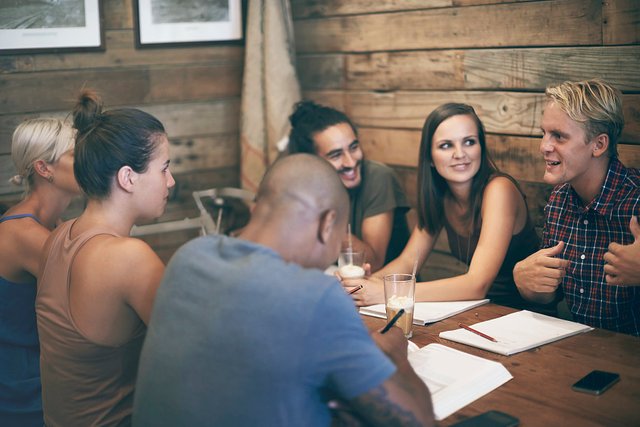 http://babylonradio.com/conversation-group/#prettyPhoto
I very recently came across The Rubin Report. While watching an episode today, I realized that someone has written a book that is based on the premise of something that I've been saying for a while.
People really only talk to people that support their own stance, and "demonize" those that disagree.
When researching to write his book, Ken Stern (former CEO of NPR) gave seeing things from the opposing camp a shot; and he found something interesting along the way. When you live in a bubble that only allows like minded individuals in; how will you know if you've witnessed the truth? Those aren't his words. Well, they could be but, I haven't received the book yet.
What I understand from the video is very similar to the opinion I have held for a while now. If you consider yourself a conservative you should be engaging with "liberals" (in a civil manner); in order to keep yourself informed of the opposing views and, to keep your opinion of the opposition in check. Obviously the reverse would be true if you consider yourself a liberal.
It's kind of like the teenager who talks to their friends about the problems they are dealing with, instead of their parents. It always feels nice, when you're going through a bad break up, to have someone who cares about you tell you how right you are to feel the way you do. Your parents, on the other hand, want to tell you how "Everything will be alright", how "There'll be other boys/girls", "You've still got your whole life ahead of you!"
Many of the things our parents tell us in those times of need are both true, and what we need to hear; but it's hardly ever what we want to hear. I feel like the situation is much the same when we're talking about the problems that affect more than just our broken hearts. The things that will help the situation the most, are usually not the ones that make us feel the best. People, in general, try to avoid confrontation. It's much easier to dismiss the things that the opposition puts forth as irrelevant, instead of trying to assimilate the information and/or rebut it.
I encourage you to watch the linked videos and see if you can identify with what Mr. Stern is saying. I think it would be very beneficial to our society if we all talked a little less, and listened a little more. I'm often reminded of the old adage:
"We have two ears and one mouth so that we can listen twice as much as we speak." - Epictetus
I think Steemit can be the place where people come to have a real conversation about how we might better our world by bettering our respective communities. What's your opinion?