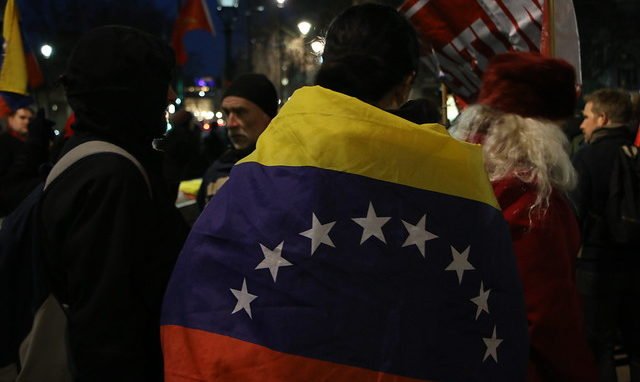 article de wereldmorgen foto flickr: socialist appeal
i know socialism is a dirty word in america due to the half a century or more cold war with communism .. but it has a different undertone here , ... (and despite that what you call "national"-socialists seem to have steady foothold overthere anyway)
I remember last year (or half a year ? being un-stuck in time as i am, some events might as well be yesterday as five years ago to me ... that's just how it is) there was the sudden #venezuela - craze , also here ,
but as hoominz go, they tire quickly of new news because

now sports
people were devising plans to get money to people overthere using (the holy) "blockchain"(magic word)technology, lots of talk and bla, people posting and getting money to talk very enlightened and in the end nothing being done ... but soon after something new came up (maybe SMT's or so , you know how it goes ... (but its NOT about the money !) ...
there seems to BE money though
apart from the hunger games they re-enact there, they seem to have a little left to spend on the "army games" ...
the blockade and all , the opinion of El Gato here (which is btw an actual folk-lore figure overthere , a were-cat if i'm not mistaken but in plain spanish would just be "the cat" ofcourse (i didnt know about the lore until i googled something someday and saw it by accident)
the opinion of El Gato ?
i think the americans are hoping that the Venezolans "off" Maduro themselves, strategy type like "if they're hungry enough ..." perks : the "usurper" image does not get re-inforced but THE perk :
come in with massive supplies afterwards into a starving country
THAT HAS OIL
a sound strategy in global politics ofcourse, i'm not debating that , but one one would not admit to in public ofcourse
(this is the kind of talk that got me banned from twitter 6 times in three hours and i usually dont touch politics anymore but it just caught my eye there and i noticed a lot of Venezolans here have gone dark ... like they disappeared ... which might actually be true)
so if you're gonna save them this time, maybe try doing it, heh
well it says "all kinds of me upthere in the description, precious)