FBI Agent David Raynor Found Dead, Clinton's Baltimore Connection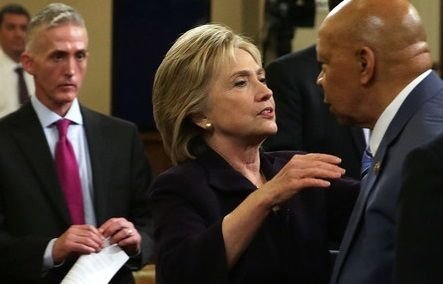 FBI Agent David Raynor and his estranged wife were found dead in their home in Crownsville, Maryland. Donna Fisher was found with multiple stab wounds, while Raynor had both stab wounds, and an allegedly self-inflicted gunshot wound. Authorities are claiming that the deaths have nothing to do with any case Raynor was working on at the time, officials are now telling media sources that they believe Raynor murdered his estranged wife Donna Fisher, before taking his own life.
Raynor has worked at the bureau's Baltimore field office since 2003.
Given the ongoing conflict with Trump, Clinton, and the FBI, some are wondering if there could be a more conspiratorial explanation behind the deaths than is suggested by authorities. One possible article of interest relates to Clinton's recent trip to Baltimore, in order to support a program run by leading member of the House Committee on Oversight and Government Reform, Democrat Elijah Cummings. Representing a large portion of the Baltimore area, congressman Cummings was one of the most outspoken defenders of Hillary Clinton during the FBI email investigation and went on a tour demanding the FBI explain themselves for publicly announcing the investigation and later reopening of the same investigation.
Hillary Clinton has supported Cummings in turn, and visited Baltimore in the summer of 2017, where she did a rare post-election fundraiser for the 'Elijah Cummings Youth Program in Israel' which reportedly "accepts a dozen Baltimore students each year for a course in leadership and multiculturalism."
http://www.baltimoresun.com/news/maryland/politics/bs-md-cummings-israel-20170603-story.html
Democrat mouthpiece, Rachel Maddow invited Cummings on her October 28 2016 show, first telling her audience how fellow "Democrats and supporters of Hillary Clinton are reacting to today's news mostly with anger, specifically with anger and bewilderment at the FBI." For their decision to send this "remarkable, inflammatory" letter against Hillary Clinton.
Maddow then introduced Cummings, who demanded the FBI release a follow up statement in explanation of their public announcement of the Hillary e-mail investigation. Calling the FBI's letter "vague" and a source of rampant speculation.
https://www.nbcnews.com/dateline/video/cummings-calls-for-clarity-on-fbi-letter-796275267922
More recently, in November 2017, Cummings sent a letter to Trey Gowdy, questioning Republican's motives in reopening the Clinton uranium-one investigation and demanding the FBI provide access to a then "confidential-informant" with evidence on Clinton and the scandal. The Democrat then blasted the bureau for their consideration of reopening the investigation, saying at the time "These actions raise serious questions about whether Republicans are reopening this investigation of Hillary Clinton for the same illegitimate reasons that President Trump demanded it — to try to distract public attention from the ongoing criminal probe into President Trump's campaign and its ties to Russia, and to unfairly malign the official charged with executing it, Special Counsel Robert Mueller,"
Thanks for reading, you can help me write more articles by donating on Patreon:
https://www.patreon.com/realityreader
I also accept Bitcoin(BTC) donations at this address:
1HXc6mniidqXZpWaCqjXdPT16fhu4LfL7p
Or Litecoin(LTC) at:
LUjQWhrMDg8RgUrLWqVMimm9oU68PcYZUj