Vote Chess "960<24х60"
Шахи за Голосуванням


(посилання умовне, публікуватися буде самий людний варіант)
Клюб на клюб, раён на раён, хід у день. Кожен з 87+ має право пересунути фігуру, за що отримує апи чи виговори. Тож краще спочатку це робити в блогчейні, аж потім на ческомі, в будь-якому випадку зараховуються варіанти за посиланням.
Для проби можете походити у партії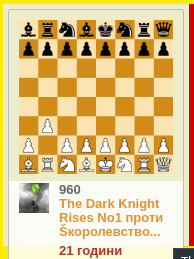 https://www.chess.com/votechess/game/170810 (ми чорні єслі шо).
Варіант для дПолла:
(move constructor)
See how many islands without the right kings and queens
(highlighted countries of accessories)
| | острови без вірних королів та королев | => | та | | країни гравців | UTC |
| --- | --- | --- | --- | --- | --- | --- |
можна подивитись в блозі, тут на кожен хід - день, пояси не мають сенсу.
| занадто | широкі | країни | співучасників |
| --- | --- | --- | --- |
| Китай (0), Росія(6) | Бразилія(1) | Канада(3) | США(16), Австралія(2) |
(населені пункти вписуються на прохання гравців)
Answer the question at dpoll.xyz