Department of Defense nervous over Monero?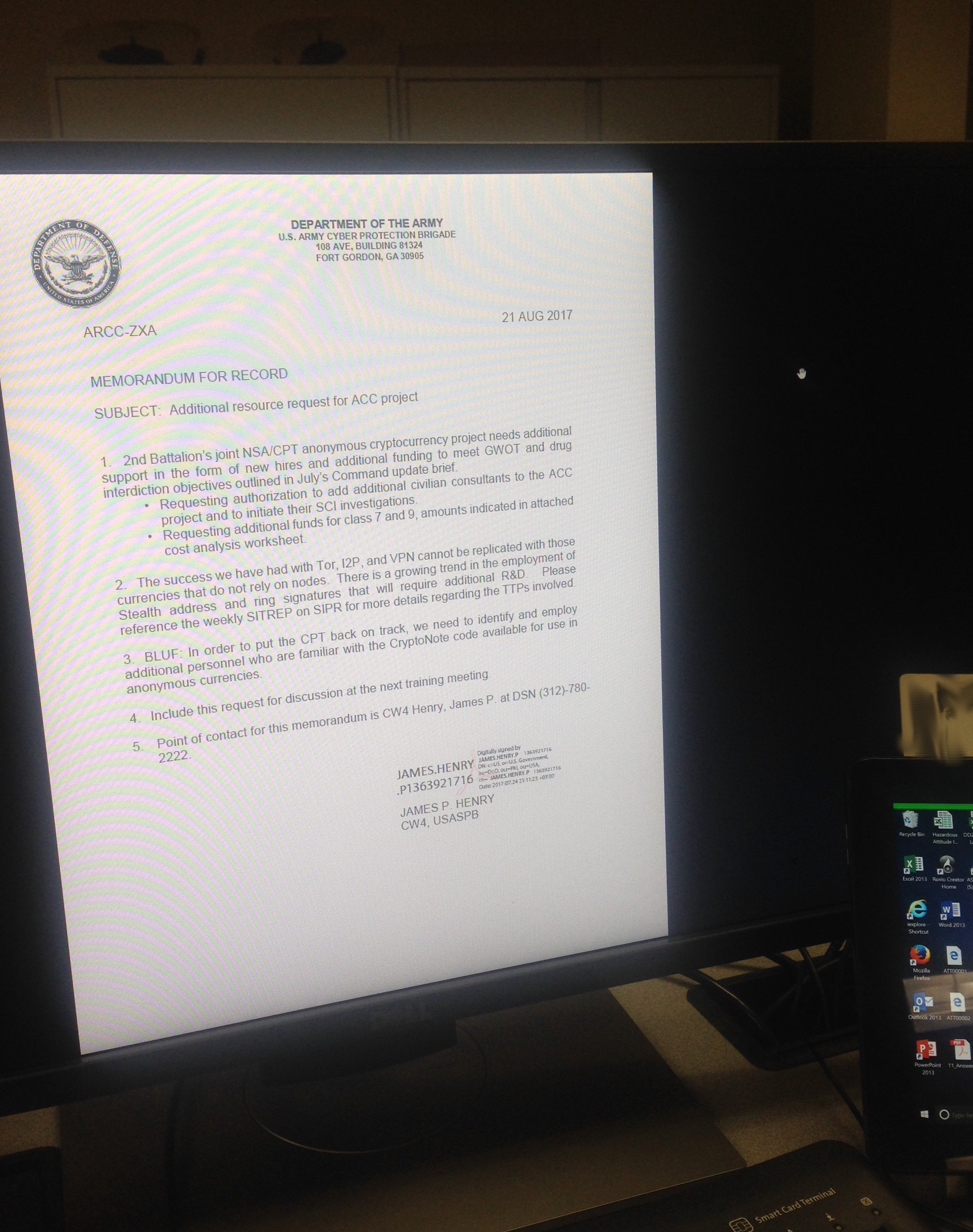 Here's a transcript of the text from the image:
ARCC-ZXA 21 AUG 2017
MEMORANDUM FOR RECORD

SUBJECT: Additional resource request for ACC project

2nd Battalion's joint NSA/CPT anonymous cryptocurrency project needs additional support in the form of new hires and additional funding to meet GWOT and drug interdiction objectives outlined in July's Command update brief.
• Requesting authorization to add additional civilian consultants to the ACC project and to initiate their SCI investigations
• Requesting additional funds for class 7 and 9, amounts indicated in attached cost analysis worksheet.

The success we have had with Tor, I2P, and VPN cannot be replicated with those currencies that do not rely on nodes [?]. There is a growing trend in the employment of Stealth address and ring signatures that will require additional R&D. Please reference the weekly SITREP ON SIPR for more details regarding the TTPs involved.

BLUF: In order to put the CPT back on track, we need to identify and employ additional personnel who are familiar with the CryptoNote code available for use in anonymous currencies.

Include this request for discussion at the next training meeting.

Point of contact for this memorandum is CW4 Henry, James P. at DSN (312)-780-2222.

JAMES,HENRY
.P1363921716

JAMES P. HENRY
CW4, USASPB
Note that the most advanced CryptoNote coin is Monero, as it's the only one to employ Confidential Transactions (RingCT) in addition to stealth addresses and ring signatures. Furthermore, Monero has the highest market capitalization of all CryptoNote coins.