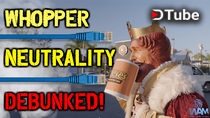 ---
One of our most recent video reports!
See the original article below:
Josh Sigurdson debunks the terrible viral video put out by Burger King called "Whopper Neutrality".
Recently a video made by Burger King went viral on YouTube. It was basically a pro net neutrality video using whoppers as an analogy. The premise is that people attempt to buy a whopper only to have to wait long periods of time or pay more.
The metaphor was terrible, but of course the media played it up as a genius move by the giant monopoly that sold people horse meat for several years.
In this video, we debunk the preconcieved notions this commercial ignorantly displays.
Net neutrality is supposed to stop big monopolies from over pricing their products and censoring that which they do not like. Meanwhile, the government regulation actually leads to MASSIVE monopolies ruling in the internet and television provider business with fixed prices that are so much higher than they would be if there was true free market competition. Conveniently, the big monopolies that so many think net neutrality saves them from are huge supporters of the regulations including Google, Amazon, Yahoo, Netflix and of course the big providers like Comcast and Verizon.
If there weren't so many government regulations, the market would act on the individual demand of those supporting it. Consumers would decide. Companies would have to provide the best product for the best price in order to compete against the countless other companies attempting to do the same. This means far more innovation, production, employment, better wages and repeat.
No company competing in this market would willingly refuse to provide what their customers want, drive their prices up against their competition, provide terrible quality products unless they wanted people to move to another alternative.
Let's look at this from the perspective of burger neutrality. Imagine the government came in and implemented this burger neutrality. Of course McDonalds and Burger King would support it. It goes through and every place that serves burgers has to provide it at the same price. McDonalds and Burger King survive these regulations and become the only options. They can then raise their prices as there would be no competition to worry about.
This is not rocket science.
Whatever governments do, free markets do far better. And without force!
Stay tuned and stay free everyone!
---
▶️ DTube
▶️ IPFS