EU blackmails Hungary
Hungary is not very likeable in the European parliament. Why? Because they don't fit in to the liberal agenda that the other members are there for. The EU has been treating both Hungary and Poland differently than the other countries for a while now. It all leads back to the migrant crisis where Poland and Hungary refused to welcome any refugees to their country while other western countries like Germany and Sweden had to take in a lot more.
Now the EU has taken it one step further. A law in the EU works like a soccer game, where you first get one yellow card if the parliament votes for it and if the parliament thinks you behave bad one more time, the parliament can vote once again for another yellow card which means red card. If you get this red card your country is not allowed to vote in the parliament and sanctions against your country is a possibility.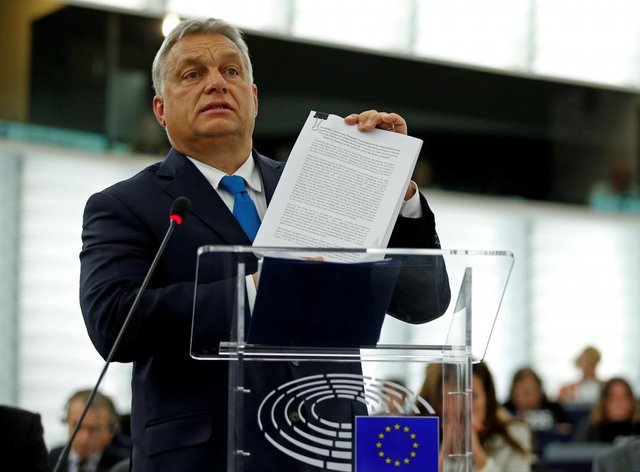 A Dutch member of parliament proposed a yellow card to be given out to Hungary on the basis of: "migrant abuse; restrictions on press freedom; corruption and conflicts of interest; and "stereotypical attitudes" towards women, among other concerns."
The voting took place and a majority was in favor of the yellow card. It is now possible for a country to lose its voting capacity in the parliament for having a "stereotypical attitude" towards women. If a country's not feminist enough for you doesn't mean that they are bad people. It means that they disagree with you. Hungary is not the rape capital of Europe, Sweden is. Sweden, the most progressive feminist country on the continent.
The refusal of taking in migrant doesn't mean that Hungary is bad, it means that they have a different opinion on what country they want in the future. In the interview Channel 4 news had with the Hungarian minister about refugees, he made it very clear. "If you want a multicultural society that's fine, but we don't believe in a multicultural society". Hungary has a different opinion than the liberal feminists from the Netherlands and different opinions are fine. Hungarians might have a more traditional attitude towards women and might want to refuse to take in migrants but it's just different opinions.
To give out this report on Hungary just because the Dutch MP doesn't agree with Hungary in these questions is not fair and not right. Unfortunately for Hungary is the EU parliament full of liberal feminists and the voting occurred in favor of the proposition. Hungary now faces a yellow card from the EU or being blackmailed to change their opinions and for the sake of agreeing with a Dutch feminist. Giving these kinds of threats won't result in anything good because you can't change the opinion of the Hungarian people over night. If you don't want Hungarian influence over the laws in the European Union, use your voice in the votings and vote against their proposals. But don't blackmail and threat an entire nation for not having the same opinion as you. Let Hungarians be Hungarians and the Hungarians will let you be you.