Senate District 10 Libertarian Candidate Endorsed By NH Liberty Alliance
According to a letter I received this week by the Chairman of the New Hampshire Liberty Alliance Keith Ammon, I have received their endorsement for the NH Senate District 10 race in which I am the Libertarian candidate against a Democrat incumbent and Republican opponent here in the Monadnock region.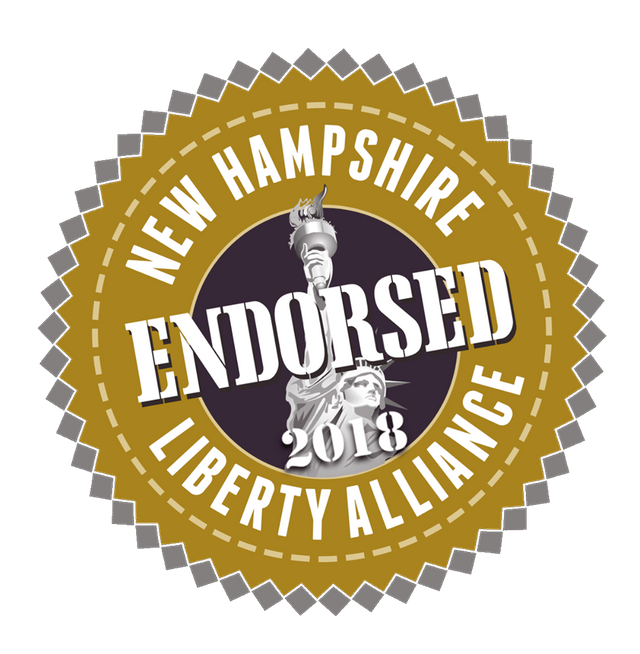 The New Hampshire Liberty Alliance has become a respected force in the NH state house over the last decade plus, where they are constantly informing all 400 state reps and 24 senators of the pro-liberty positions on various legislation. They also rate every legislator in New Hampshire each year based on how pro-liberty their voting records are. Here are the recently-announced 2018 rankings of the current state legislature.
As a mere candidate, they can only rate me on my answers to their candidate survey and not surprisingly, I received their endorsement along with a very generous check, which I politely refused, as I'm running a near-zero-budget message campaign and am not accepting contributions.
This year, Ammon's letter informed me that the NHLA is tightening up their endorsement requirements and only endorsing incumbents who receive a B+ or better in their yearly liberty ratings over the last two years and only endorsing candidates who score at least 85% on the survey. That's great news! I'm glad to see the NH Liberty Alliance demanding more adherence to principles by their endorsed candidates. I'm proud to be one of them. Here's their list of endorsed candidates statewide so far for this year's election.