And it wouldn't change a darn thing. Seriously, I'm tired of this drama over literally, nothing. We have police needing to intervene to prevent violence. Discussions over if we should take down statues or not in more places and resorting to violence including running people over and outright vandalism over statues. Really? It's just crazy.
And I can't get behind either side on this argument because again we're getting into such extremes over symbolism. I'm half black myself, but I could really care less about Confederate statues. I don't personally feel like they offend me or somehow stand for "slavery," or glorify it. If anything, I think it's important to leave such monuments up. The old saying goes, "Those who don't learn from history are doomed to repeat it,"
So wouldn't it be a good thing to learn from this darker time? Wouldn't it be good to look at these statues and be like, "Yeah, this guy was considered a brave soldier. Back in the day, enough people thought that what he did was justified that we built a monument to him. Now we know and have learned that we don't need to be divided over skin color." To me, that seems like learning. If you attempt to destroy every trace of history you'll soon forget it and be doomed to repeat it.
Not like I agree with White Nationalist resorting to violent riots as well. Petition the city, have a public debate if need be more the statues. There just seem to be so many other options. What seems funnier to me is I think it's only here in America that we get this worked up over this topic. Please, correct me in the comments if I'm wrong. But no one I know overseas (white or black) really seems to care so much over this like people here do.
At the end of the day, it just makes me sad that people will get this passionate enough so to resort to violence over statues. Over thoughts and symbolism and what it "might" stand for. In the meantime, the ones in power (top one percent) and the politicians are taking advantage of us all. Not just in the US but everywhere. I have family in Jamaica. Mostly black people, with black leaders, still just as corrupt as the white ones here.
Yes, I get racism still exists and it always will you will always have stupid racist people. But as a half black guy in a mostly white state (Ohio) in a majority white field (IT) I don't feel like we're in the 1950s anymore. End of the day I feel like a lot of this is just bait and switch to distract us from corrupt politicians, big corporations and corrupt Wall Street. Please, everyone, take the time to think outside the box.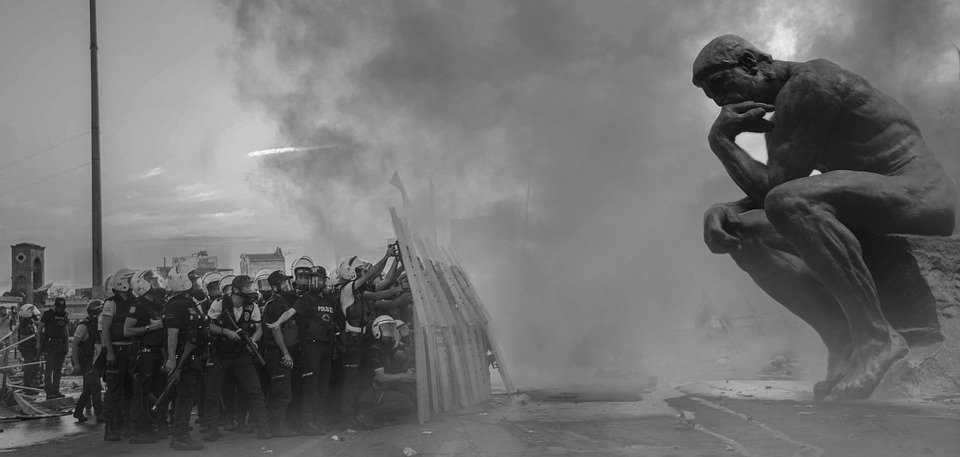 Time to think outside of the norm
The guy sucking away your hard-earned isn't your financially poor bigoted neighbor. It's the parasite politicians who say things will change and they never change. It's not white vs black, rich vs poor, etc. it's most of us all being controlled and manipulated by a small part of the population. I only hope one day people will recognize this and focus on more important things.
Images are not mine. Source below: