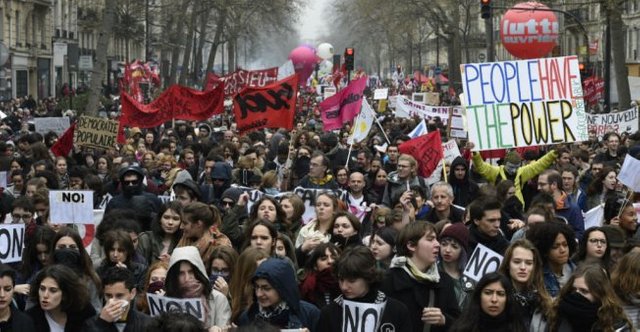 To all my international friends who are not sure what's happening in France these days :
I see a bunch of crap on international media about the protests. It did start with the fuel prices hike, but it's not what the protests are about. They are about the french government having taken too many reforms that take from the poor to give to the richest in this country.
It's a grassroot movement supported by about 70% of the population. It concerns all the working classes and people with lower incomes: retirees, self-employed, ambulance-workers, nurses, students, farmers... Even part of the police and fire-fighters support the movement and protest.
The past years, we have seen all the public services funding being drastically cut, to the point that there's no public hospitals, schools or transportation left in towns and rural areas. For some, having a car is the only way to survive. So when the people leading our country, who have chauffeurs, cars and fuel paid by our taxes, ask the people to "make an effort" it feels like a bitter joke.
A little reminder : the past few months, we've seen the wealth tax (and other taxes the rich used to pay) being scrapped (saving the 1% wealthiest people in the country 5.2 billion euros per year, according to Oxfam) and the biggest companies in France still pay 4 times less taxes (or no tax for Amazon / Google, and such) than a self-employed person or artisan.
So no, it's not about french people not wanting to make efforts for the environment, it's about fighting a government that crushes the majority of its people and that doesn't give a single fuck about the environment or social/fiscal justice.