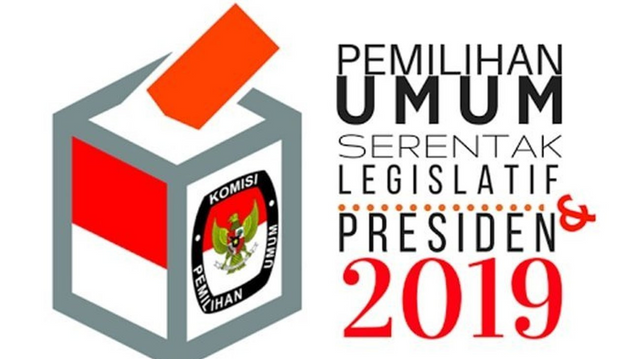 Election as a Party of Democracy


Hi, everyone, how are you today? Hopefully always healthy and creative at work.
Elections are getting closer. This is the first election to choose the pair of president and vice president and parliament members together. The election will be held on April 17, 2019. This simultaneous election has an impact on a political contestation to determine the direction of national development. Every election participant will want to succeed in winning it. By winning an election marked by a large vote will be able to determine the policy to be taken.
To achieve this goal, sometimes there are still many people who take actions that are not commendable. black campaigns, slander, hoax, and money politics are things that should be avoided by all parties. This is intended to achieve elections that are legitimate and based on Direct, General, Free, Confidential, Honest and fair. If the election can run well and clean, it will produce a credible state apparatus.
Black campaign
Campaigners or sympathizers and volunteers must be given a broad understanding so as not to use black campaigns to attack their political opponents. Drop political opponents with negative propaganda. They hope that by disfiguring a figure they will influence the choice of their citizens.
We often hear that a candidate for head of state is reported to have taken a bad action so that he can give credit to electability. If this is continued and not addressed, it will certainly be bad in the election event.
Black campaigns are different from negative campaigns. In black campaigns it is more likely to make slander which can be a violation of law. Whereas negative campaigns are carried out by revealing the weaknesses of political opponents accompanied by correct data. This is certainly to give an idea to the voters whether they will stay on the choice or see the other side of the candidate they want to choose.
Hoax and slander
During the campaign period there were always campaign commodities in the form of hoaxes. The spreaders hope this hoax will change the choice of supporters of a candidate. Fortunately, now the police are able to detect and prosecute hoax spreaders, so that they can be quickly dealt with. Regulations that regulate sanctions for spreading lies either directly or even through the internet have been made. just how all parties are able to implement it.
Money politics
In an election people will try to get sympathy by giving a sum of money or goods to influence voters. If this is allowed, it will certainly have a negative impact. Dirty ways to run money politics can be read in my post
Serangan Fajar di Pemilihan Kepala Desa
..
for that all parties must be able to prevent and reject money politics as in my writing
Preventing Money Politics
Educate the voter
In this election we have to be able to be the voters who are active. Our choices are not solely because of blind fanatics. just because they are happy with the candidate, but it must be accompanied by the awareness that this election is to determine the future of the nation. choose candidates who we know well, are not involved in criminal acts, are able to be role models and can become aspirations. If the public has this awareness, the election will produce good statesmen.
Thus my writing this time hopefully can be useful for all of us.
Thank you for reading my post. I hope you enjoy it.
Bahasa Indonesia
Pemilihan umum Sebagai Sebuah Pesta Demokrasi


Hai steemian semua bagaimana kabarnya hari ini? Semoga selalu sehat dan kreatif berkarya.
Pemilu sudah makin dekat. Ini adalah pemilihan pertama untu memilih memilih pasangan presiden dan wakil presiden dan anggota parlemen secara bersama-sama. Pemilihan akan diadakan tanggal 17 April 2019. Pemilihan secara serentak ini memberi dampak pada sebuah kontestasi politik untuk menentukan arah pembangunan bangsa. Setiap peserta pemilu pasti ingin berhasil memenangkannya. Dengan memenangkan pemilu yang ditandai dengan perolehan suara yang besar akan dapat menentukan kebijakan yang akan diambil.
Untuk mencapai kemanangan itu terkadang masih banyak orang yang melakukan tindakan yang tidak terpuji. kampanye hitam, fitnah, hoaks, dan politik uang adalah hal yang semestinya dihindari semua pihak. ini dimaksudkan untuk mencapai pemilu yang legitimit dan berdasarkan aza Langsung, Umum, bebas, Rahasia, Jujur dan adil. Jika pemiliu bisa berjalan dengan baik dan bersih maka akan menghasilkan aparatur negara yang kredibel.
Kampanye hitam
Para juru kampanye atau simpatisan dan relawan harus diberi pemahaman yang luas agar tidak menggunakan kampanye hitam untuk menyerang lawan politiknya. Menjatuhkan lawan politik dengan propaganda negatif. Mereka berharap dengan menjelek-jelekkn seorang figur akan mempengaruhi pilihan warganya.
Kita sering mendengar seorang calon kepala negara diberitakan melakukan tindakan buruk sehingga memberi dapak pada elektabilitas. Jika ini diteruskan dan tidak disikapi tentu akan menjadi buruk dalam perhelatan pemilu.
Kampanye hitam berbeda dengan kampanye negatif. Dalam kampanye hitam lebih cenderung membuat fitnah yang dapat menjadi sebuah pelanggaran hukum. Sedangkan kampanye negatif dilakukan dengan mengungkap kelemahan lawan politik dengan disertai data yang benar. ini tentu untuk memberi gambaran kepada para pemilih apakan akan tetap pada pilihan atau melihat sisi lain dari calon yang hendak dipilihnya.
Hoaks dan fitnah
Dalam masa kampanye selalu ada komoditas kampanye yang berupa hoaks. Para penyebarnya berharap dengan hoaks ini akan mengubah pilihan para pendukung seorang calon. Untungnya, sekarang polisi mampu mendeteksi dan menindak para penyebar hoaks, sehingga dapat cepat ditanggulangi.Peraturan yang mengatur saknsi bagi penyebar kebohongan baik secara langsung atau bahkan melalui internet sudah dibuat. tinggal bagaimana semua pihak mampu mengimplementasikannya.
Politik uang
Dalam sebuah pemilu orang akan berusaha mendapat simpati dengan memberi sejumlah uang atau barang untuk mempengaruhi pemilih. Jika ini dibiarkan tentu akan berdampak negatif. Cara-cara kotor dengan menjalankan politik uang bisa dibaca pada postingan saya
Serangan Fajar di Pemilihan Kepala Desa
.
untuk itu semua pihak harus dapat mencegah dan menolak politik uang seperti dalam tulisan saya
Preventing Money Politics
Mencerdaskan pemilih
Dalam pemilu kali ini kita harus bisa menjadi pemilih yang cerda. pilihan kita lakukan bukan semata-mata karena fanatik buta. hanya karena senang kepada calon, Namun harus disertai kesadaran bahwa pemilu ini untuk menentukan araj bangsa ke depan. pilihlah calon yang memang kita kenal dengan baik, tidak terlibat dengan tindakan kriminal, mampu jadi panutan dan bisa menjadi waadah aspirasi. Jika masyarakat punya kesadaran ini maka pemilu akan menghasilkan para negarawan yang baik.
Demikian tulisan saya kali ini semoga bisa bermanfaat bagi kita semua.
Terima kasih telah membaca postingan saya. Saya berharap anda menikmatinya.