Jak miło wrócić do postowania ;) Od 3 tygodni przebywamy na wakacjach u rodziców mojej żony i tu bezapelacyjnie w kuchni rządzą teściowie 😊.  Przyznam, że stęskniłem się za bezpośrednim kontaktem z Wami, za dyskusjami w komentarzach i choć codziennie śledzę losy moich ulubionych blogerów to jednak nie mogłem się doczekać powrotu do pisania artykułów. Jak już mówiłem w kuchni rządzą obecnie rodzice Justynki, dlatego dziś będzie trochę inaczej. Jednym z popisowych wypieków mojego teścia jest tradycyjna chałka żydowska. W odróżnieniu od tej kupionej w piekarni - słodkiej, o lekko waniliowym smaku, ta robiona w warunkach domowych jest wytrawna, lekko słona. Na prośbę domowników tata Justynki robi słodką kruszonkę tak, aby chałka pasowała do gorącej kawy, którą rozkoszujemy się na działce ;) Chałka ma strukturę waty, po urwaniu kawałka widać charakterystyczne pasma co odróżnia ją od tradycyjnego ciasta drożdżowego o puszystej, porowatej strukturze.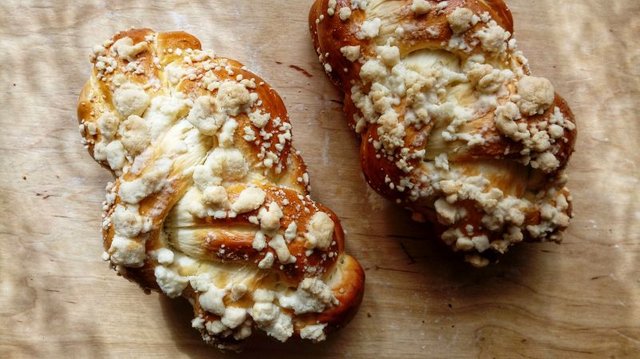 PS. Już za parę dni wracamy do naszego Krakowa i do naszej kuchni z nowymi kulinarnymi pomysłami. Pozdrawiamy!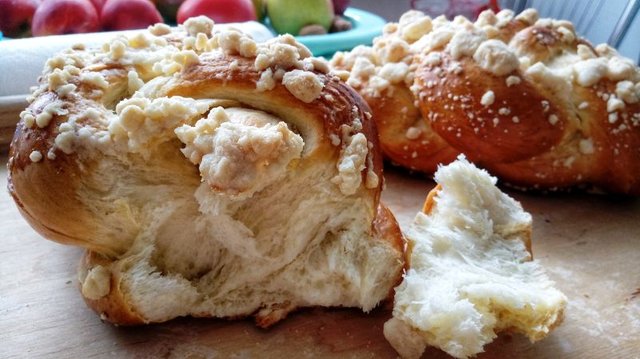 Składniki:
15-18g świeżych drożdży
0.5 kg mąki
200 ml ciepłej wody
50 ml oleju
1 łyżeczka soli
1 jajo
1 łyżeczka jogurtu naturalnego
42 g cukru
Kruszonka:
1 łyżka masła 
1 łyżka cukru
1 łyżka mąki
1 jajko do posmarowania
Wykonanie:
 Odlać 50-100ml wody, dodać drożdże i 2 łyżeczki cukru (z 42 g) - zrobić zaczyn.
Mąkę przesiać, dodać jajo, olej, jogrut, cukier oraz zaczyn. Wyrabiać ciasto. W zależności od wilgotności mąki dodać tyle wody aby ciasto dobrze się wyrabiało lecz nie więcej niż 200 ml.  Następnie dodać sól i wyrabiać aż ciasto będzie elastyczne i gładkie. 
Wyrobione ciasto odstawić w ciepłe miejsce na minimum 1h. W międzyczasie z podanych składników przygotowujemy kruszonkę i odstawiamy do lodówki.
Następnie ciasto podzielić na 2 równe części, a każdą część na 4 równe paski. Zawinąć chałkę tak jak jest to pokazane na filmie poniżej:
Link do filmu: https://d.tube/v/xuanito/ryubfk8q
         5. Posmarować rozmąconym jajkiem z odrobiną mleka, posypać kruszonką.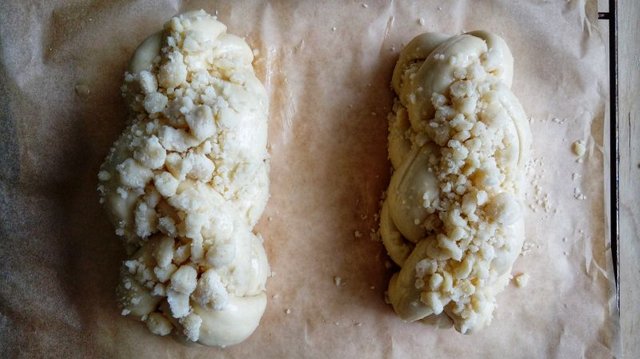 6. Chałki pieczemy w 160-180 stopniach (w zależności od piekarnika) przez 40 min. 
Smacznego!  😊