To ciasto powstało zupełnie spontanicznie i jeśli miałbym się przyznać to nie wierzyłem, że się uda. 😉  Sernik pieczony wyłacznie na serku mascarpone to dość ryzykowne posunięcie, gdyż trudno powiedzieć jak taki serek zachowa się pod wpływem temperatury. Mając jednak w lodówce 0,5kg owego serka, a w głowie pewną wizję ciasta stwierdziłem, że zaryzykuję i spróbuję stworzyć z tego coś pysznego. Co się okazało? Sernik, a może tarta (trudno przyporządkować to ciasto do którejś z tych dwóch kategorii) okazał się zdumiewająco pyszny, delikatny i rozpływający się w ustach. Nie zdążył całkowicie wystygnąć, a już połowy nie było. Tego dnia wpadła do nas ciocia Justynki i pierwsze co powiedziała kosztując ciasto to: "poproszę o przepis"!  😃  Także lepszego komplementu nie mogliśmy dostać, dlatego serdecznie zachęcam Was do wypróbowania tego przepisu.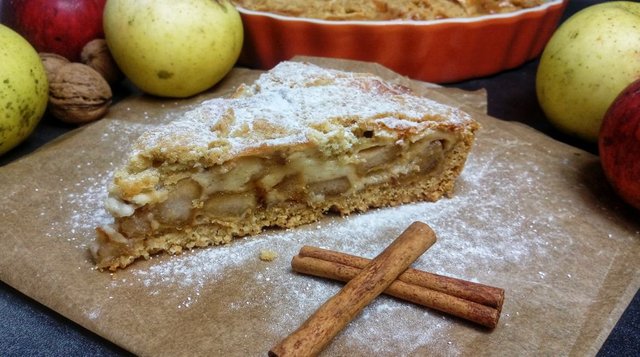 Ciasto kruche:
3 szkl. mąki
3/4 szkl. cukru trzcinowego
3 płaskie łyżeczki proszku do pieczenia
2 łyżeczki cukru wanilinowego
1 kostka masła
2 jajka
Masa serowa:
0.5 kg serka mascarpone
2 żółtka
1 łyżka budyniu waniliowego
3-4 kwaśne jabłka
3 łyżki cukru trzcinowego
1 kieliszek rumu
pół szklanki wody
cynamon
orzechy włoskie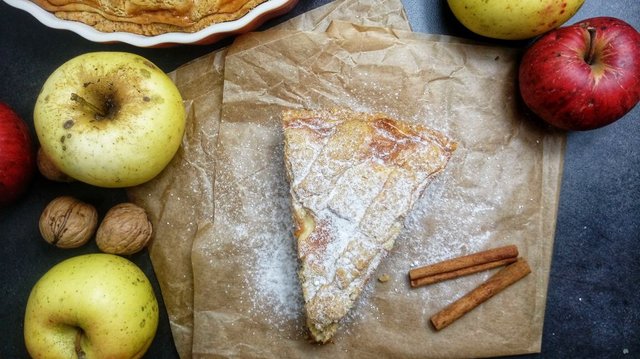 Wykonanie:
Z podanych składników zagniatamy ciasto i schładzamy w lodówce.
Jabłka kroimy w małe kawalki. 
Na patelnię wlewamy wodę, dodajemy cukier. Gdy cukier się rozpuści wsypujemy jabłka oraz dolewamy kieliszek rumu. Chwilę dusimy, ale nie za długo żeby jabłka nie rozmiękły za bardzo. Posypujemy cynamonem i dobrze mieszamy. Odstawiamy do ostygnięcia.
Orzechy włoskie prażymy na patelni.
Do serka mascarpone dodajemy 2 żółtka, a następnie budyń. Mieszamy/miksujemy do połączenia składników.
Do masy serowej dodajemy orzechy oraz wystudzone jabłka. 
Formę na tartę wyklejamy ciastem. Zostawiamy część, aby ułożyć kratkę. Uwaga! Z podanych proporcji wychodzi odrobinę więcej ciasta. Ja zamroziłem resztę i upiekłem w inny dzień zwykłe kruche ciasteczka.
Na ciasto wykładamy masę serową. Na wierzchu układamy kratkę. Posypujemy odrobiną cukru trzcinowego.
Pieczemy w temp 160-180 stopni przez około 50 min. Zostawiamy w piekarniku do całkowitego ostygnięcia.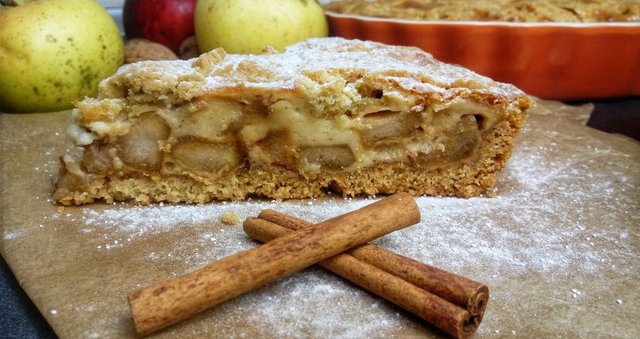 Smacznego!