Już od kilku dni pogoda nas rozpieszcza, jednak wraz z nadejściem upałów coraz częściej sięgamy po lekkie dania, nie wymagające długiego stania w kuchni. Dlatego też dziś mam dla Was lekką sałatkę z dodatkiem zielonych szparagów, na które obecnie mamy sezon. Nie wiem jak Wy, ale jak tylko pojawia się jakieś sezonowe warzywo czy owoc to staram się wykorzystać go na maksa, w różnych przepisach i kombinacjach. Wiem, że czas świetności danego produktu to tylko parę dni w roku, dlatego staram się uwzględniać go w większości moich pomysłów kulinarnych. Tak też jest w przypadku szparagów. Od 2 tygodni serwuję niemal codziennie szparagi, czy to gotowane, czy pieczone w towarzystwie różnych sosów i dressingów. Dzisiejsza sałatka to propozycja na obiad czy też kolację. Jeśli lubicie dużo zieleniny to na pewno ta opcja przypadnie Wam do gustu. 😊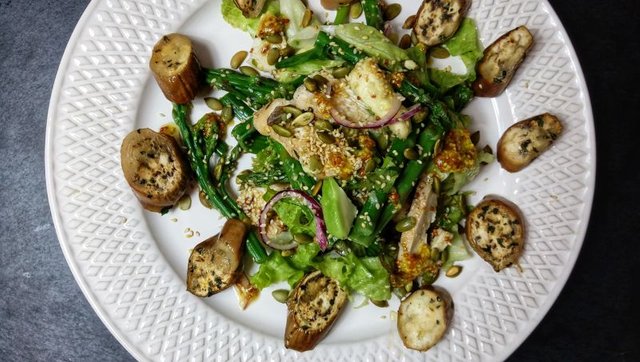 Składniki:
pół kilo piersi z kurczaka
4 mini bakłażany
1 awokado
1 cebula czerwona
pęczek szparagów zielonych
mix sałat
1 łyżka pokrojonego szczypiorku
łyżka masła 
Marynata do kurczaka:
1 łyżeczka soli
pół łyżeczki tymianku
pieprz
kolendra suszona
pół łyżeczki ostrej papryki
1 łyżka oleju
sos:
3 łyżeczki musztardy francuskiej
1 łyżka octu jabłkowego
4 łyżki oliwy.
sok z pół cytryny
pestki z dyni 
sezam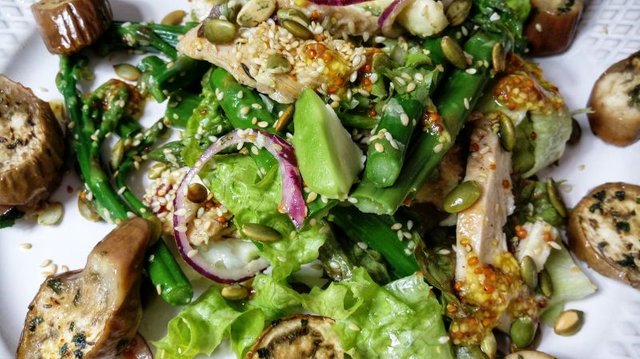 Wykonanie:
1. Mięso zamarynować w soli, tymianku, papryce i kolendrze i oleju. Odstawić do lodówki na min. godzinę. Następnie podsmażyć chwilę na patelni, żeby nabrał ładnego koloru, a następnie włożyć do piekarnika i piec 25 min w 180 stopniach z odrobiną masła. 
2. Bakłażana pokroić w plasterki i przyprawić solą. Rozłożyć na blaszce, położyć kilka małych kawałeczków masła i piec w 180 stopniach przez 15 min. 
3. Szparagi ugotować w lekko osolonej wodzie.
4.  W dużej misce wymieszać pokrojonego kurczaka, szparagi, awokado, cebulę, szczypiorek. Zalać sosem z musztardy, octu, oliwy i soku z cytryny. Dobrze wymieszać. Na sałatce ułożyć upieczonego bakłażana i posypać prażonymi pestkami z dyni i sezamem.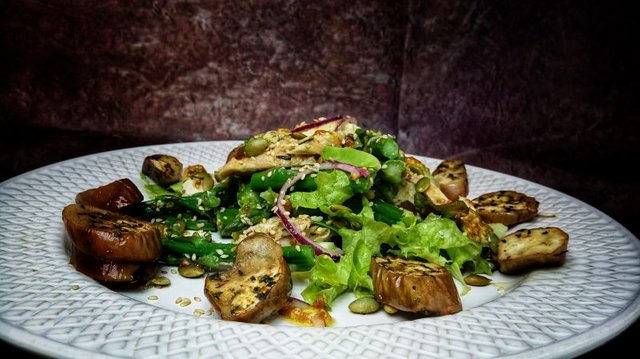 Smacznego!!!   😊