Dobry wieczór kochani! Upał dawał nam dziś mocno we znaki, dlatego dopiero teraz, gdy za oknem już noc, a temperatura spadła do znośnego poziomu, mogę spokojnie usiąść przed komputerem i pokazać Wam co takiego zaserwowałem rodzince na niedzielny obiad. Widząc w tytule "pieczone polędwiczki" pomyślicie sobie pewnie, jaki wariat nastawia piekarnik na 180 stopni w takie upały? :P No tak, to jest właśnie @xuanito, gdy mam pomysł to po prostu działam i tak było i tym razem. Polędwiczki wyszły bardzo smaczne, a rodzinka zajadała się pomimo niedogodności związanych z temperaturą w domu. Mam nadzieję, że przepis Wam się spodobał i już w następny weekend wypróbujecie go we własnej kuchni.  😊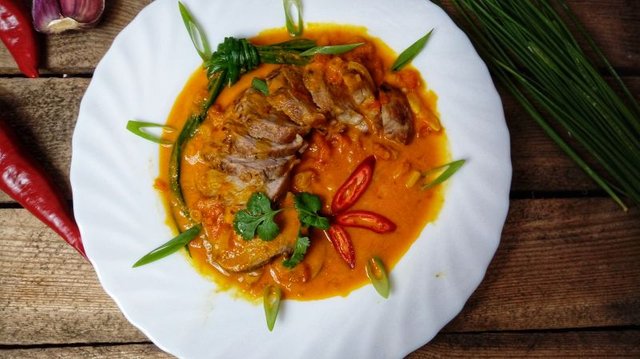 Składniki:
1 polędwiczka wieprzowa
1 łyżka przyprawy curry
2 pomidory
300 ml bulionu (można użyć wody)
2 łyżeczki śmietany
1 łyżka mleczka kokosowego 
1 cebula
pęczek szczypiorku
2 ząbki czosnku
1 łyżeczka masła
sól 
pieprz
sos rybny do smaku
kolendra i chili do dekoracji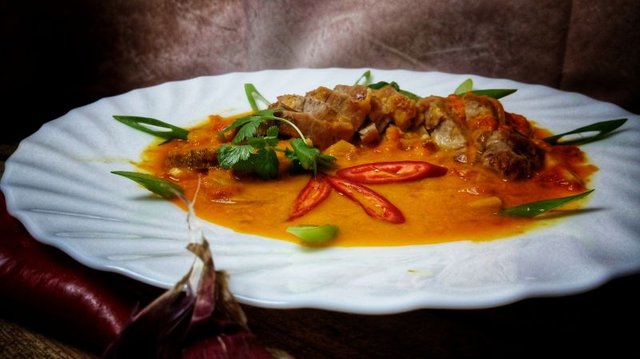 Przygotowanie:
1. Polędwiczkę umyć, osuszyć, przyprawić solą i pieprzem, odstawić do lodówki na 30 minut.
2. Pomidory obrać i pokroić w kostkę. Czosnek i cebulę zeszklić na maśle, dodać curry i dobrze wymieszać. Gdy poczujemy unoszący się zapach curry dodajemy pomidory oraz szczyptę soli i dusimy aż pomidory zmiękną.  Następnie dodajemy bulion lub 300 ml wody oraz szczypiorek (szczypiorku nie kroimy lecz dodajemy w całości) i dusimy na małym ogniu ok. 10-15 minut. Doprawić solą, pieprzem i sosem rybnym do smaku.
3. W międzyczasie polędwiczki posypujemy odrobiną mąki i podsmażamy aż nabiorą złocistego koloru. Następnie przekładamy do piekarnika rozgrzanego do 180 stopni na 25 minut. 
4. Do sosu curry dodajemy łyżkę mleczka kokosowego, a następnie dodajemy 2 łyżki śmietany (najlepiej zahartować śmietanę odrobiną sosu).
5. Polędwiczkę pokroić w cienkie plastry. Ułożyć na talerzu, zalać sosem curry. Udekorować plasterkami chili oraz kolendrą.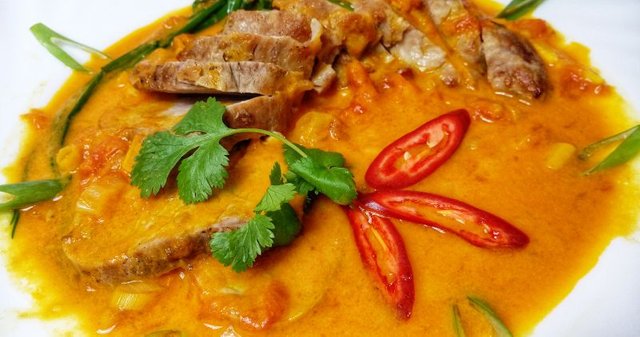 Smacznego!  😊