Miała być przerwa od słodkości, a tu nagle tematem kolejnej edycji konkursu kulinarnego są desery! I jak tu być konsekwentnym  😋  Tym razem postawiłem na klasykę. Francuski millefeuille, czyli ciasto tysiąca płatków, to prosty deser na bazie ciasta francuskiego i kremu budyniowego. Przyjęło się, że millefeuille to deser francuski jednak jego pochodzenie to tak naprawdę Neapol stąd też błędnie nazywany jest inaczej Napoleonką choć poprawnie powinno nazywać się go Neapolitanką. W mojej wersji millefeuille łączy smaki mi bliskie bo znajdziemy tu nutę mango i kokosa. Wierzch ciasta pokryłem polewą z białej czekolady, ale równie dobrze możemy użyć cukru pudru czy wiórków kokosowych. Mam nadzieję, że moja wersja tego klasycznego deseru przypadnie Wam do gustu i zapragniecie odtworzyć go w swojej kuchni.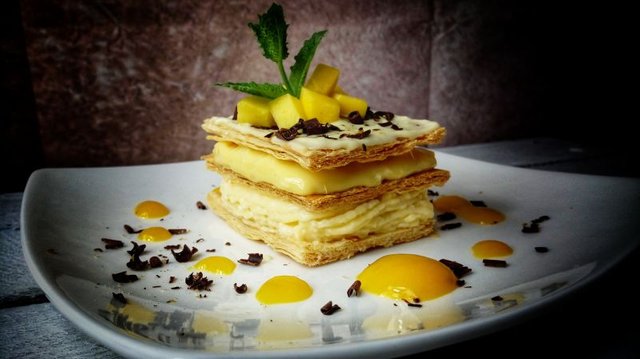 Składniki:
Arkusz ciasta francuskiego (275g - na około 5-6 porcji)
Na krem:
600 ml mleka
100 g cukru
1 łyżeczka ekstraktu z wanilii
6 żółtek
40 g mąki pszennej
40 g skrobi ziemniaczanej
4 łyżki wiórków kokosowych
4 łyżki pulpy z mango
Dekoracja: polewa z białej czekolady, tarta gorzka czekolada, odrobina pulpy z mango, świeże mango pokrojone w kosteczkę oraz listek mięty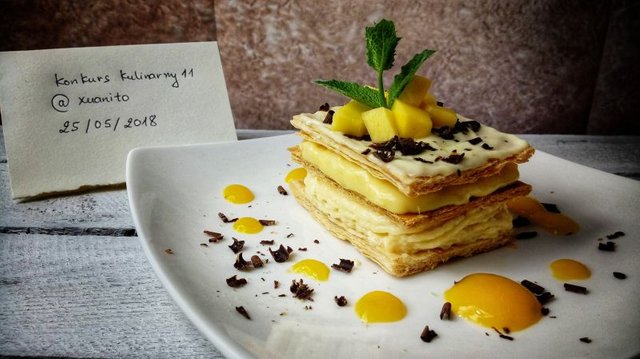 Wykonanie: 
1. Mleko zagotować z łyżeczką ekstraktu z wanilii.
2. Żółtka utrzeć z cukrem. Dodać mąkę i skrobię i dobrze zmiksować. Odmierzyć pół szklanki zagotowanego wcześniej mleka i zahartować pastę z żółtek. Porządnie wymieszać a następnie dodać do reszty mleka. Postawić na średnim ogieniu i cały czas mieszając doprowadzić do wrzenia. Gotować jeszcze przez chwilę, aż krem dobrze zgęstnieje (cały czas mieszając). Zdjąć z ognia i przykryć szczelnie folią spożywczą. Odstawić do zupełnego wystudzenia.
3. W międzyczasie upiec ciasto francuskie. Arkusz ciasta wykładamy na blachę do pieczenia. Nakuwamy widelcem, a następnie przykrywamy papierem do pieczenia i obciążamy drugą blachą tak, aby ciasto nie usrosło. Pieczemy w 160 stopniach przez 20 min, a następnie zdejmujemy z góry blachę i papier i pieczemy jeszcze 5 min, aż ciasto ładnie się zarumieni.
4. Wystudzony krem dzielimy na dwie części. Do jednej dodajemy 4 łyżki wiórków kokosowych, a do drugiej 4 łyżki pulpy z mango. Miksujemy, a następnie schładzamy w lodówce, dzięki czemu krem jeszcze lepiej zgęstnieje. 
5. Ciasto francuskie kroimy na 5 prostokątów, a następnie każdy prostokąt dzielimy na 3 równe części. Na jednej części za pomocą tylki rozprowadzamy krem kokosowy, przykrywamy drugim kawałkiem ciasta, a następnie na nim rozprowadzamy krem o smaku mango. Całość przykrywamy 3 kawałkiem ciasta. Na wierzchu w zależności od upodobań możemy posypać cukrem pudrem lub tak jak ja polać białą czekoladą, posypać tartą gorzką czekoladą, a na środku deseru umieścić parę kawałków świeżego mango. Powtarzamy czynność z resztą ciasta francuskiego.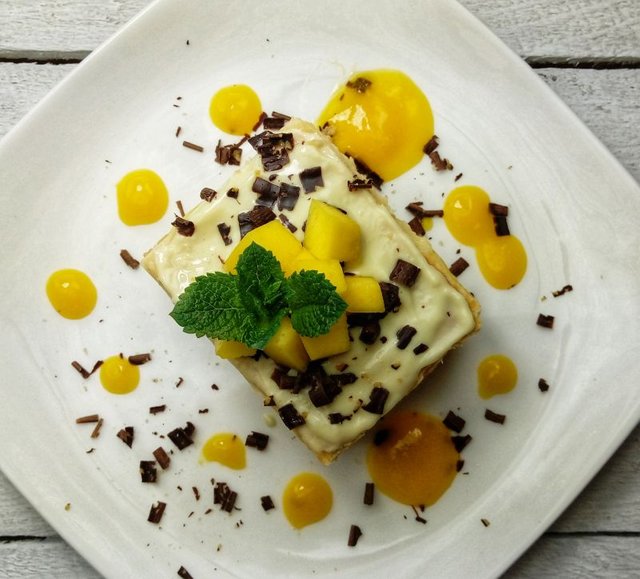 Smacznego!!!   😊