Rozpoczyna się Access MBA Tour z udziałem najlepszych szkół biznesu z USA, Europy i Azji. W dniu 7 maja 2018 podczas tego wyjątkowego wydarzenia MBA przedstawiciele międzynarodowych programów MBA wezmą udział w indywidualnych spotkaniach z profesjonalistami biznesowymi z Warszawa.
Jako specjalista w dziedzinie biznesu prawdopodobnie myślisz o zdobyciu tytułu MBA lub EMBA, aby wzbogacić swoją karierę i uzyskać większe wynagrodzenie. To wydarzenie jest doskonałą okazją, aby dowiedzieć się jak to zrobić!
Każdy uczestnik wydarzenia będzie miał możliwość wzięcia udziału w:
Spotkaniach indywidualnych* z kierownikami naboru do programów MBA
Indywidualnych konsultacjach z ekspertami Access MBA
Panele dyskusyjne z przedstawicielami szkół i warsztaty GMAT
-Konkursach o stypendia o wartości 2 milionów Euro
indywidualne 20-minutowe spotkania mające na celu omówienie twojego projektu MBA
Oto niektóre z prestiżowych szkół biznesowych biorących udział w Access MBA Tour: Frankfurt School of Finance and Management, Manchester Business School, INSEAD, IE Business School, HEC Paris, ESMT – Berlin, Trinity College Dublin, University of Tampa, Esade Business School i inne.
Miejsca na spotkania indywidualne są ograniczone, zalecana jest wczesna rejestracja. Aby otrzymać darmowe zaproszenie zarejestruj się już dziś tutaj: https://www.accessmba.com/link/BFm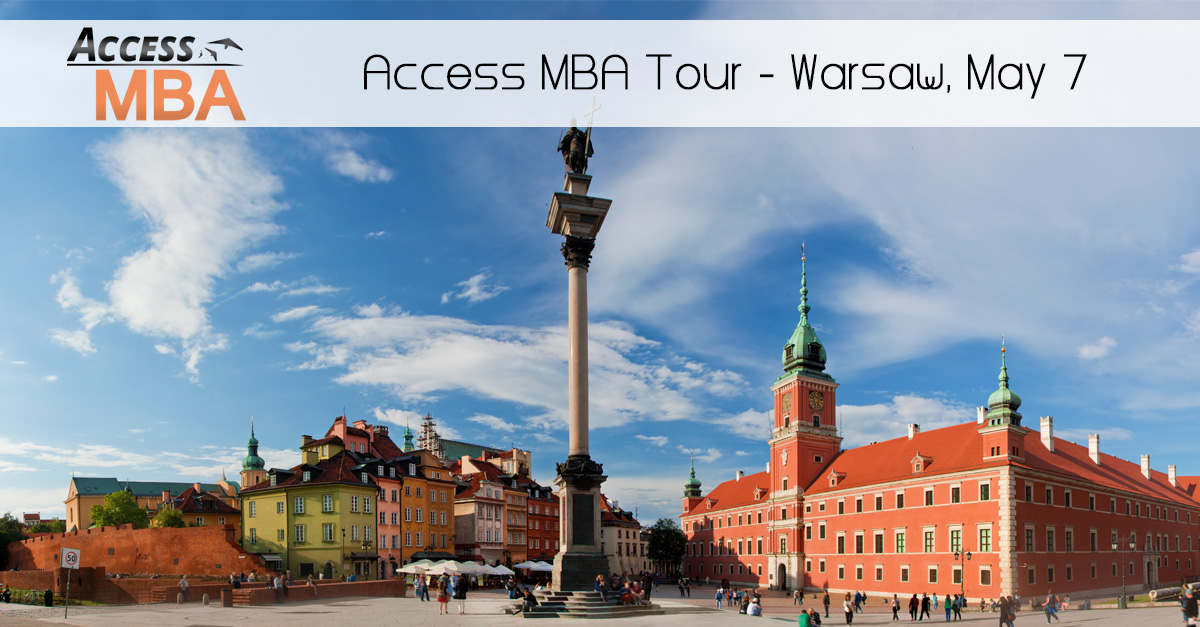 Co roku @AccessMBA łączy profesjonalistów biznesowych z wymarzonymi szkołami. Weź udział w nadchodzącym wydarzeniu w Warszawie - będą tam przedstawiciele najlepszych programów MBA na świecie!