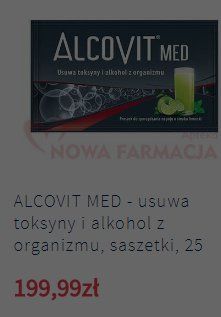 Usuwa toksyny i alkohol z organizmu.
Bzury !
Bajki !
Brednie !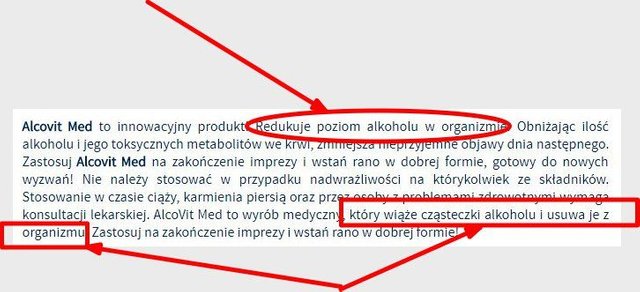 Według producenta ten oto "fejkowy" produkt ma za zadanie usunąć alkohol z organizmu.
To, że produkt "prawdopodobnie"zawiera substancje, po których faktycznie czujemy się lepiej, nie oznacza, że wyrób ten pomaga nam w szybszym rozkładzie i wydalania alkoholu z organizmu.
Najlepsza rzecz, jaką możesz zrobić dla swojego organizmu to uzupełnić niezbędne płyny i dostarczyć substancje odżywcze np. :Witaminy, aminokwasy i minerały, które mają niezbędne znaczenie w rozkładaniu toksyn, ale nie ma naukowych potwierdzonych dowodów na to, że istnieje substancja nieszkodliwa dla człowieka i ma jakikolwiek większy wpływ na rozkład alkoholu w naszym organizmie. Napój czy tabletka nie wyleczy kaca, są tylko sposoby, które pomogą zmniejszyć jego nieprzyjemne skutki.
Przez takie produkty masa kierowców z własnej lekkomyślności traci prawo jazdy. Ponieważ wydaje im się, że są trzeźwi, bo zjedli takie właśnie cudowne lekarstwo, które pozwoli szybciej wytrzeźwieć.
Naukowo nie ma na to dowodów!
Strzeż się fejku!
Czytaj, co kupujesz!
Nie kupuj leków z podejrzanych źródeł tylko dlatego, że mają dobrą opinię w internecie.
Możecie się z dziwić, ilu ludzi rocznie trafia do szpitala z powodu takich wyrobów.
Na odchudzanie (spalaczy tłuszczu)
Czy innych cudownych cukierków.
.