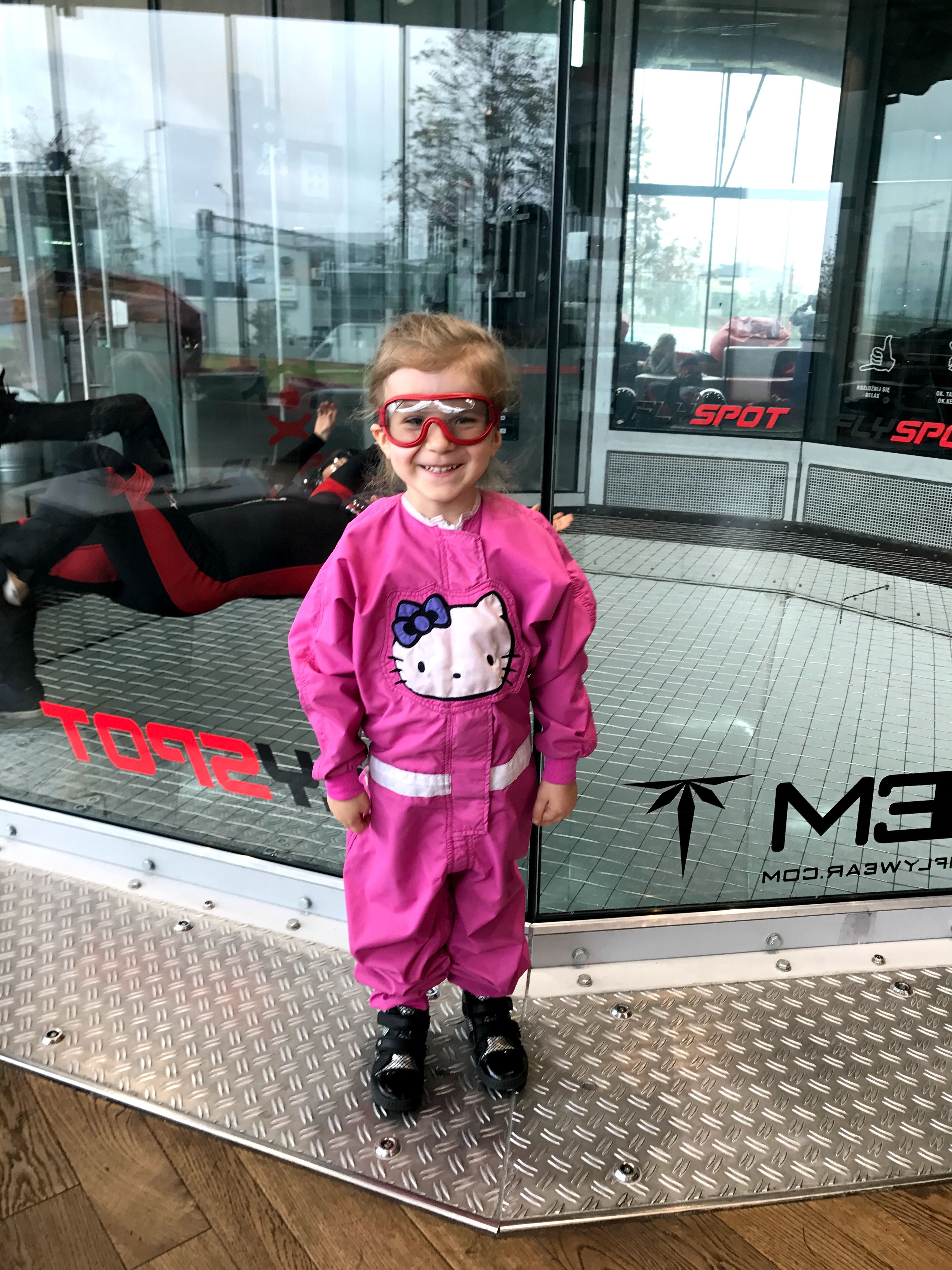 Jakiś czas temu wybraliśmy się z moją całą familią do Pruszkowa na Mistrzostwa Polski w kolarstwie torowym mojego męża. Hotel, w którym wówczas nocowaliśmy znajdował się w Ożarowie Mazowieckim, pod Warszawą więc wykorzystując okazję, postanowiliśmy, że zwiedzimy naszą stolicę. Po drodze, stojąc na światłach, naszą uwagę przykuł niepozorny szary budynek (zupełnie nie zwiastujący tego co znajduje się w środku) i unoszący się w powietrzu ludzie!!! Nie miałam wtedy pojęcia co to jest więc od razu "wygooglowałam" to miejsce i jak się później okazało był to FLYSPOT czyli tunel aerodynamiczny. Punkt na mapie Polski gdzie można spełnić odwieczne marzenie człowieka o lataniu niczym ptak albo Superman.
Z technicznego punktu widzenia, tunel aerodynamiczny to tuba o średnicy 4,5 metra gdzie obieg powietrza jest zamknięty a wentylatory o mocy 1,4 MW wytwarzają jednolity strumień powietrza o prędkości 280 km/h a nawet do 310 km/h co porównywane jest do skoku spadochronowego z 4000 m. Co ciekawe, technologia użyta w tunelu w Ożarowie jest najbardziej innowacyjną i ponoć najlepszą w Europie, co się chwali.
Mając TAKĄ atrakcje pod nosem, nie sposób było nie skorzystać! To znaczy, to nie ja z niej skorzystałam... a moja super odważna 4-letnia córka, Zośka! Sama niestety musiałam obejść się smakiem gdyż byłam świeżo po porodzie cesarskim cięciem co wykluczało lot. Ale dopisuje to do mojej "Bucket List" i z pewnością jeszcze tam wrócę! Tymczasem skupiłam się na tym aby mocno dopingować moją córkę, dla której takie emocje były nie do opisania.
REZERWACJA
Wybierając się do Flyspot warto wcześniej dokonać rezerwacji na stronie internetowej gdyż chętnych jest bardzo dużo. Początkujący tacy jak my mogą wykupić voucher w cenie 249 zł (dzieci od 199 zł) za dwa loty po 90 sekund każdy. Trochę krótko pomyślicie ale taki niepozornie wyglądający lot to duży wysiłek fizyczny, który obciąża wiele mięśni.
PO PIERWSZE SZKOLENIE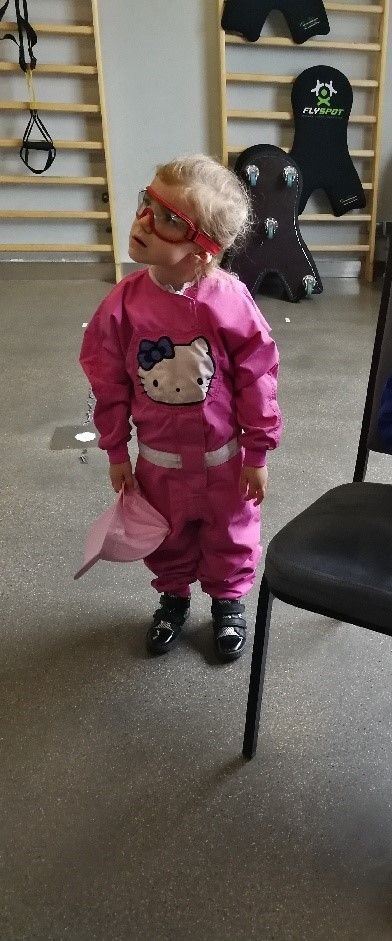 Kombinezon, kask, zatyczki do uszu, okulary i słowa instruktora: "dwa zgięte palce - wyprostuj nogi, dwa zgięte - ugnij kolana" itd... Nie wiem czy moja Zosia coś zapamiętała z tego szkolenia... Teraz po zdjęciu wnioskuje, że niewiele hehe
Nic nie szkodzi bo nad wszystkim czuwał Pan instruktor, który cały czas z nią był.
W międzyczasie, czekając na moją Zośkę, udało mi się podpatrzeć jak to robią inni, zaawansowani "superman'owie". Obracali się w powietrzu, wykonując przeróżne akrobacje: góra i dół, w pionie i poziomie, na brzuchu i na plecach. Momentami wyglądało to jak podniebny taniec... Widok był nieziemski. A Ty patrzysz na to wszystko i myślisz - "łatwizna" - Nic bardziej mylnego... jak to określili moi znajomi: "to była walka z życiem" ;) A oni z trudem odrywali się od ziemi.
DO RZECZY CZYLI LOT ZOŚKI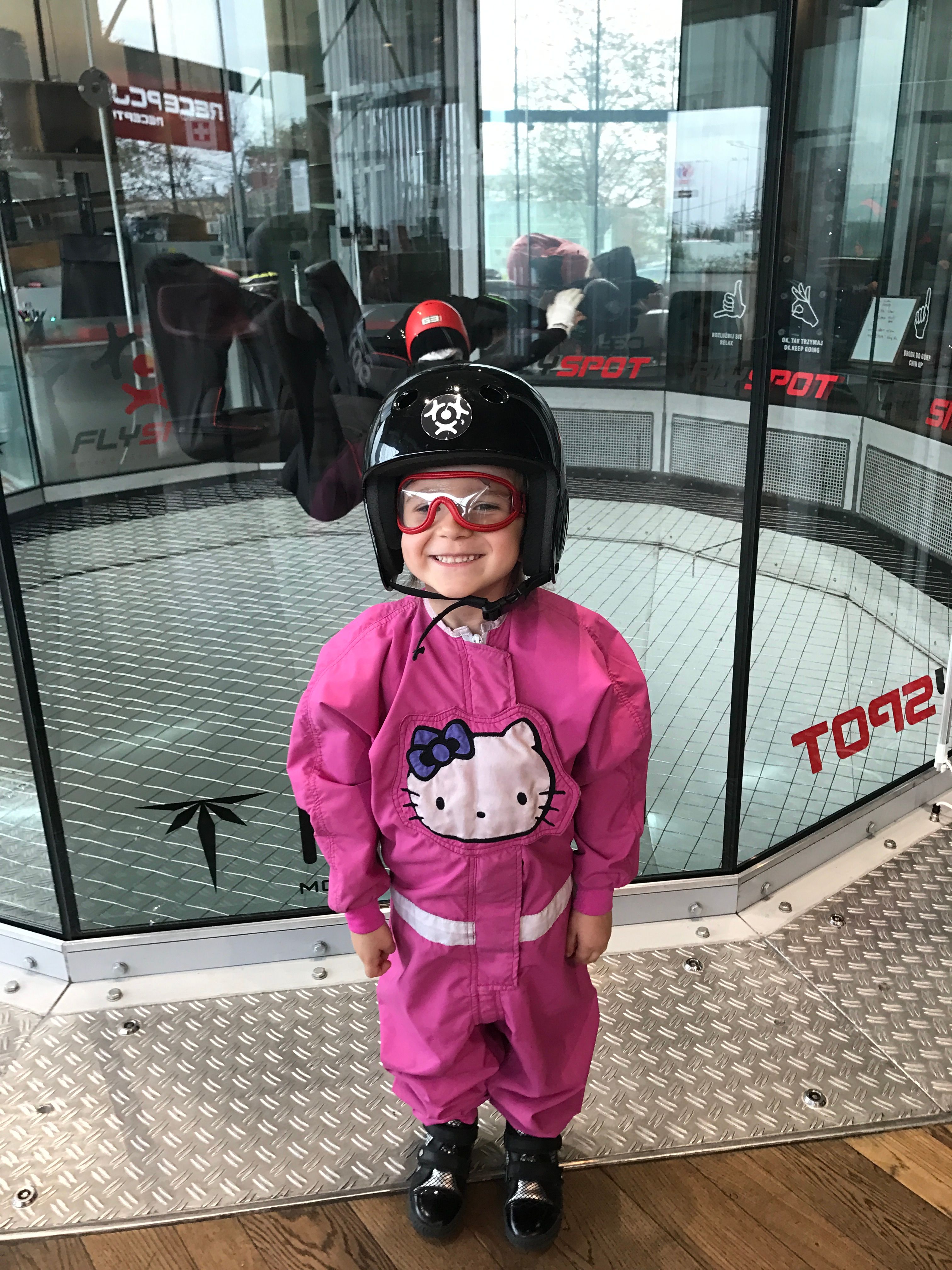 Moja mała została porwana przez instruktora do środka tunelu a mnie pozostało tylko obserwować wszystko z zewnątrz. Jako matka byłam PRZERAŻONA ale też bardzo dumna z mojej dzielnej wiewióreczki. Moja 4-latka fruwała jak ptak!
Już się nie mogę doczekać kiedy ja będę mogła tak pofruwać - bo według mojej Zosi - warto! Polecamy :)
P.S. (Zabawne, pisząc ten post właśnie oglądam reklamę jednego z banków, wykorzystującego tunel aerodynamiczny do przedstawienia swojej oferty - to jest już wszędzie!)
Ściskam,
Daria czyli @sisters