KAJTUŚ - MÓJ KOT, MÓJ TOWARZYSZ, MÓJ PRZYJACIEL
To nie będzie ten tekst, który planowałam napisać.
Tamten jeszcze poczeka, ale opublikuje go też, tylko w swoim czasie.
Kajtek w ostatnich miesiacach troszkę podupadł na zdrowiu i siłach, wiec mój entuzjazm do zamieszczenia tamtego obiecanego postu, mocno mi opadł.
Zaczęłam z moim kotem chodzić po lekarzach, martwić się o jego stan..



Ale klątwa grudnia w moim życiu nadal trwa.
Mój zielonooki przyjaciel odszedł.



Mimo wszystko, nie spodziewałam się takiego zakończenia tego 2018 roku.
Mieliśmy z nim piękne, radosne, i bogate w emocje życie; pełne rozlicznych zakrętów, trudów, wyzwań, wzruszeń, mruczeń i przytulań.
Moje kochane kocisko było ze mną zawsze i wszędzie. Towarzyszyło tym wszystkim wydarzeniom mojego życia przez wiele wspólnych lat. Był ze mną zanim poznałam swojego męża i zanim pojawił się na świecie nasz syn.
Kajtuś dożył pięknego wieku ok.20 lat i zasnął, by już się nie obudzić.
Serce mi pękło. Kolejny raz w życiu.
Strasznie, strasznie mi smutno.
Smutno, przykro, pusto i cicho 😔.
Ale nie przypuszczałam, że tak się zakończy ten grudzień.
Pomimo jego lat, Kajtek nadal był w dobrej formie. Nikt nie dowierzał, że ma już tyle lat.
Miał czyste, zielone spojrzenie, gładkie futerko, spokojne oddechy.
Tylko mocno osłabł w ostatnim czasie, nie dla niego już parapety i wysokie balustrady. Stał się słabszy, spokojniejszy, cichszy, wycofany, kochańszy, łagodniejszy. Jego kocia dzikość jakoś zmiękła..
Łatwiej dał się pogłaskać, łatwiej zabrać na kolana, od samego patrzenia zaczynał mruczeć i głaskany - od razu zasypiał.
Naprawdę miałam nadzieje, że jeszcze trochę z nami pobędzie.
Niestety.
27 grudnia nasza wspólna przygoda się zakończyła.
Mój synek codziennie płacze, ja razem z nim. To jego pierwsza śmierć.
Kajtuś był jego kumplem, odkąd Mały się urodził. Towarzyszył jego dzieciństwu od samego początku.
Potworne jest to starzenie, chorowanie i umieranie; obojętnie czyje.
Zwierzyna też czuje, kocha, cierpi, denerwuje się, choruje, gaśnie, też zapada się w sobie, też uchodzi z niej życie..
Mój synek przy nim uczył się empatii, delikatności, miłości i współczucia dla zwierząt.
Współczucia dla wszystkich żywych istnień, nie tylko tych domowych - śpiących na podusiach w ciepłych pieleszach. Ale także tych przy budach, na łańcuchu, w cyrku, w ciasnych boksach mleczarni, w lasach, zagrodach i rzeźniach.
Każde stworzenie czuje tak samo. Mój syn już dawno to wie. Wie jak płacze zwierzątko, które zrani się w łapę.
Niezależnie od tego jak nazywa się ten konkretny gatunek zwierzaka.
(..)
Nie ma już mojego kota, towarzysza wielu lat 😔
Zostały samotne miski.
I gdzieniegdzie odbite ślady małych, kocich łapek.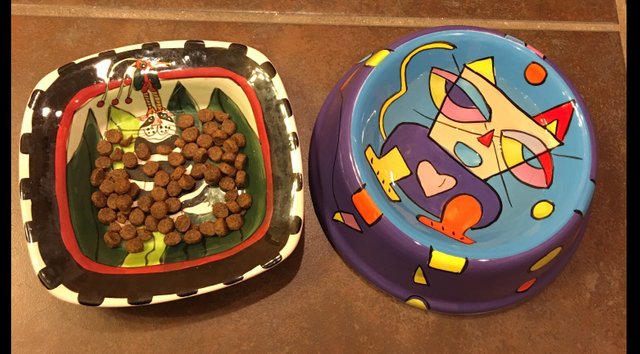 To jedne z ostatnich zdjęć mojego kochanego Kota (u weterynarza w poczekalni):




W domu (nie wiedziałam jeszcze, że został mu tylko tydzień życia 😢:





"Umrzeć - tego się kotu nie robi", ale człowiekowi można?!?
"Mała śmierć", a strata tak samo bolesna i przepastna.



- COLDPLAY - "Fly On"