Witajcie
Coraz częściej słyszymy, że ludzie utrzymuje się zarabiając przez internet.
Postanowiłem poszukać miejsc, dzięki którym jest to możliwe.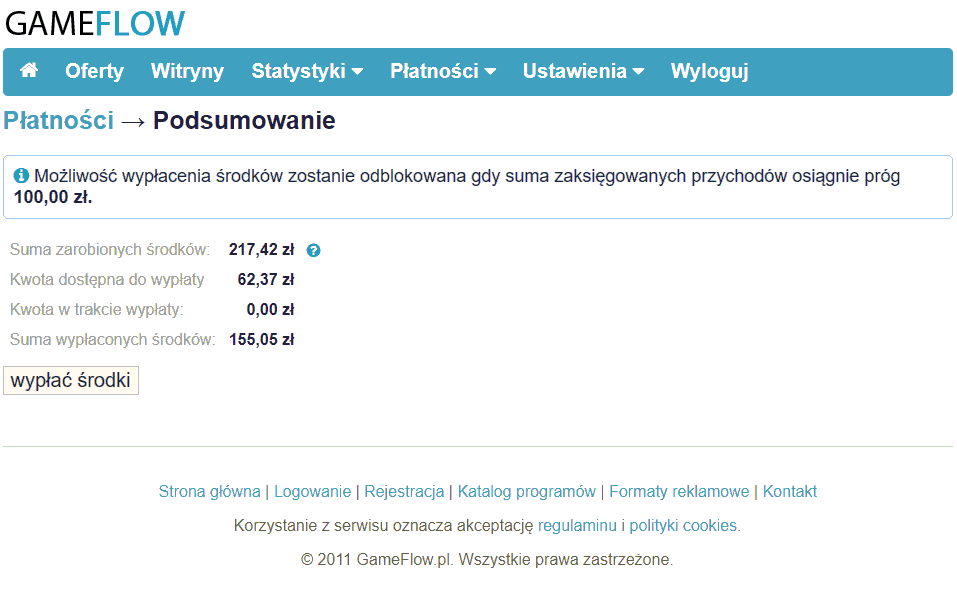 Zarabianie na promocji gier online.
Pierwszym programem partnerskim, który chciałbym wam przedstawić jest GameFlow
link do strony domowej https://gameflow.pl.
Na chwile obecną w ofercie strony znajdują się 22 gry za polecanie których mozemy zarabiać.
Całość możemy podzielić na dwa sposoby rozliczeń:
CPL (Naroda za rejestrację)
CPS (Nagroda za sprzedaż)
CPL
Najniższa stawka w tym sposobie rozliczeń to 0.56PLN
Najwięcej ile możemy zarobić za jedno polecenie do gry to 7.00PLN
W przypadku gier przeglądarkowych, naszą nagrodę otrzymujemy za samą rejestrację.
CPP
W przypadku gier opartych o client, nagrodę również otrzymujemy za rejestrację. Rejestracja jednak zaliczana jest np. po ukończeniu samouczka, po 60 minutach gry lub ukończeniu 5 bitew.
W porównaniu do nagród za polecenie użytkownikowi gry przeglądarkowej nasza nagroda jest kilka razy wyższa.
CPS
Tutaj raczej nie trzeba zbyt wiele tłumaczyć, naszą nagrodę otrzymujemy w momencie kiedy polecona przez nas osoba dokona zakupu w grze.
Stawi rozpoczynają się od 25% a kończą się na 35%
Jeśli chodzi o podsumowanie tego programu, miałem okazję już wcześniej z niego korzystać.
Minimalna kwota do wypłaty to 100PLN
Srodki wypłacić mozemy na :
Konto bankowe
Konto paypal
Po uzbieraniu minimalnej kwoty, wynagrodzenie bez problemu wpłynęło na moje konto bankowe.
Jak dla mnie program godny polecenia i co najważniejsze wypłacalny.