Drodzy czytelnicy,
w tym wątku chciałbym przedstawić wam narzędzia które są bardzo przydatne przy dobieraniu spółek do naszego portfela inwestycyjnego.
Jako, że ciężko pomieścić wszystkie użyteczne funkcjonalności serwisu https://www.biznesradar.pl/ w jednym wpisie, to dzisiaj na tapetę wezmę jedynnie wyszukiwarkę.
Przechodzimy do niej z strony głównej z zakładki narzędzia -> Skanera akcji GPW. Nazwa jest nieco myląco, ponieważ skaner zawiera również akcje z rynku New connect.

W skanerze mamy do wyboru dostępne dziesiątki wskażników, współczynników i innych finansowych rzeczy po których możemy filtrować spółki, można zapisywać nasze wyszukiwania do póżniejszego powrotu i udostępniania innym. Na zrzucie ekranu i w linku poniżej możecie zobaczyć skaner z którego ja najczęściej korzystam.
https://www.biznesradar.pl/skaner-akcji/362fa2ea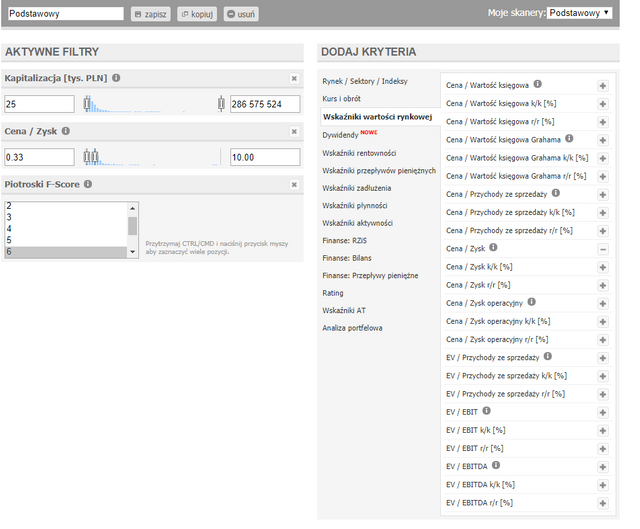 Jest to bardzo podstawowy radar, według mnie nie ma co dodawać zbyt wielu czynników. Możemy wtedy odfiltrować ciekawe spółki które m0żliwe w jednym wskaźniku są słabsze a inne mają na wyjątkowo dobrym poziomie.
Po takiej selekcji mamy 160 spółek do analizy, które wymagają dalszej indywidualnej analizy. W kolejnym artykule opowiem jak dokonuje szybkiej analizy indywidualnej spółek.
Zapraszam do obserwowania !
---
Posted from my blog with SteemPress : https://www.pasywnyinwestor.eu/archiwa/48
---