Witam! Polską społeczność steemit.
Dzisiaj pokażę jak namalować sprayami obraz w stylu kreskówki ''Rick and Morty''.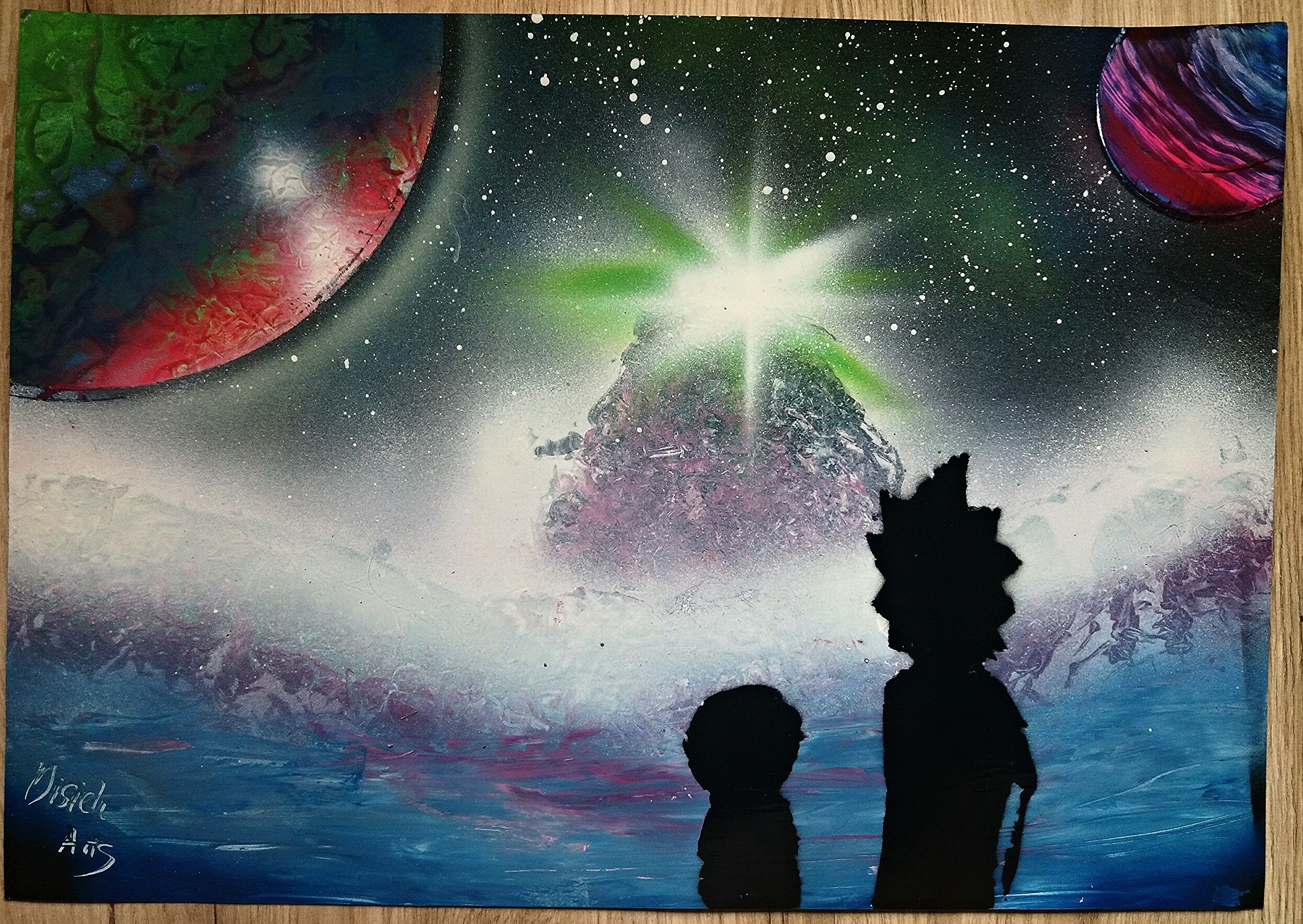 Zacznę od tego, że słyszałem o tej kreskówce już dawno temu. Mimo to zabrałem się za nią dopiero po namowach znajomego. Ogólnie nie przepadam za kreskówkami, byłem sceptycznie nastawiony do tego typu rozrywki, ale po obejrzeniu paru pierwszych odcinków moje nastawienie zmieniło się diametralnie. Nie sądziłem, że mogę się tak bardzo wciągnąć w kreskówkę, że aż obejrzę trzy sezony w parę dni. A więc polecam wszystkim dać szansę tej animowanej sztuce jaką jest serial ''Rick and Morty''
Zatem przejdżmy do dzisiejszego obrazu, którego zdjęcie jest wyżej. Zaczynamy od namalowania pierwszej planety. Dobieramy kolory sprayów w jakich ma być pierwsza planeta. Jako, że obraz jest w stylu wyżej wymienionej kreskówki dobieramy takie kolory, które będą pasować. Nie obejdzie się bez zielonego, niebieskiego i czerwonego. Malujemy naszą planetę i tworzymy jej teksturę przykładając pogniecioną gazetę.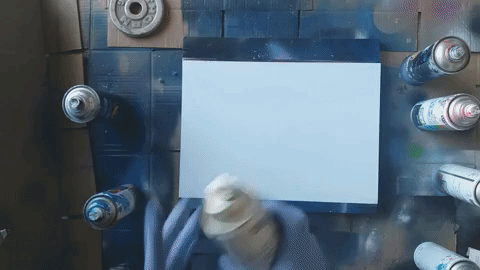 Teraz malujemy drugą planetę. Również dobieramy kolory aby pasowały do świata Ricka i Mortiego. Tym razem zwijamy gazetę i wykonujemy kolisty ruch jak na giphie niżej, aby nadać inną teksturę planecie. Przykrywamy szablonami planety, aby je zabezpieczyć przed pomalowaniem w następnych etapach.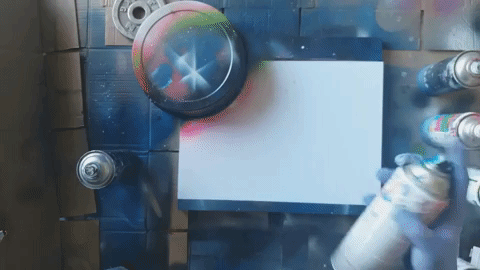 W tym momencie, do jednej ręki bierzemy czarny spray a do drugiej ciemny niebieski spray. Malujemy tło psikając oba sprayami naraz. Następnie zielonym sprayem oraz białym psikamy na szablon planety, żeby powstał lepszy efekt.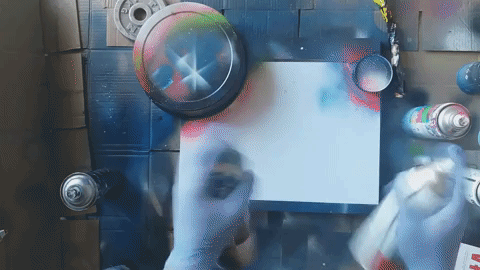 Bierzemy fioletowy spray i malujemy nim kształt piramidy, następnie przyciskamy do niej pogniecioną kartkę i malujemy białym sprayem w okół. Teraz malujemy w kształt litery V fioletowym sprayem a następnie białym i również tworzymy teksturę przyciskając pogniecioną kartkę.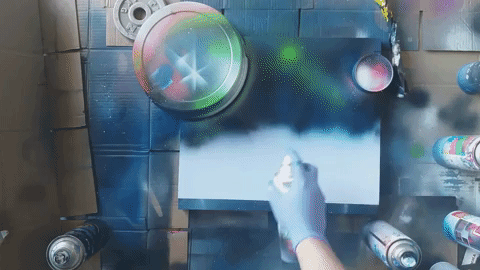 Dolną część kartki zamalowujemy od dołu ciemnym niebieskim a następnie jasnym niebieskim. Po tym, całość zamalowujemy białym sprayem i przecieramy kartką. Tak jak na giphie niżej.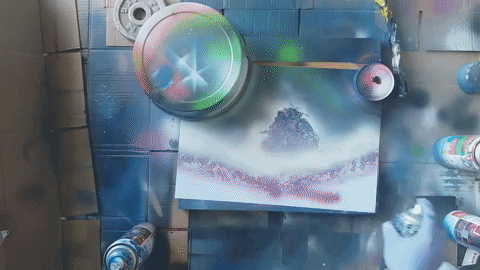 Teraz będziemy potrzebować kartonika lub kartki. Ustawiamy prostopadle kartę do obrazu i psikamy zielonym sprayem na środek kartonika, aby zrobić odbłysk. Powtarzamy tą czynność z białym kolorem.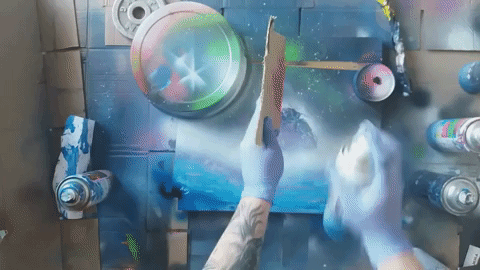 Przyszedł czas na namalowanie głównych bohaterów, Ricka i Mortiego, a więc musimy najpierw przygotować szablon z kartki lub kartonu. Gotowy szablon przykładamy do obrazu oraz przyciskamy różnymi narzędziami, aby się nie ruszył. Teraz zamalowujemy nasz szablon.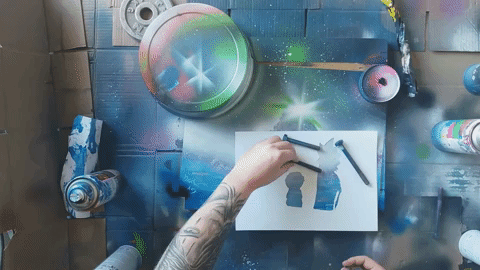 Ostatnim krokiem po wyschnięciu Ricka i Mortiego jest ściągnięcie wszystkich szablonów na spokojnie, aby nic nie zepsuć.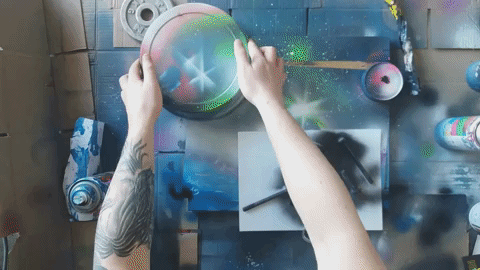 A więc oto dzisiejszy mój obraz, mam nadzieję, że spodoba się fanom kreskówki ''Rick and Morty'' i nie tylko.
Pozdrawiam MisiekArts! :)