Witam! Dzisiaj namalowałem obraz w stylu fantasy.
Lubię malować niestandardowo, abstrakcyjnie. Co idealnie pasuje w malowaniu sprayami. Dlatego dzisiaj pokaże jak namalować drzewo z planetą w takim właśnie stylu.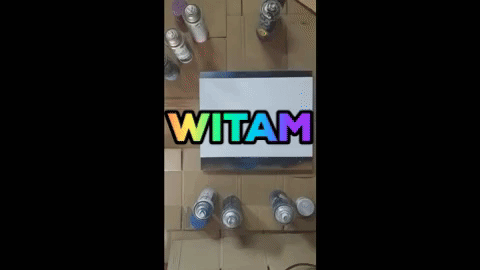 A więc zaczynajmy, bierzemy okrągły szablon odrysowujemy od niego gdzie będzie nasza planeta. Następnie wybieramy kolory w zależności od tego jak chcemy żeby wyglądała. Zamalowujemy naszą planetę a na końcu psikamy białym sprayem po całej planecie.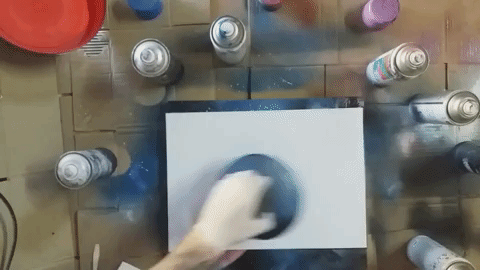 W tym momencie zwijamy gazetę i przecieramy ją tak jak na gifie aby nadać planecie tekstury. Po tym przyciemniamy planetę czarnym od góry, żeby zrobić cień. Możemy psiknąć jeszcze białym po drugiej stronie planety dla lepszego efektu. Po namalowaniu planety, kładziemy nasz szablon na planetę aby ją zabezpieczyć.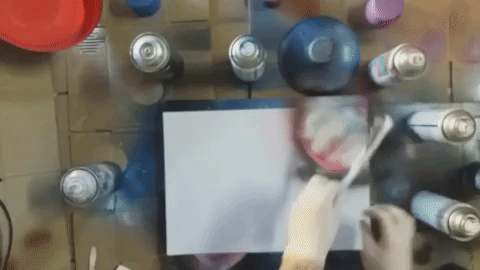 Teraz namalujemy ziemię. Jako, że jest to styl fantasy to wybieramy znowu takie kolory jakie tylko chcemy i malujemy nimi dół kartki. Po tym przykładamy kartkę z gazety aby nadać strukturę naszemu podłożu.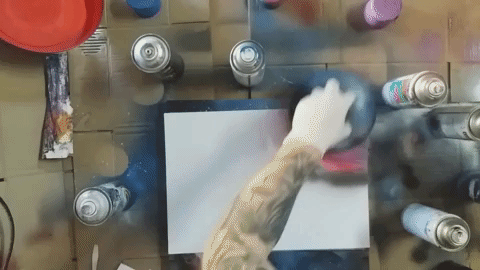 Przyszedł czas namalować nasze tło, czyli niebo. Zaczynamy od pomalowania góry czarnym sprayem, następnie ciemnym niebieskim niżej i jasnym niebieskim już do samej ziemi.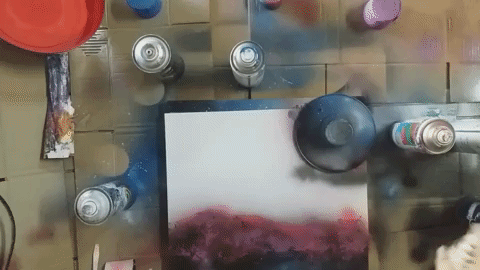 Po namalowaniu nieba trzeba namalować gwiazdy, niestety zapomniałem włączyć nagrywanie przy tej czynności. Tak czy inaczej trzeba napsikać białym sprayem na dwa palce i pstrykać w stronę kartki. Jeśli ktoś chciałbym zobaczyć jak to się robi zapraszam do wcześniejszego posta, a ja przejdę dalej.
Teraz potrzebujemy pędzelek oraz jakieś wieczko. Psikamy czarnym sprayem do wieczka i maczamy w nim pędzel. Pędzlem musimy namalować nasze drzewo.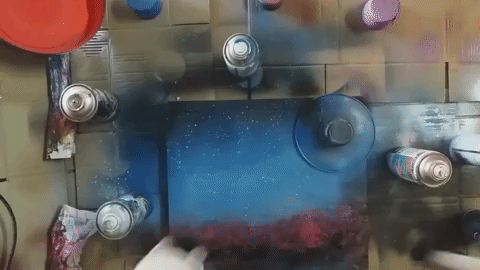 Gdy namalowaliśmy już gałęzie, trzeba chwilę poczekać aż wyschnie. Wtedy bierzemy chusteczkę gnieciemy ją i psikamy na nią białą farba. Następnie przykładamy namoczoną w farbie chusteczkę na gałęzie drzewa aby zrobić liście.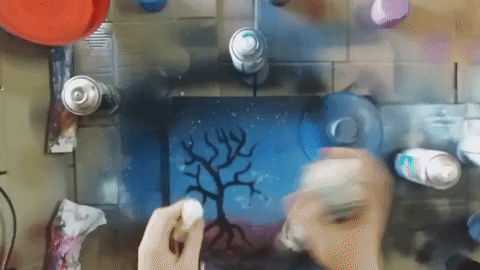 Następnie czekamy aż nasze liście wyschną i robimy to samo ale czerwona farbą.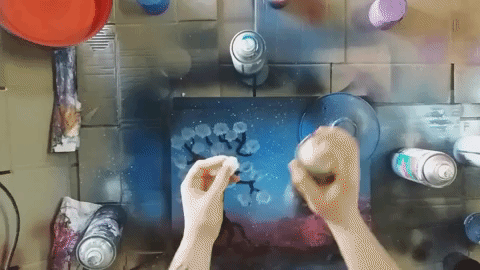 Znowu czekamy aż wyschną i ponawiamy czynność tym razem różową farbą. Oczywiście kolory nie muszą być takie jak u mnie.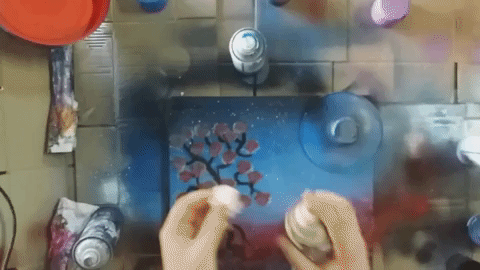 Pozostaje nam na koniec ściągnąć nasz ochronny szablon i cieszyć się namalowanym obrazem.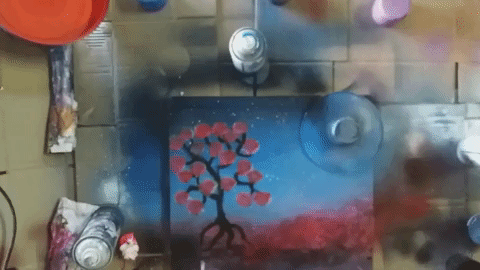 Oto efekt końcowy: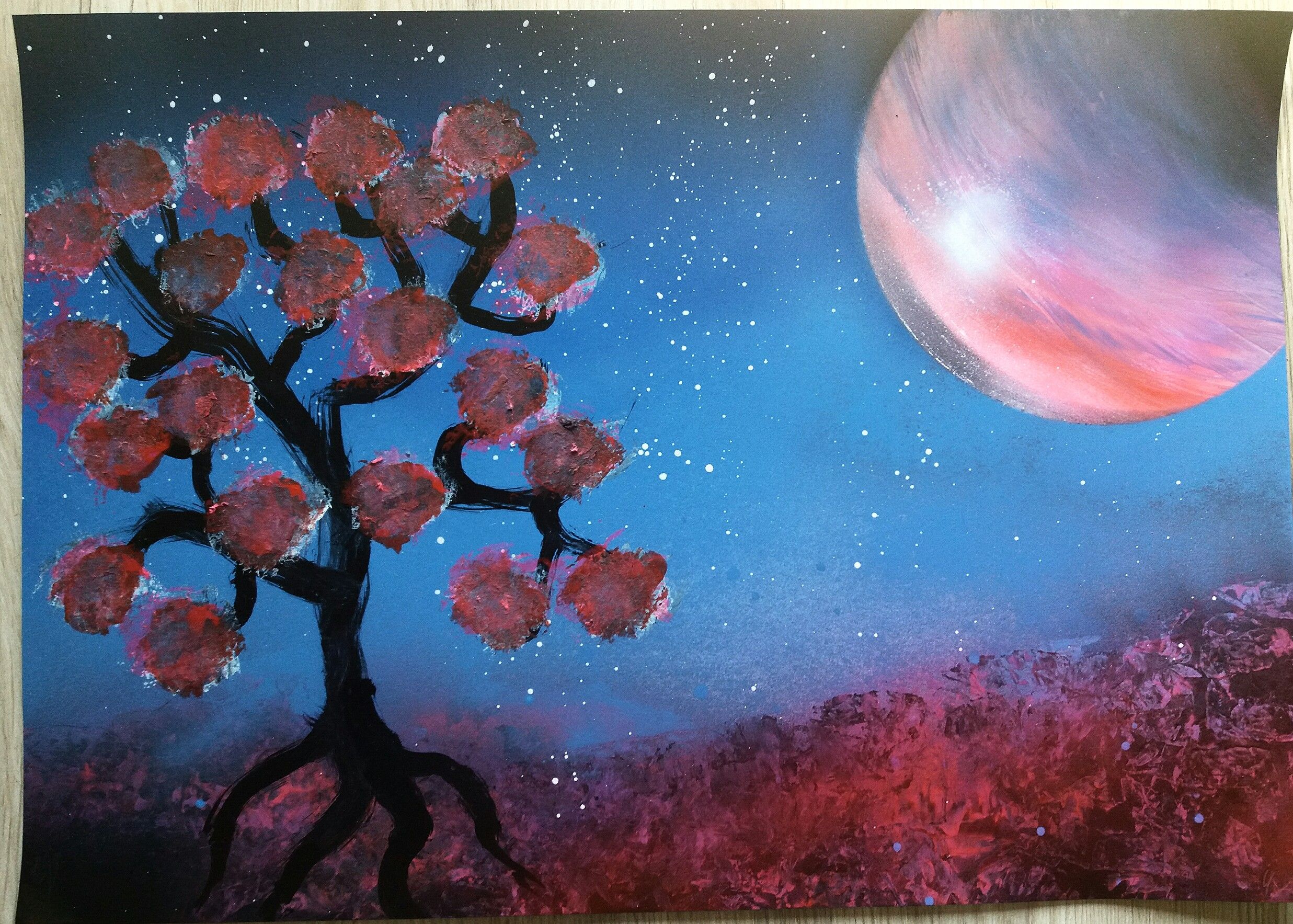 Mam nadzieję, że styl fantasy wam się spodobał. Staram się wymyślać co chwilę coś innego i się rozwijać. ;)
Pozdrawiam MisiekArts! :)