Siemanko,
Kolejny tendencyjny poscik zainspirowany moim życiem prywatnym.
Od kiedy pamietam podróżuje. Pierwszy raz na obóz jechałem jak miałem 7 lat! Od tego czasu moje życie kręci się wokół podróżowania. Uwielbiam to robić i będę do ostatnich sił. Moim skromnym zdaniem podróżowanie to jedyny zakup, który tak naprawdę czyni Cię bogatszym.
Poznawanie nowych kultur, osób, zachowań powoduje, ze nasze horyzonty mogą rozrosnac się do niewiarygodnych rozmiarów.
quote9. Jak wszyscy wielcy podróżnicy, widziałem więcej niż pamiętam i pamiętam więcej niż widziałem. >quote
Lecz nie o tym mial buc owy post.
Zwiedziłem 99 krajów, zostało mi mniej nic połowa, za każdym razem kupowałem ubezpieczenie, lecz nigdy z niego nie skorzystałem. Aż do ostatniego razu...
Wybraliśmy się ze znajomym do Hanoi gdzie kupiliśmy sobie po skuterku z myślą: 'przejedźmy 3k km na maszynach za mniej niż 150$'.
No to jazda...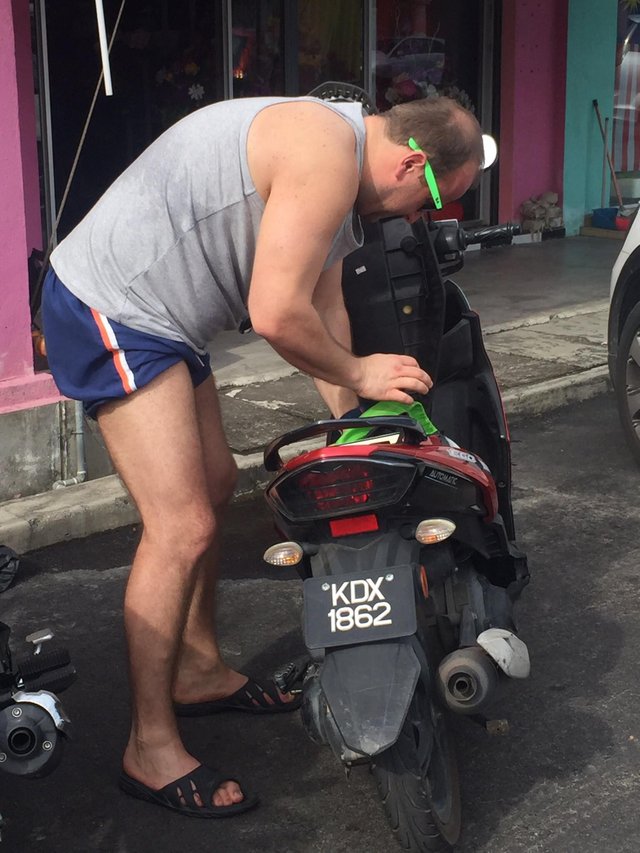 (Tu mój przyjaciel grubasek).
Mojego szatana na dwóch kołach kupiłem za $80, za $50 naprawiłem a za $20 kupiłem kask i spray, którym (w pełni profesjonalnie) pomalowałem mój skuterek.
Ruszyliśmy. Na początku bez najmniejszych przeszkód mimo, ze Wietnamskie drogi pozostawiają do rzyczenia wiele.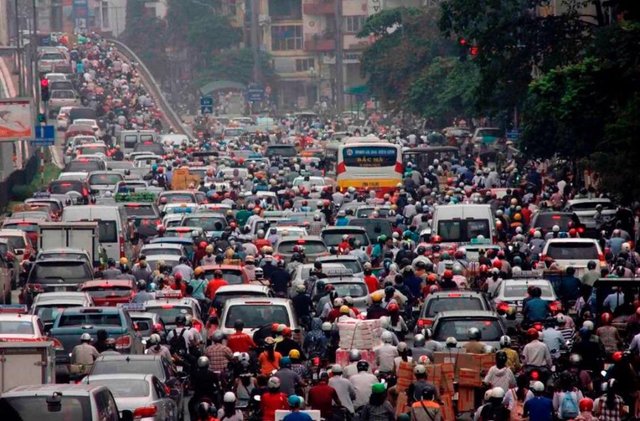 (Tu zdjęcie poglądowe...)
Wietnam przejechaliśmy jak szatany, bez większego planu, zatrzymując się w miejscach, które na Google Map wyglądały niesamowicie. W istocie nie zawsze tak było, lecz wspominam to doskonale.
Po tem był Laos i Tajlandia.
Nie ma o czym pisać, wszystko przebiegło sielankowo, nasze maszyny nie zepsuły się ani razu!
Wjechaliśmy do Malezji i wydawać by się mogło, ze jest to najbardziej cywilizowany kraj sposób powyższych, lecz brak jakichkolwiek umiejętności prowadzeni maszyn silnikowych utrudniał nam życie na każdym kroku.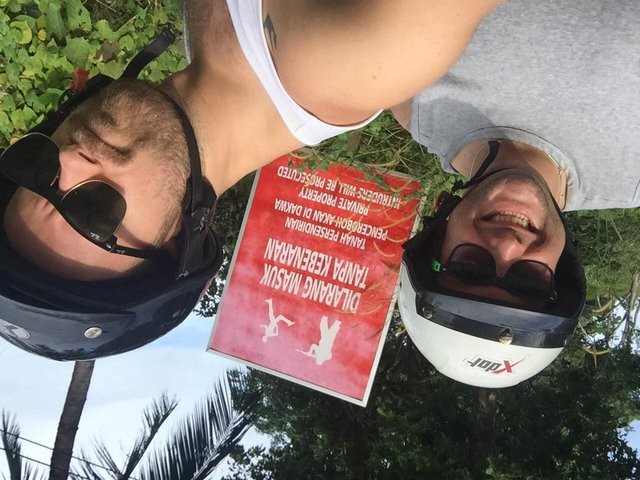 Stało się, co stać musiało nieuniknione.
Jakieś 600km od KL stojąc na poboczu i sącząc przepyszne, chłodne piwko wjechał ze mnie dzieciak na skuterze...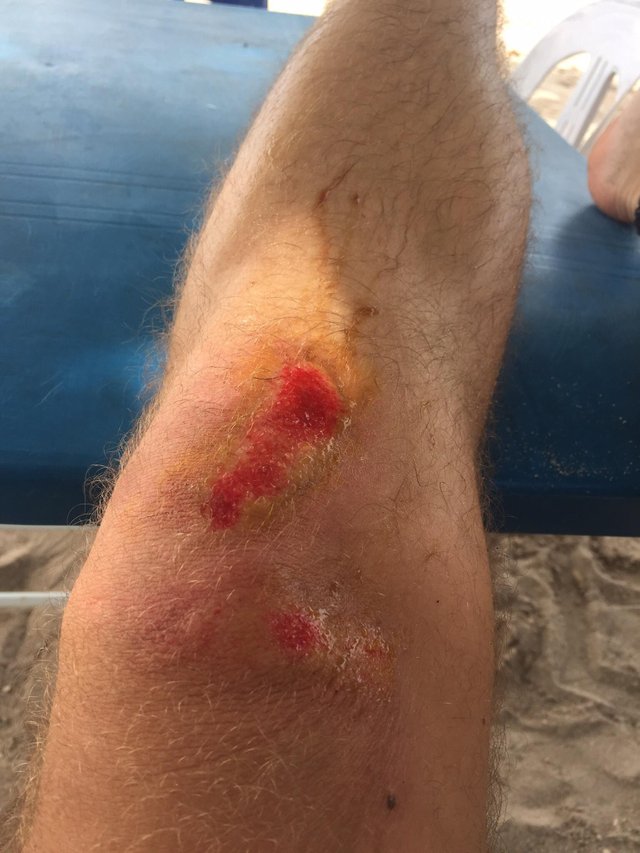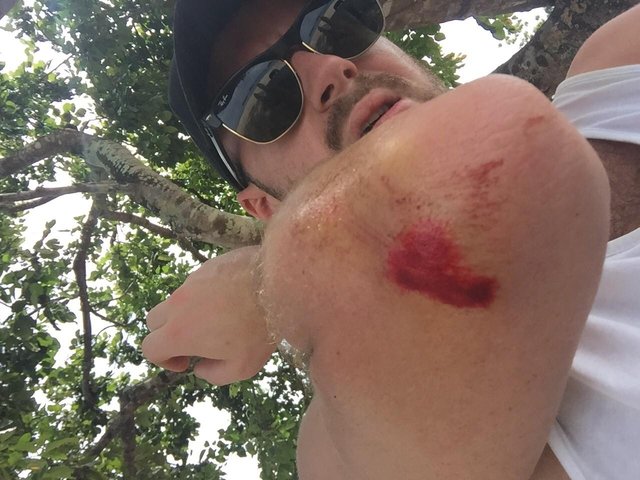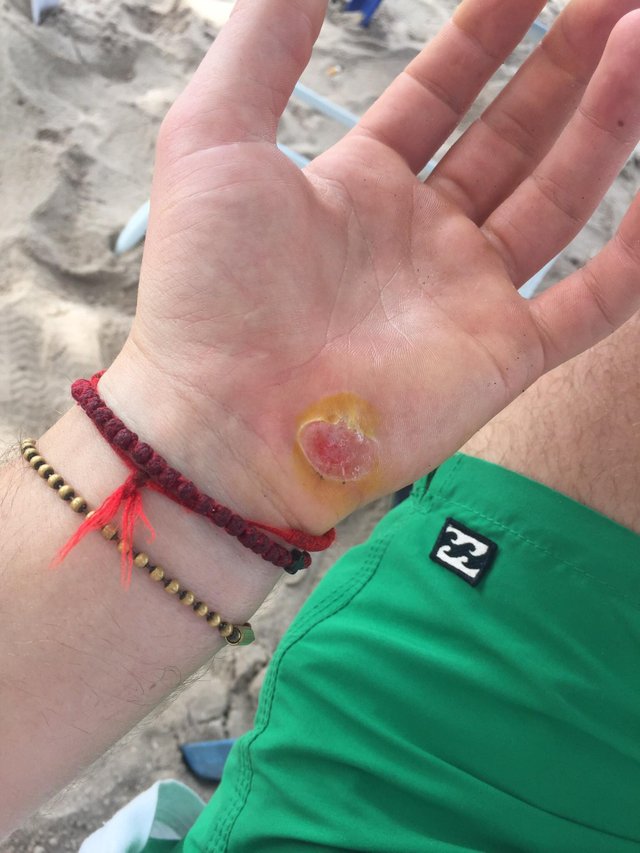 (Oraz jeszcze kilka bardziej brutalnych zdjęć).
Miałem naprawdę sporo szczęścia w nieszczęściu, gdyż po fakcie uderzenia we mnie, zaczepione się spodenkami o wydech i zostałem przeciągnięty po betonie przez kilkanaście metrów, zanim się zerwały.
Byłem cały poobijany i poraniony. Skura pozdzierana, etc.
Pech chciał, ze był to pierwszy raz kiedy nie wykupiłem ubezpieczenia.
Pominę wszystkie medyczne aspekty mojej historii. P.S. Wdało mi się zakarzenie na stopie i ranę musiałem mieć łyżeczkowania dwa razy.
Wszelakiego rodzaju koszty związane z leczeniem, zastrzykami, operacjami, etc wyniosły mnie 15k pln (a ubiezpieczenie średnio kupuje za 700zl).
Tak wiec, wszystko super, każdemu polecam taka podróż. Wyrwanie się z własnej strefy komfortu, lecz pouczeni, zawsze kupujcie ubezpieczenie I NIE OSZCZEDZJCIE NA NIM - CHODZI O WASZE ZDROWIE I ŻYCIE.
Osobiście polecam Lonely Planet Diamond. Kosztuje Ok 700zl na większość krajów, podróże zorganizowane i backpackerskie, sprzęt podróżny, i koszty związane z leczeniem.
Pytania? Śmiało!
Piona