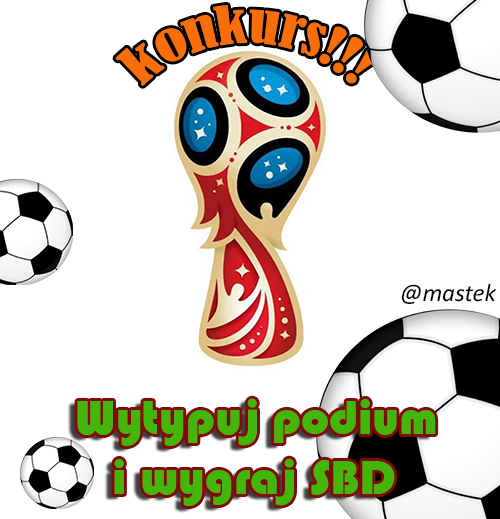 Witam :)
dzisiaj do zaproponowania mam konkurs który rozstrzygnięty zostanie dopiero za miesiąc, a dokładnie 15 lipca. Wtedy okaże się, kto wygra cały mundial, oraz która drużyna zajmie drugie i trzecie miejsce(W sumie trzecie, będzie już wiadome dzień wcześniej). W związku z tak dużym zainteresowaniem moim ostatnim konkursem, postanowiłem podjąć kolejną próbę, a jest ku temu doskonały moment.
Zasady konkursu są bardzo proste, wystarczy napisać w komentarzu pierwsze trzy drużyny według swoich typów oraz resteemować ten post dla dalszego zasięgu i lepszej zabawy. Nagroda początkowa to 1SBD nie jest to końcowa stawka. Zobaczymy może znajdzie się jakaś osoba która zechcę wesprzeć konkurs. W przypadku tych samych typów nagrodę dzielimy na liczbę trafień. Głosowanie zostanie zamknięte po pierwszej kolejce. UWAGA! Aby uniknąć głosowania jednego usera z wielu nowych kont, co jest ostatnio bardzo modne uczestnik musi mieć reputację >= 29
UWAGA - Głosować można jeszcze do godziny 20:00 czyli do rozpoczęcia pierwszego meczu z grupy A drugiej kolejki.
Zapraszam do zabawy, pozdrawiam @mastek
W komentarzu dałem przykład jak wpisywać swoje typy.