Dzień z życia fizjoterapeuty/ A day in the life of a physiotherapist
Bycie fizjoterapeutą wielu osobą kojarzy się tylko z masażami, lecz jest to szerokie pojęcia. W skład niego wchodzą masaże, kinezyterapia oraz fizykoterapia. Dlatego przedstawię wam jak wygląda mój zwykły dzień w pracy.
Wstaję rano przeważnie koło godziny 8, pije kawę i jem śniadanie. Następnie czytam artykuły na tematy związane z fizjoterapią, aby poszerzać swoją wiedzę. Następnie jadę kilka kilometrów do mojej pracy którą rozpoczynam po południu. Po przyjechaniu przebieram się w fartuch i przeglądam karty pacjentów, którzy za chwilę przyjdą, aby jak najlepiej rozplanować im zabiegi żeby nie musieli długo czekać. Kiedy przychodzą zabieram ich na zabieg. Po zakończeniu zabiegów podpisują listę i na ich miejsce przychodzi kolejna osoba. Pracę kończę o 19 i jadę do domu. Każdy pomyśli sobie, że to nudne, Natomiast ja uważam, że jest to niesamowite, że mogę pomóc innym wrócić do pełnej sprawności. I nie wiem czy mógłbym robić coś innego w życiu, ponieważ w tym zawodzie spełniam swoje ambicje.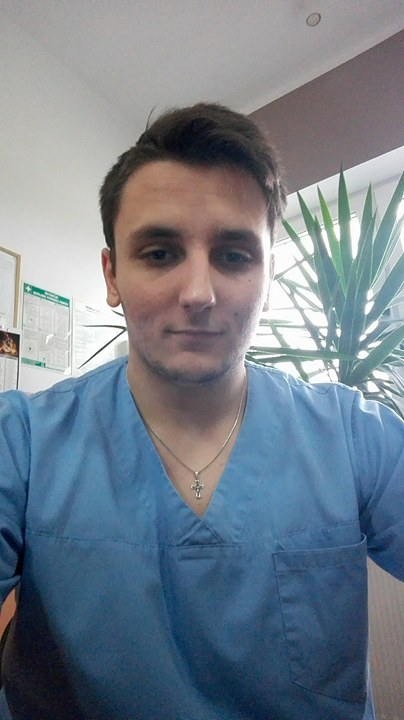 ENG
Being physiotherapists to many people is associated only with massages, but it is a broad concept. It includes massages, kinesitherapy and physical therapy. That's why I'll show you what my normal day at work looks like.
I get up in the morning mostly around 8 o'clock, drink coffee and eat breakfast.
Then I read articles on topics related to physiotherapy to expand my knowledge. Then I drive a few kilometers for my work which I start in the afternoon. After arriving, I change into an apron and look through the cards of patients who will come in a moment to best plan their treatments so that they do not have to wait long. When they come, I take them to the surgery. After completing the treatments, they sign the list and another person comes to their place.
I finish work at 19 and go home. Everyone will think it's boring, but I think it's amazing that I can help others get back to full fitness. And I do not know if I could do something different in my life, because in this profession I fulfill my ambitions.