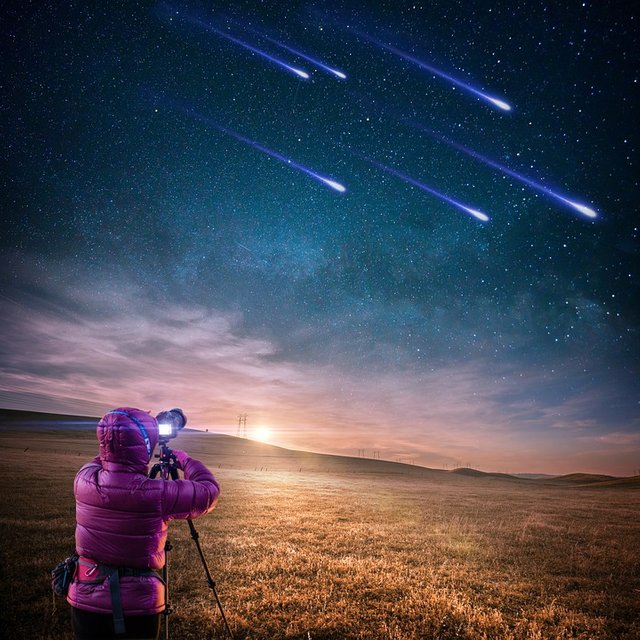 Prawie każdego dnia na Ziemie spadają odłamki kosmiczne. W większości spalają się w atmosferze naszej planety, a te które dotrą do powierzchni nazywamy meteorytami.
Co roku w wyniku obiegu Ziemi wokół naszej gwiazdy przechodzimy przez obłok pyłu i gazu pozostawiony przez kometę  Swifta-Tuttle'a.  Odłamki spadając na naszą planetę stwarzają wrażenie "spadającej gwiazdy". Rój tych odłamków nazywany jest Perseidami.
Noce z 11/12/13 sierpnia będą doskonałe do obserwacji tego zjawiska. Nie musimy się do obserwacji w jakiś specjalny sposób przygotowywać, ale dobrze jest o pewne rzeczy zadbać.
Należy wybrać odpowiednie miejsce. Najlepiej z dala od miasta, aby blask miasta nie rozświetlał nieba. Dobrze jest, aby to miejsce było odsłonięte. Najlepiej zbocze jakiego pagórka.
Do obserwacji najlepsza jest pozycja leżąca. Zadbajcie więc o coś wygodnego, bo żeby obserwować to zjawisko potrzebna jest cierpliwość.
Obserwuj stały fragment nieba przez dłuższy czas. Średnia to około 1 obserwacja na minutę, ale jak będziesz stale zmieniać punkty obserwacji, to łatwo możesz przegapić coś.
Weź coś ciepłego i do picia i do ubrania się. Najlepsza pora obserwacji to godziny 23-1 rano, więc raczej będzie chłodno.
Jeżeli macie odpowiedni sprzęt do fotografowania, to koniecznie poróbcie zdjęcia i podzielcie się z Nami.
Miłej obserwacji i pamiętajcie o życzeniu :) Ponoć jak się widzi spadającą gwiazdę trzeba pomyśleć życzenie a na pewno się sprawdzi :) To przesąd oczywiście, ale nie zaszkodzi chwilę pomarzyć.