Każdego dnia polska społeczność powiększa się, co świetnie widać po ilości postów które pojawiają się w kategorii
#polish
. Większość z nas dołączając do platformy musiała się jej nauczyć, poznać wiele nowych pojęć oraz poświęcić trochę czasu na jej zrozumienie. Ja w tym poście starałem się umieścić taką małą ściągawkę i streścić tylko główne pojęcia z którymi się tu wcześniej czy później zetkniecie.
Steemit
To nazwa firmy i jednocześnie platformy na której się znajdujemy ;-) Steemit powstał w 2016 roku i jego twórcami są Ned Scott @ned oraz Dan Larimer @dan.
Steem
Zwróćcie uwagę na sposób zapisu, Steem pisany z dużej litery reprezentuje blockchain na którym zbudowana jest cała platforma.
Blockchain

Blockchain jest takim
zdecentralizowanym
zbiorem danych do którego zapisywane są wszystkie operacje, nasze posty, komentarze, głosy, dane które umieszczamy na naszych profilach, przelewy, dosłownie wszystko co tu się dzieje.
Co więc wyróżnia blockchain od bazy danych?
Blockchain jest rozproszony, jego kopia znajduje się na wielu serwerach, nie ma jednego centralnego miejsca gdzie znajdują się dane. Każdy z nas może dołączyć do sieci odpowiednio przygotowany serwer i być jej częścią. Dzięki temu, że istnieją setki/tysiące takich serwerów, nie da się jej po prostu wyłączyć. Druga bardzo istotna cecha blockchain-a, to brak możliwości edycji zapisanych danych, jeśli coś już zostało zapisane to pozostaje tam na zawsze.
Ok... ale przecież mogę edytować posty i komentarze...
To jest tylko trick, opcja edycji lub usunięcie posta tak naprawdę tworzy nowy wpis w blockchainie który zawiera informacje o zmianach jakie zostały wprowadzone do oryginalnego wpisu, dzięki temu pierwotnie zapisane dane są nadal dostępne. Polecam zapoznać się z narzędziem PHIST, które pokazuje wpis wraz z jego całą historią zmian. W blockchain nic nie da się ukryć.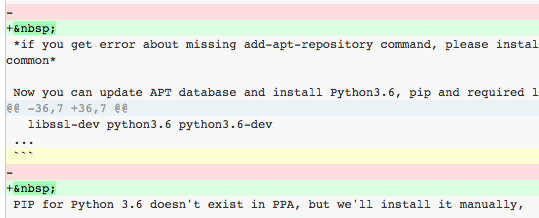 STEEM

Pisany dużymi literami reprezentuje token (kryptowalutę) generowany w Steem. Tokenami STEEM możemy obracać tak jak każdą inną walutą, możemy je wysyłać, odbierać, kupować i sprzedawać. Jest jeszcze jedna specjalna operacja
POWER UP
, która zamieni nasze STEEM na
STEEM POWER
.
SBD

To skrót od "STEEM blockchain dollar" i jest to drugi token (kryptowaluta) generowany w Steem. To co wyróżnia SBD to jego wartość, która zawsze powinna wynosić $1 USD, daje to poczucie bezpieczeństwa i gwarancję udziałowcom, że nie stracą pieniędzy podczas spekulacji giełdowych.
APR (Annual Percentage Rate ) określa roczne oprocentowanie, obecnie wynosi 0% z powodu dość wysokiej ceny SBD.
POWER UP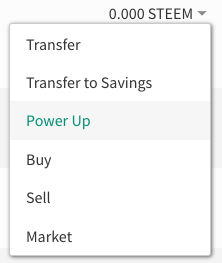 To proces w którym nasze STEEM są lokowane i przechodzą w STEEM POWER (1 STEEM = 1 STEEM POWER), a my otrzymujemy udziały w platformie
VESTS
. Proces ten jest natychmiastowy i może być uruchomiony ze strony naszego portfela.
POWER DOWN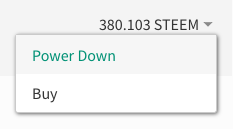 To proces w którym odzyskujemy wcześniej zainwestowane STEEM i przy okazji niszczymy nasze udziały. Powrót z SP do STEEM trwa 13 tygodni a my w każdym tygodniu otrzymujemy proporcjonalnie 1/13 środków.
VESTS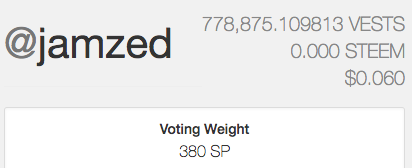 To nasze udziały w platformie, nie da się ich zdobyć bezpośrednio, ale możemy je uzyskać dzięki operacji
POWER UP
.
STEEM POWER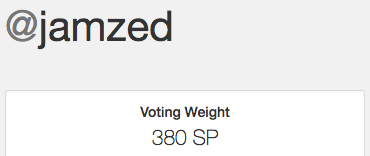 Lub w skrócie po prostu
SP
, to ilość tokenów STEEM które zainwestowaliśmy w platformę. Ilość posiadanych SP wpływa na wartość naszego głosu, przykładowo, posiadając 380 SP nasz pełny głos będzie warty ~$0.10, a dla porównania ~100000 SP aż $24. ;-)
Jak zdobywać SP?
Jest kilka sposobów na to by zwiększyć ilość SP, najpopularniejszy to po prostu pisanie postów oraz komentarzy i zdobywanie głosów od innych (nagrody autorskie), kolejny to głosowanie na posty i komentarze innych użytkowników i zdobywanie nagród kuratorskich które są zawsze wypłacane w SP, no i oczywiście już wcześniej opisany POWER UP.
Voting Power

Steem pozwala nam głosować nieskończoną ilość razy na posty i komentarze ale z każdym pełnym oddanym głosem jego moc maleje o ~2%.
Przykładowo, jeśli mamy 380 SP i pełną moc głosu (VP = 100%) i zagłosujemy z siłą 100%, to autor otrzyma nagrodę w pełnej wysokości ~$0.10 z łącznej puli. Jeśli zagłosujemy kolejny raz to pełny (VP = 100%) głos będzie już pomniejszony o 2% i analogicznie nagroda też będzie pomniejszona o 2%, ale nie ma co panikować ;-) moc głosu regeneruje się samoczynnie wraz z upływem czasu z szybkością ~20% na dobę.
Siłę naszego głosu możemy sprawdzić na stronie https://steemnow.com/
Głosy

Każdy użytkownik może głosować na posty i komentarze. Głosować można z różną siłą, domyślnie jest to 100%. Jeśli posiadamy >1000000 VESTS (~480SP) to otrzymujemy "pasek mocy" i mamy możliwość ustawienia siły naszego głosu (0-100%). Siła głosu pozwala nam zdecydować jak dużą część nagrody z puli chcemy przekazać autorowi.
Jako głosujący również zdobywamy nagrody kuratorskie i ich wielkość zależy od wartości głosu jaki oddaliśmy oraz czasu w którym głosowaliśmy. Jeśli zagłosujemy w pierwszych 30 minutach od publikacji posta, to nasza nagroda lub proporcjonalnie jej część będzie przekazana autorowi. Przykładowo, autor publikuje post i my oddajemy głos w pierwszej minucie od publikacji, to oznacza, że zrzekamy się całkowicie naszej nagrody na rzecz autora. Jeśli zagłosujemy po 15 minutach to otrzymamy 50% naszej nagrody kuratorskiej. Jeśli zagłosujemy po 30 minutach, to cała nagroda trafia do nas.
Ten czas zmieni się z 30 minut do 15 minut wraz z kolejnym hardforkiem
Hardfork
Jest to określenie numeru wersji oprogramowania utrzymującego Steem, taki update ale dla blockchain. Aktualna wersja HF to 19.
Flaga
Jest to głos "w dół" który obniża wartość danego posta lub komentarza, jest przeciwieństwem głosowania "w górę", dodatkowo flaga obniża reputację użytkownika.
Nagrody

Nagrody zdobywamy za pisanie postów i komentarzy i są to nagrody autorskie lub za głosowanie na posty i komentarze i wtedy są to nagrody kuratorskie. Każda nagroda z artykułów dzieli na dwie części, 75% nagrody trafia do autora, a pozostałe 25% do kuratorów.
Tworząc post możemy wybrać jeden z trzech sposóbów wynagrodzenia:
50/50 (domyślny) - nasza nagroda, czyli 75% całkowitego wynagrodzenia będzie podzielona na 2 równe części. Jedną otrzymamy w SP a drugą w SBD na podstawie przelicznika ustalonego przez Witnessów (delegatów).
100% (power up) - cała nasza część nagrody (75%) trafi do nas w postaci SP.
rezygnacja z nagrody (decline) - całkowicie zrzekamy się wynagrodzenia.
Savings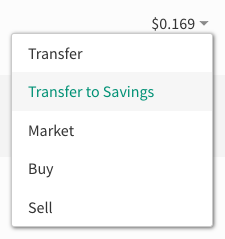 Jest to subkonto na które możemy przelać nasze SBD i jeśli bedziemy chcieli je odzyskać to musimy poczekać 3 dni.
Jest to pewien rodzaj zabezpieczenia przed utratą środków w przypadku utraty konta. Atakujący jeśli nawet uzyska dostęp do naszych pieniędzy to nie będzie w stanie ich przejąć, my w tym czasie możemy rozpocząć procedurę przywrócenia konta i odzyskać pełną kontrolę bez utraty środków.
Reputacja

Każdy użytkownik posiada punkty reputacji, jest to wskaźnik określający nasze uznanie przez społeczność. Reputację zdobywamy gdy otrzymujemy głosy od innych użytkowników którzy mają wyższą reputację od naszej. Użytkownicy z niższą reputacją od naszej nie są w stanie nam obniżyć naszej.
Reputację możemy sprawdzić na naszym profilu i jest to ta liczba w nawiasach przy nazwie użytkownika.
plankton, minnow, dolphin, orca, whale
Jest to określenie "wielkości" użytkowników bazujące na ich SP. Każdy z nas zaczyna jako plankton i wraz ze zdobywaniem SP rośniemy w siłę i stajemy się narybkiem, delfinami, orkami lub wielorybem ;-)
Tagi, kategorie

Każdy post musi posiadać jeden lub więcej tagów, pierwszy tag określa również kategorię do której jest post przypisany. Jeśli piszesz po polsku, dodaj tag
#polish
i w zależności od tematyki dorzuć kolejne tagi w formacie
#pl-artykuly
,
#pl-gry
,
#pl-muzyka
, wtedy będzie łatwiej odszukać Twoje posty polskim użytkownikom.
Istnieje także tag specjalny #nsfw i jeśli dodasz go do swojego posta, treść domyślnie będzie ukryta, odsłoni się dopiero po potwierdzeniu.


Delegacja
Jest to operacja w której "pożyczamy" komuś swoje SP. Jako osoba delegująca SP otrzymujemy nagrody kuratorskie ;-) Osoba która otrzymała od nas delegację zyskuje siłę głosu, przez co daje większe nagrody. Delegację można sprawdzić w sekcji STEEM POWER na stronie z portfelem, jest to liczba w nawiasach,

Jeśli liczba jest dodatnia, to znaczy, że otrzymaliśmy delegację, jeśli jest ujemna, to pokazuje ile oddelegowaliśmy.
Witness (delegat)
Delegaci utrzymują serwery służące do zapisywania danych w blockchain. Każdy może nim zostać, ale żeby zacząć realnie produkować bloki, delegaci muszą zdobyć odpowiednio dużo głosów od społeczności (nie liczy się ilośc głosów, ale łaczna ilość VESTS osób głosujących).
Do głównych zadań delegatów należą
zapewnienie wysokiej dostępności Steem,
niezawodność - każdy blok danych musi zostać zapisany w odpowiednim czasie (nowe bloki generowane są co 3 sekundy),
dostępność - każdy musi być w stanie połączyć się z siecią (do tego służą serwery seed node)
publikowanie cen na wewnętrznym markecie,
wspieranie użytkowników sieci np. poprzez pomoc techniczną lub edukację
akceptacja zmian w funkcjonowaniu blockchaina tzw. Hardfork (żeby HF się odbył, przynajmniej 17 top witnessów musi posiadać uruchomioną nową wersję steemd),
ustalanie APR (Annual Percentage Rate - oprocentowanie roczne), używane też do sterowania wartością SBD
ustalanie BIAS (ile SBD lub STEEM jest "drukowane"), pozwala to na sterowanie ilością wytwarzanych tokenów, przez co teoretycznie przez zwiększenie ilości jego wartość powinna spaść,
Każdy użytkownik Steem dysponuje 30 głosami, które może oddać na zaufanych delegatów. Dla sieci działającej w oparciu o model DPOS jest to niezbędny czynnik do jej prawidłowego działania, warto więc sprawdzić kto jest na liście witnessów, zastanowić się i oddać swój głos ;-)
Steemit Chat
https://steemit.chat to serwer na którym działa chat platformy (nie jest utrzymywany przez Steemit Inc).
Zapraszam na kanał #polish, gdzie obecnie zarejestrowanych jest ponad 380 użytkowników ;-) Wskocz i przywitaj się ;-)
strimi.it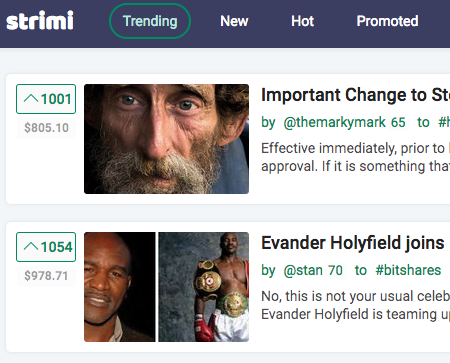 https://strimi.it/
to polska platforma oparta o Steem, stworzona przez
@mowilimi
. Pozwala na umieszczanie postów oraz dodatkowo linków do różnych treści znalezionych w Internecie.
busy.org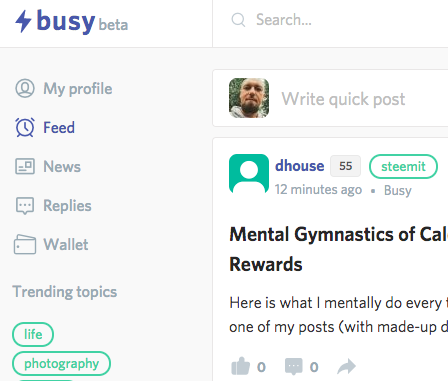 https://busy.org
to kolejna platforma oparta o Steem, na pewno wyróżnia się wyglądem i funkcjami. Można jej w pełni używać jako zamiennik dla
https://steemit.com
.
*Hint: jeśli będziesz publikować posty z busy.org i dodasz tag #busy do swojego posta, otrzymasz w ramach podziękowania od nich głos. Warunkiem jest, aby osoby które nas śledzą posiadały łącznie min. 500 SP.
d.tube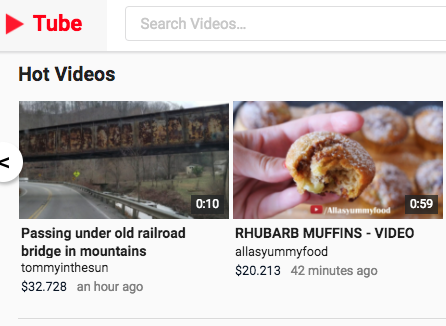 https://d.tube/
to platforma zbudowana na Steemie, nastawiona przede wszystkim na materiały video, jest trochę wzorowana na YouTube. Możemy na niej umieszczać pliki video które są umieszczane na rozproszonym dysku (ipfs.io).
dsound.audio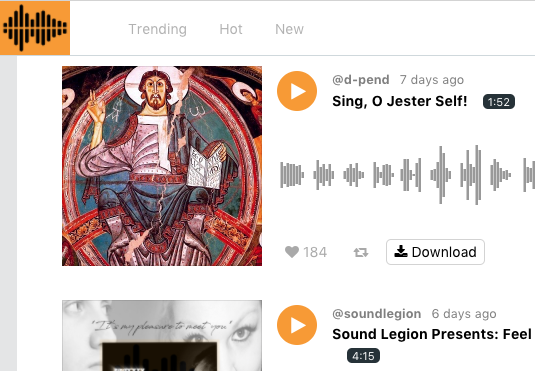 https://dsound.audio/
to platforma zbudowana w oparciu o Steem, pozwala na umieszczanie plików dźwiękowych, wzorowana na soundcloud.com.
dmania.lol
https://dmania.lol/
to platforma rozrywkowa również oparta o Steem, taki klon 9gag gdzie zbieramy głosy za memy ;-)
utopian.io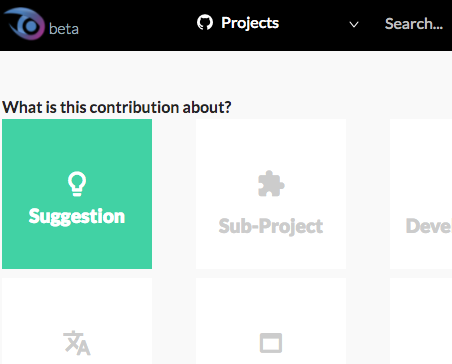 https://utopian.io
to platforma również oparta o Steem, wspierająca twórców Open Source. Jeśli jesteś twórcą jakieś projektu, tłumaczem, lub wprowadzasz modyfikację do istniejącego już projektu Open Source to możesz zgłosić swój wkład i uzyskać całkiem spore wynagrodzenie ;-)
Whitepaper
Istnieje kilka oficjalnych dokumentów które szczegółowo opisują zasadę działania Steem, pełny dokument nosi nazwę whitepaper i opisuje bardzo szczegółowo całe działanie, oraz bluepaper który jest taką skróconą jego wersją i wyjaśnia tylko kluczowe elementy.
Introduction Post (post wprowadzający)
Jest to najczęściej pierwszy post pisany przez nowych użytkowników, gdzie możemy się przedstawić i napisać trochę więcej o sobie ;-) Posty te oznaczamy tagiem #introduceyourself.
---
Mam nadzieję, że chociaż trochę udało mi się przybliżyć działanie Steem(it). Jeśli widzisz gdzieś błąd, chcesz coś dodać, zmienić lub po prostu wyrazić opinię, to będę wdzięczny za każdy komentarz. ;-)
---
Chcę zostać delegatem
i wspólnie z Wami mieć wpływ na przyszłość Steem, do tego potrzebuję Waszych głosów ;-) Jeśli uważasz, że jestem osobą która posiada odpowiednie umiejętności i cechy, możesz mi w tym pomóc.
Bardzo dziękuję.