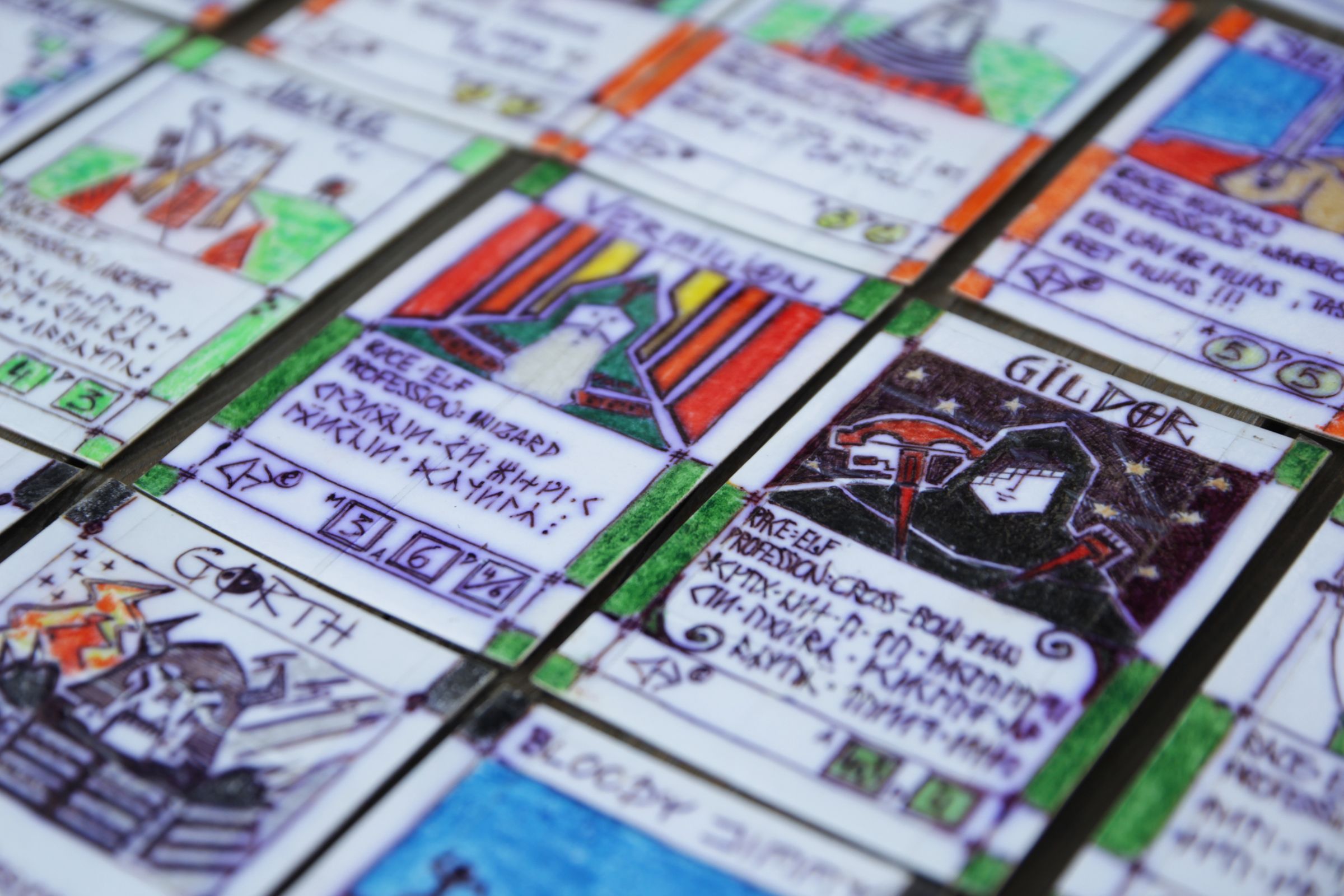 Z grami karcianymi zetknąłem się pod koniec lat 90-tych. W liceum, do którego chodziłem ("Skłodowska" w Czechowicach-Dziedzicach), był tzw. "klub", w którym najdziwniejsze okazy w szkole grały w "Magic The Gathering". Sam też próbowałem grać. Nigdy jednak nie wciągnęła mnie ta karcianka. Poza tym miała jeden poważny mankament: była droga. O wiele za droga, jak na mój skromny uczniowski budżet. W tej sytuacji sam zacząłem tworzyć grę, do której ułożyłem autorskie zasady. Najpierw tworzyłem projekty kart w MS Paincie. Zwykle używałem grafik z różnych gier komputerowych ("Baldur's Gate", "Icewind Dale"). Potem wszystko drukowałem w czerni i bieli na drukarce atramentowej. Kartki naklejałem na tekturę. Karty wycinałem. Oklejałem przeźroczystą taśmą klejącą. I tyle. Mój trud był skończon.
Takich kart powstało całkiem sporo. Może 100. Może więcej. Pamiętam jak z bratem rozgrywaliśmy godzinne bitwy. Później poznałem ludzi z bielskiego plastyka, których udało mi się namówić na narysowanie kilku ilustracji. W przyszłości miała powstać z tego karcianka z prawdziwego zdarzenia. Plan niestety nie został zrealizowany, bo w pewnym momencie wciągnęły mnie bardziej larpy (fabularne gry teatralne) i to im poświeciłem swój czas. Było to już w okresie studiów.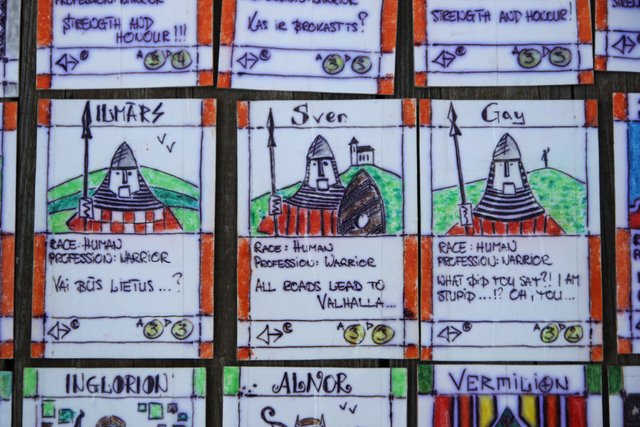 Do tematu własnej karcianki powróciłem podczas pobytu na Łotwie w latach 2006-2007. Jesienne i zimowe noce były długie. Internet na wsi był tylko w bibliotece, a coś trzeba było robić. Zacząłem więc rysować karty. Człowieczych wojowników, elfich łuczników, orków, gobliny. W grze siły dobra miały się zmierzyć z siłami zła. Każda z armii miała swój własny kolor. Zło - czarny, elfy - zielony, ludzie - pomarańczowy. Było też kilka jednostek niezależnych - paladyn (żółty), krasnolud (szary) i najemnicy (brązowy). W grze znalazł się nawet pies, który ugryzł mnie drugiego dnia pobytu w Sece (to łotewska wieś, w której mieszkałem). Nazywał się Jimmy. W grze występuje jako "Bloody Jimmy".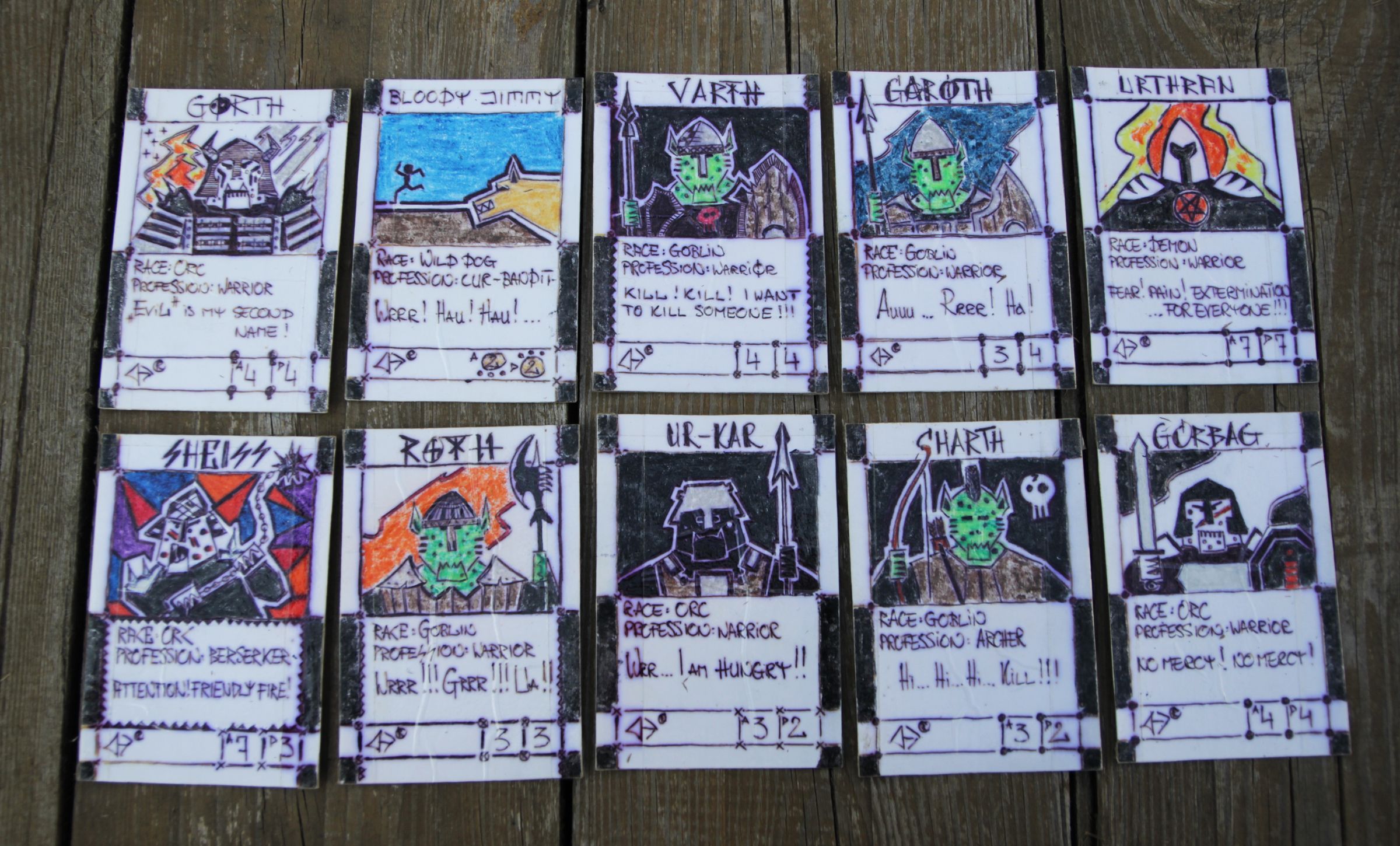 Siły zła (w tym Bloody Jimmy).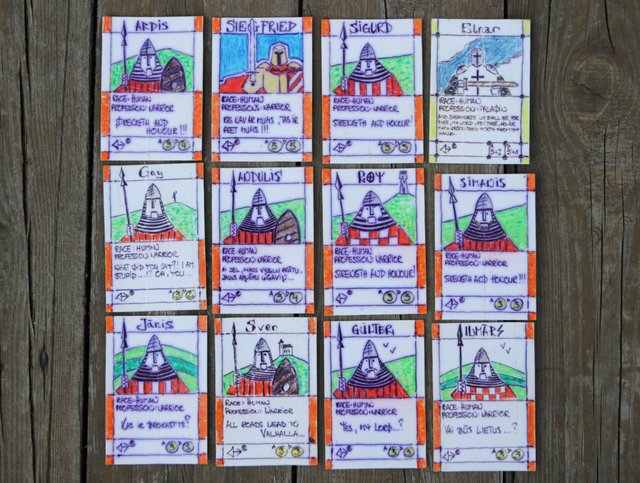 Armia ludzi.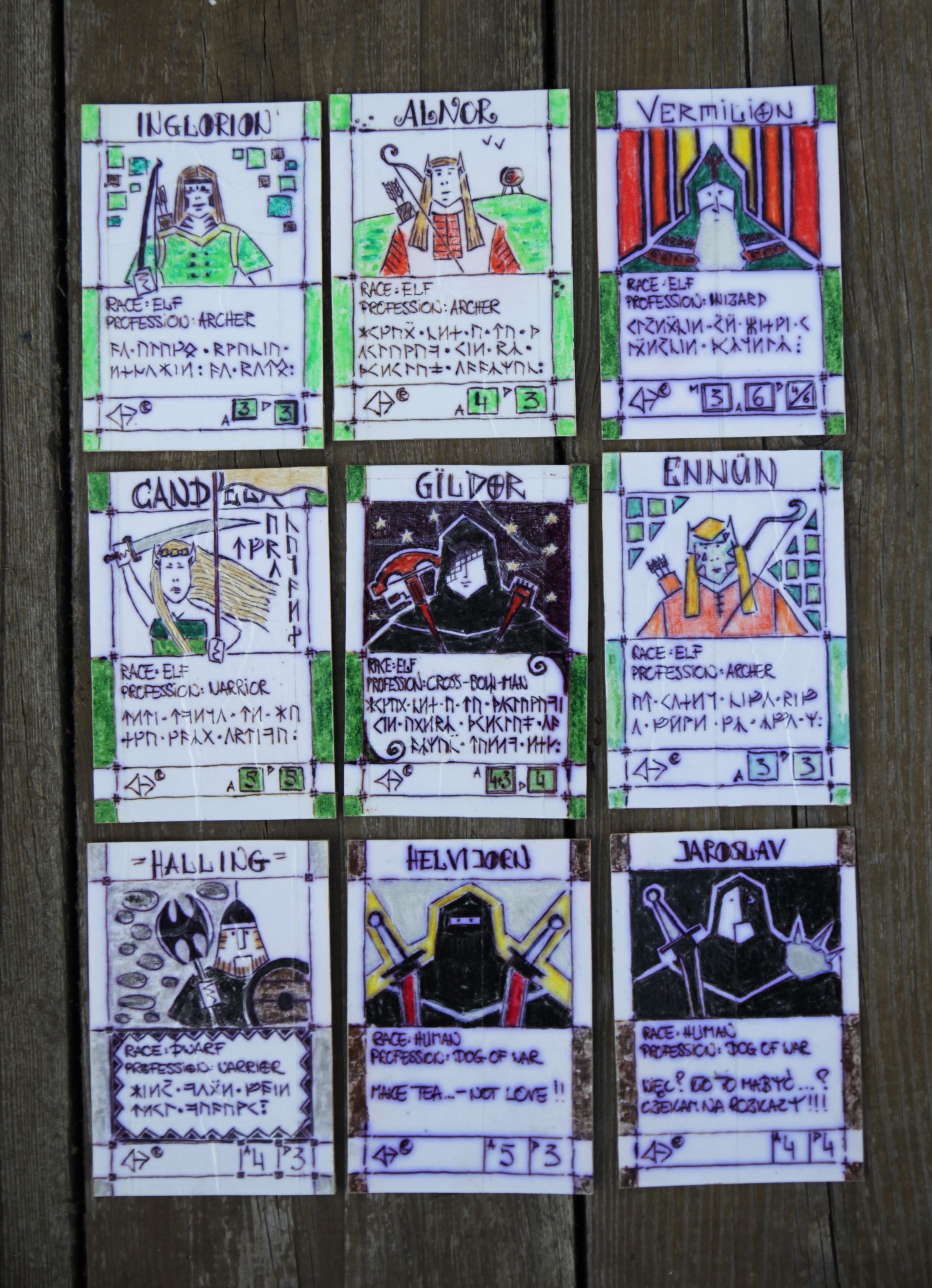 Elfy, krasnolud i najemnicy.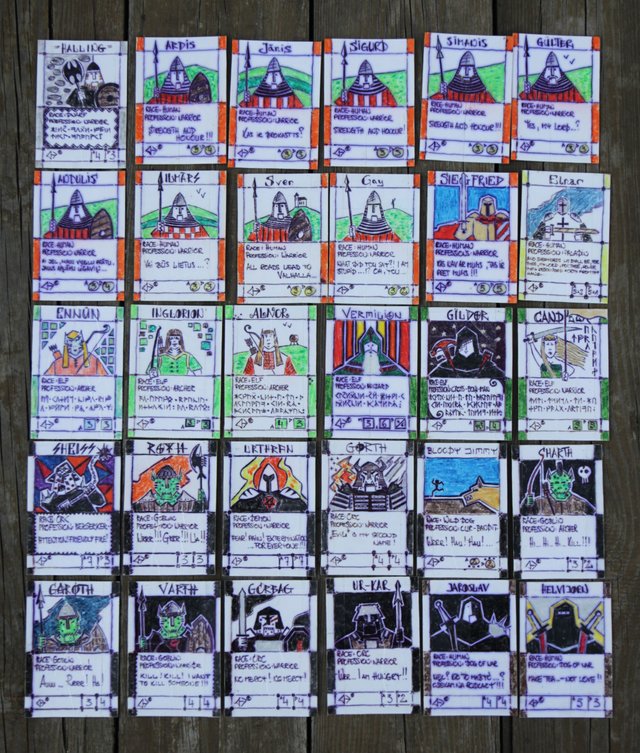 Łącznie powstało 31 kart. Ktoś zauważył jakiej tu brakuje?
Testerami jak zwykle były dzieci. Proste zasady sprzyjały rozgrywce. Mechanika opierała się w dużej mierze na losowości. O udanym ataku decydowały wartości na kartach (atak, obrona) i rzut kością. Tyle przynajmniej pamiętam... Niestety szczegółowe zasady wyleciały z mojej głowy po ponad 10 latach przestoju. Nie powinno być jednak problemu ze stworzeniem nowych reguł (zwłaszcza z doświadczeniem, jakie mam obecnie). No i cóż, kiedyś zapewne do tego wrócę, aby raz jeszcze rozegrać pojedynek między siłami dobra i siłami zła...